See John Lennon's postcard to Ringo fanboying over Blondie's 'Heart of Glass'
9 March 2022, 13:34 | Updated: 26 September 2023, 13:05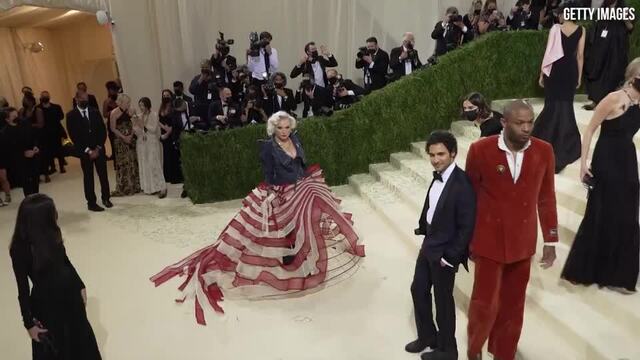 Blondie's Debbie Harry attends 2021 Met Gala
Despite being out of the music business for a while, John Lennon had his finger on the pulse in 1979.
John Lennon's tragic death in 1980 leaves us with one rock's biggest "what ifs".
What if John hadn't been murdered? Would The Beatles have reformed? And what would John Lennon's music have sounded like in the 1980s and 1990s (and beyond)?
At the time of his death, John had just released the Double Fantasy album.
It's a fine record, but also feels like Lennon only just getting back into his groove after five years away as a house husband.
Always a pop magpie, would John have been influenced by glam, punk and the burgeoning hip-hop scene? One big clue is what sort of music John was listening to during his time off.
It's well known that John was inspired to get back into the studio by the quirky sounds of The B-52's 'Rock Lobster' ("I said to meself, 'It's time to get out the old axe and wake the wife up!'" he told Rolling Stone in his last interview.)
And it turns out he was also a big fan of another groundbreaking end-of-the-decade single, Blondie's long-in-the-making disco classic 'Heart of Glass'.
"Blondie's 'Heart Of Glass' is the type of stuff y'all should do – Great + Simple," Lennon said in a May 1979 postcard to his old bandmate and occasional post-Beatles collaborator Ringo Starr.
Blondie - Heart Of Glass (Official Music Video)
'Heart of Glass' was released in 1979 as the fourth single from Blondie's massive Parallel Lines album, which had come out the year before.
The song was actually one of the first ever written by the band dating back to 1974.
It got a basic funk demo recording with the name 'Once I Had a Love' in 1975, and the band tried all sorts of different versions over the years, including as a ballad and even reggae.
They made a second demo of the same name in 1978, and eventually went Full Disco when they did it as 'Heart of Glass' for Parallel Lines.