Ringo Starr facts: Age, marriages, children, real name and solo career of The Beatles drummer
6 July 2023, 16:23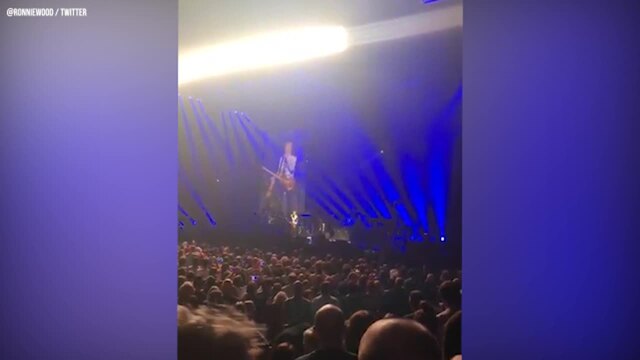 Paul McCartney brings out Ringo Starr and Ronnie Wood at The 02 London
Not just a key member of the Fab Four, but also an incredible Starr in his own right.
"Ringo wasn't the best drummer in the world... Let's face it, he wasn't even the best drummer in The Beatles," so joked John Lennon, Jasper Carrott Phillip Pope (with the line written by Geoffrey Perkins).
A funny-if-cheeky gag, and obviously one that has zero basis in reality.
Yeah, Paul McCartney could hold down a beat, but Ringo Starr's mistake-free, metronomic drumming was the backbone of The Beatles' music, and on songs like 'A Day In The Life' and 'Tomorrow Never Knows' he proved he could do the fancy stuff, too.
The Beatles only really became The Beatles when Ringo Starr joined the band, replacing the "mean, moody, and magnificent" Pete Best.
So it's long overdue a celebration of Ringo Starr, with a closer look at his life before, during and after his time in the Fab Four.
How old is Ringo Starr and where did he grow up?
Ringo Starr was born on July 7, 1940 at 9 Madryn Street in Dingle in Liverpool. He celebrated his 82nd birthday in 2022.
He was the only child of confectioners Richard Starkey and Elsie Gleave. The family moved to Admiral Grove, still in Dingle, when Ringo was just four.
With Ringo's dad frequently absent, his mum took on jobs as a cleaner and then barmaid to make ends meet.
Ringo was frequently absent from his Sefton Park school. He contracted peritonitis after an appendectomy and ended up in a coma for several days, with a year-long recovery away from his family at Myrtle Street Hospital.
With extra tuition, he soon caught up, but poor Ringo then contracted TB and had to spend two years in a sanatorium. He eventually attended St Silas primary school, and then Dingle Vale Secondary Modern.
After school, he had failed stints as a British Rail worker, a waiter on a day boat, and a machinist.
What is Ringo Starr's real name, and when did he change it?
Ringo Starr was born Richard Starkey, just like his dad. He was nicknamed Richy, with his dad (when he was around) being dubbed "Big Ritchie".
It was in late 1959 when the younger Richard Starkey adopted the stage name Ringo Starr, while playing in the skiffle-turned-rock-n-roll band eventually called Rory Storm and the Hurricanes (more on them imminently).
He chose the name as a nod to the many rings he wore on his fingers, which would later be a crucial plot device in Beatles' movie Help!, with Starr giving a country and western vibe.
How did Ringo Starr get into music?
Rory Storm and The Hurricanes' Infamous Show at The Cavern, 1960
Ringo's mum and dad were big fans of singing, dancing and swing, but it was during his long recovery from TB that Ringo really got into music, and drumming specifically.
Playing in a hospital band, he was given a mallet made from a cotton bobbin which he'd use to hit his bedside cabinets.
"I was in the hospital band ... that's where I really started playing," Ringo said later. "I never wanted anything else from there on
"My grandparents gave me a mandolin and a banjo, but I didn't want them. My grandfather gave me a harmonica... we had a piano – nothing. Only the drums."
The Beatles - Tomorrow Never Knows
It was when he was working as a machinist that Ringo struck up a friendship with Roy Trafford, who introduced him to the popular skiffle sound.
Ringo co-founded the well-regarded Eddie Miles Band, later the Eddie Clayton Skiffle Group and Eddie Clayton and the Clayton Squares.
He then joined Al Caldwell's Texans who became The Raging Texans, then Jet Storm and the Raging Texans, and finally Rory Storm and the Hurricanes.
The Hurricanes were a significant local success story around Liverpool and also picked up residencies in Butlins, US Airforce Bases and eventually in Hamburg.
When did Ringo Starr join The Beatles?
While it's impossible to think of The Beatles without Ringo Starr, he was a relative latecomer to the band.
Pete Best was still drumming with the group when Ringo first met them on October 1, 1960. He was playing with the Hurricanes at Bruno Koschmider's Kaiserkeller in Hamburg, who were headlining above the Beatles at the time.
He occasionally stood in for Best, and couple of weeks later, he even recorded with John Lennon, Paul McCartney and George Harrison, when the lads who would eventually become the Fab Four backed Hurricanes singer Lu Walters on a version of 'Summertime'.
Ringo's talent turned heads, and Beatles associate Tony Sheridan was among those wanting to nab him for his own band. Indeed, Ringo briefly quit the Hurricanes to join Sheridan in early 1962, before returning to Rory Storm's gang for another Butlins stint.
Then, on August 14, Ringo accepted John Lennon's invitation to join The Beatles. Two days later Brian Epstein told Pete Best: "I've got some bad news for you. The boys want you out and Ringo in."
Please Please Me (Remastered 2009)
He played as an official member of the Beatles on August 18, 1962 at a horticultural society dance at Port Sunlight, while it all kicked off the following day after his Cavern Club bow with the band.
Best's fans kicked off chanting "Pete Best forever! Ringo never!", with Brian Epstein's car tyres being flattened and George Harrison even getting a black eye.
Despite his swift acceptance as a drummer and a Beatle by the rest of the gang, George Martin initially wasn't sure about his actual playing, hiring Andy White as a session player for both sides of the 'Love Me Do' / 'PS I Love You' single, with Ringo relegated to tambourine and maracas.
Ringo naturally feared the worst ("That's the end, they're doing a Pete Best on me") but from then on it was all Ringo, all the time. The Fab Four had arrived.
What Beatles songs did Ringo write and which did he sing?
Finale performance of "With A Little Help From My Friends" at the 2015 Hall of Fame Ceremony
The songwriting partnership of John Lennon and Paul McCartney was so incredible and so prolific, it was hard for anyone else to get a look in.
Even someone as talented as George Harrison could only get a sprinkling of his own songs on Beatles albums, it'd be a lot to ask Ringo to rack up the songwriting credits.
With that said, he did have two sole songwriting credits: 'Don't Pass Me By' on The Beatles (aka The White Album), and 'Octopus's Garden' on Abbey Road.
Ringo Starr & His All Starr Band - What Goes On (Live At The Greek)
He also has joint writing credit on a few others: 'What Goes On' from Rubber Soul (Lennon-McCartney-Starr), 'Flying' from Magical Mystery Tour (Lennon-McCartney-Harrison-Starr), 'Dig It' from Let It Be (Lennon-McCartney-Harrison-Starr) and the adaptation of the trad 'Maggie May', also from Let It Be (Lennon-McCartney-Harrison-Starr).
He also was a named co-writer with all the other Beatles on the seasonal special 'Christmastime is Here Again', Anthology jams '12-Bar Original' and 'Los Paranoias', and the "reunion" single 'Free As A Bird'.
The Beatles - Free As A Bird
As for what Beatles songs Ringo sang, there are many, many more.
The full list is:
Boys
I Want To Be Your Man
Matchbox
Honey, Don't
Act Naturally
What Goes On
Yellow Submarine
With a Little Help from My Friends
Flying (co-lead wordless vocals)
Don't Pass Me By
Good Night
Octopus's Garden
Carry That Weight
Shout
If You've Got Trouble
When did Ringo quit The Beatles and when did he return?
Ringo Starr - Don't Pass Me By (Live)
The story of the break-up of The Beatles has been picked apart for decades, and it's always worth noting that the first person to ever quit the Fab Four was actually Ringo Starr.
It was during the strained recording of The Beatles (aka The White Album). Many of the songs of that album are recorded by only three, two or even one of the band as things became to fracture.
Things eventually got so tense, that Ringo actually quit The Beatles and went on holiday to Sardinia.
Octopus's Garden (Remastered 2009)
"I felt I wasn't playing great," Ringo later said. "I also felt that the other three were really happy and I was an outsider. There was no magic and the relationships were terrible."
While away, the culinarily unadventurous Ringo demurred when offered a dish of octopus, but the following conversation did inspire Starr's future songwriting masterpiece.
Two weeks later he returned, and George Harrison even covered his drumkit in flowers to welcome him back to the band.
What were Ringo's biggest songs and albums after The Beatles?
Ringo Starr - Back Off Boogaloo
George Harrison arguably made the biggest splash after The Beatles with the triple album All Things Must Pass. John Lennon made maybe the greatest post-Beatles album with John Lennon/Plastic Ono Band. After a lo-fi start, Paul McCartney had the most sustained, successful post-Beatles career.
But despite the competition from his bandmates, Ringo had a decent solo career of his own, usually backed by a smorgasbord of special guests, while he continues to tour with his All Starr band to this day.
First came the oldie standards album Sentimental Journey in 1970, and just five months later there was the country and western-tinged Beaucoup of Blues.
A couple of hit non-album singles (both produced by and one co-written by George Harrison) followed before Ringo recorded probably his best-known solo work, the self-titled Ringo.
Not just a top ten album on both sides of the Atlantic, Ringo was also notable for a nearly-complete Beatles reunion on the John Lennon-written 'I'm The Greatest', which featured Starr, Lennon, George Harrison, and long-time Beatles associates and occasional "Fifth Beatles" Klaus Voormann and Billy Preston.
Elsewhere on the album, 'Six O'Clock' was written by, and featured, Paul and Linda McCartney.
He never quite reached those peaks again, but Ringo has gone on to release 20 studio albums and around 50 singles since.
His biggest songs include:
Beaucoups of Blues
It Don't Come Easy
Back Off Boogaloo
Photograph
You're Sixteen
Oh My My
Only You (And You Alone)
Snookeroo
No No Song
A Dose of Rock 'n' Roll
Wings
Drowning in the Sea of Love
Lipstick Traces (On a Cigarette)
Wrack My Brain
In My Car
Weight of the World
La De Da
Liverpool 8
What films has Ringo Starr appeared in?
George Harrison had a massive impact on film history as a producer with a hand in Monty Python's Life of Brian, Time Bandits, The Long Good Friday, Mona Lisa, Shanghai Surprise, Withnail and I and How to Get Ahead in Advertising.
But despite a few cameos in some of those films, and despite the obvious star quality of Paul McCartney and John Lennon, it's Ringo Starr who had the most significant acting career out of all of the Beatles.
While he was a Beatle he obviously had roles in A Hard Day's Night, Help!, Magical Mystery Tour (and the outro of Yellow Submarine). Before the break-up, he also had roles in Candy and The Magic Christian.
After the split, he featured in Blindman, Son of Dracula, Caveman, Frank Zappa's 200 Motels, Ringo and The Prince and the Pauper. He also popped up in Ken Russell's Listzomania and as himself in Paul McCartney's Give My Regards to Broad Street.
How many times has Ringo Starr been married and how many children does he have?
The week Ringo Starr joined The Beatles in 1962, he met hairdresser Maureen Cox at the Cavern Club. She actually kissed Paul first, on a dare, but only had eyes for Starr.
They hit it off pretty quick, started dating – despite the negative attention from Beatles fans – and got married in February 1965.
They had three children, Zak, Jason and Lee, but the couple started to disintegrate in 1970, amid Ringo's repeated infidelity and Maureen's own fling with George Harrison (George's wife Pattie had actually caught the pair in bed together).
Ringo and Maureen hung on together for a few years, but eventually divorced in 1975.
Starr went on to meet Barbra Bach in 1980 when they were both acting in the movie Caveman, and they were married the following year.
Ringo's son Zak is an acclaimed drummer in his own right, and as well as sometimes performing with his dad's All Starr band, he also has drummed with The Who and Oasis.
What is Ringo Starr's net worth?
Ringo Starr doesn't have the songwriting credits of Paul McCartney or the John Lennon estate, and he doesn't play the sort of arena and stadium shows Macca does either.
But he's still one-quarter of The Beatles with a hefty back catalogue and filmography, so he's not doing too badly.
He's estimated to have a net worth of around $350 million (about £275 million at the time of writing).