Has Paul McCartney confirmed Glastonbury slot? Beatle shares cryptic Wordle clue
24 February 2022, 12:51 | Updated: 26 September 2023, 12:39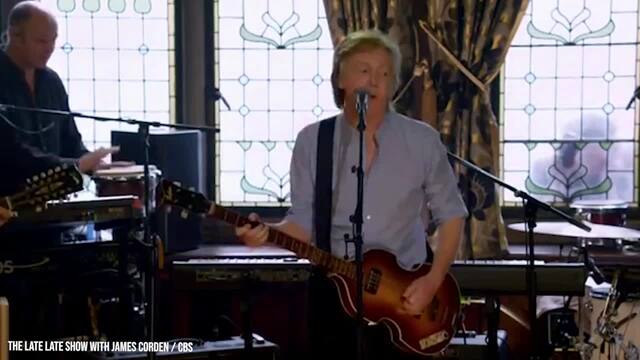 Watch Paul McCartney Surprise Punters with a Performance at Liverpool Pub
Paul McCartney all-but confirms his appearance at the 2022 Glastonbury Festival.
Earlier this week, it was reported that Paul McCartney would play the Saturday night at the 2022 Glastonbury Festival.
It wasn't a big surprise. The ex-Beatles legend had originally been booked for the 2020 fesival that was called off as a result of the COVID-19 pandemic.
And now it looks like Paul himself has all-but confirmed his appearance with a cryptic Wordle-esque clue.
For those of you not-yet addicted, Wordle is an online game that gives users six tries to guess a five-letter word, letting you know each turn if you've guessed a letter completely correctly with a green square, or have got the right letter in the wrong place with a yellow square.
Part of the fun of Wordle is that everyone in the world has the same word to guess each day, and people can share their "Grid" showing their successful (or unsuccessful) day's work without actually giving away the letters used.
At first glance, it looked as though ex-Beatle Paul was just enjoying the game and sharing his score – but Wordle fans looking at his post from 8am this morning will have noticed that all was not as it seemed.
Firstly, today's game is Wordle 250, not Wordle 121. Secondly, Paul's one-line guess is six letters, not five.
And lastly, rather than giving a number between one and six out of six (or the dreaded X/5 or in this special case X/6 when you don't guess the word at all), Paul's post has the baffling 25/6.
Given the reports from earlier this week, it didn't take Sherlock Holmes (or Michael Eavis) to put the clues together.
Working backwards, 25/6 is the 25th June – the Saturday of this year's Glastonbury Festival. That six-letter word? Surely GLASTO.
And 121? Well, that all-important date is just 121 days away.
Paul McCartney last performed at Glastonbury way back in 2004, when he played a triumphant career-spanning set to headline the Pyramid Stage.
The only main stage 2022 headliner confirmed by the festival itself at the time of writing is Billie Eilish, though it's reported that another of the 2020 planned headliners Kendrick Lamar will also top the Pyramid this year.
Diana Ross has also been confirmed to play the Sunday afternoon 'Legends Slot', a lineup position made famous by the likes of Dolly Parton, Leonard Cohen, Tony Bennett, Lionel Richie, Paul Simon, Tom Jones, Kylie Minogue, Brian Wilson and Shirley Bassey.