'Wonderful Christmastime' by Paul McCartney: The making of the divisive seasonal single
15 June 2022, 09:48 | Updated: 5 October 2023, 14:12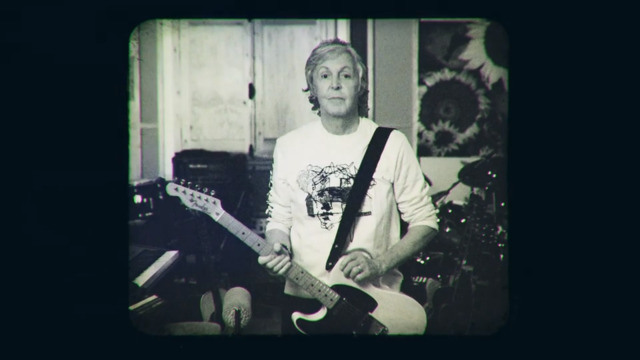 Paul McCartney - McCartney III (Official Album Trailer # 2)
Former Beatle Paul McCartney made a controversial Christmas classic at the end of the '70s.
Some Christmas songs like 'Merry Xmas Everybody' or 'Fairytale of New York' are pretty much universally adored.
Others are less well-received, and our sister station Smooth has rounded up 20 of the very worst.
Some though fall somewhere in the middle, like Paul McCartney's 'Wonderful Christmastime'.
There are plenty of Grinches out there who turn the volume right down when Macca's synth squelches and bloops come on the radio – but here at Gold we absolutely love it.
If you're with us, then read on! And if not, maybe we can change your mind with the story of one of the most divisive seasonal singles in pop history.
Who wrote – and played – on 'Wonderful Christmastime'?
Paul McCartney - Wonderful Christmastime
For the first part of his career in The Beatles, every single Paul song was written by Lennon/McCartney – regardless of how much (if anything) John Lennon wrote on it.
When he left The Beatles and released his solo debut McCartney he wrote, recorded and produced everything himself once more.
After that, he collaborated closely with his wife Linda on Ram and of course with Wings, but by the time of the band's last album Back to the Egg in 1979, Paul was doing almost all the writing himself.
Recorded six months later, 'Wonderful Christmastime' was the first solo Paul McCartney single since 1971.
And it was properly solo.
It was recorded on August 30, 1979 at the end of the sessions for the upcoming McCartney II, which like its spiritual predecessor was a Pure Paul Project.
So, Paul wrote it all by himself, produced it all by himself and played keyboards, synthesizers, guitars, bass, drums, percussion and – of course – jingle bells, all by himself.
Despite that, the members of Wings popped in for the video, which was taped at the Fountain Inn in Ashurst, West Sussex.
When was 'Wonderful Christmastime' released?
Wings 'Rudolph The Red-Nosed Reggae'
Like 'Merry Xmas Everybody', while 'Wonderful Christmastime' was actually recorded in the summer it was of course held back until the runup to Christmas.
It was released on November 16, 1979, six months before McCartney II.
And the B-side? The incredible 'Rudolph the Red-Nosed Reggae'. Yes, really. A (thankfully) instrumental reggae-(ish) version of the Christmas classic.
Wedged between the release of two Macca albums as a standalone single, in later years it's been bundled into fancy reissues of both Wings' Back to the Egg AND McCartney II.
Wings toured the UK in November and December 1979, which was perfect timing, so while it was absolutely a solo Paul song, it was played live by the band during the shows.
What is 'Wonderful Christmastime' about?
Here's where audiences get a bit split.
Unlike the grand statements of John Lennon and Yoko Ono's 1971 classic 'Happy Xmas (War is Over)', 'Wonderful Christmastime' is about, well... simply having a wonderful Christmastime.
That's about it, really.
"The choir of children sing their song / Ding dong, ding dong / Ding dong, ding, ooh, ooh"
That's about the measure of it, and plenty of Twitter jokers have had some fun with the song.
On "Wonderful Christmastime," Sir Paul McCartney set out to make a timeless Christmas classic and also to figure out what all the buttons on his synthesizer did, and he absolutely succeeded in one of those

— silent nate, holy nate (@MNateShyamalan) December 6, 2019
Paul McCartney's "Wonderful Christmastime" is about friends practicing witchcraft but then someone walks in and they have to suddenly play it cool pic.twitter.com/0FscqecVzW

— Ryan George (@theryangeorge) December 11, 2019
But hey, after a faceful of mince pies and a load of mulled wine, maybe people don't want or need to be preached to about world hunger or the horrors of war when they pop on their Christmas playlist.
Where did 'Wonderful Christmastime' get in the charts and how much does it earn in royalties every year?
'Wonderful Christmastime' got all the way to number 6 in the UK singles charts. On Christmas week itself it was at number 7 – the distinctly unseasonable 'Another Brick in the Wall Pt 2' by Pink Floyd was the Christmas number 1.
Unlike some artists, Paul McCartney's Christmas hit is far from his sole earner, but it certainly doesn't hurt to have a seasonal smash in your back catalogue.
Way back in 2010 it was estimated that the song raked in $400,000-$600,000 a year (£300,000-£450,000).
In the era of constant streaming Spotify Christmas playlists, that's likely only increased.
Who has covered 'Wonderful Christmastime'?
While 'Wonderful Christmastime' feels so uniquely Paul, that hasn't stopped some pretty significant artists putting their own spin on it since it was first released.
That includes Ms Diana Ross, who gave us her version in 1994.
Since then the likes of Harry Styles, Hilary Duff, Tom McCrae, Barenaked Ladies, Demi Lovato, Kelly Rowland, The Shins, Kylie Minogue with Mika, The Monkees and – very recently – Gary Barlow have had a go.