Paul McCartney performs with Foo Fighters at Rock and Roll Hall of Fame, as Carole King and Tina Turner inducted
1 November 2021, 11:49 | Updated: 6 October 2023, 14:55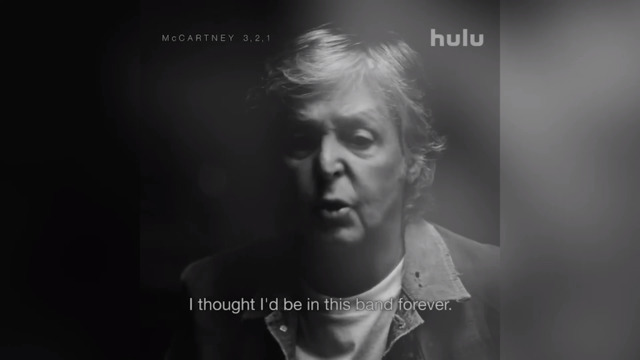 Paul McCartney reveals he thought he'd be in the Beatles forever in Hulu promo to mark release date of documentary 'McCartney 3,2,1'
Paul McCartney hails Foo Fighters and plays 'Get Back' with the band at the 2021 ceremony.
Paul McCartney has inducted the Foo Fighters in the Rock and Roll of Hall of Fame – and also joined the group for a show-closing performance of The Beatles' 'Get Back'.
The band had previously played a three-song set of 'Best of You', 'My Hero' and 'Everlong' at yesterday's (October 31) event at the Rocket Mortgage Financial Fieldhouse in Cleveland.
In his induction speech, McCartney called Foo Fighters "one of the greatest rock and roll bands in the world" and pointed to similarities between his and Dave Grohl's career, as they sought to move on after the end of their bands The Beatles and Nirvana.
Paul McCartney Joins Foo Fighters For 'Get Back'
"So the question is, what do you do now? We both were presented with that question," McCartney said.
"In my case, I said, 'Well, I'll make an album where I play all the instruments myself'. So I did that.
"Dave's group broke up, what's he do? He makes an album where he plays all the instruments himself. Do you think this guy's stalking me?'."
It wasn't the first time McCartney has performed with members of Foo Fighters.
The ex-Beatle joined Dave Grohl, Krist Novoselic and Pat Smear at 12-12-12: The Concert for Sandy Relief in 2012, playing a new song 'Cut Me Some Slack' and later releasing a studio version of the track.
The Nirvana/Foo Fighters stars joined a McCartney concert in Seattle the following year.
Taylor Swift, Jennifer Hudson Pay Tribute To Carole King
Also inducted in the Class of 2021 were Tina Turner and Carole King.
Both became two-time inductees, having previously been inducted alongside Ike Turner and Gerry Goffin respectively.
Carole was inducted by Taylor Swift, who performed the classic 'Will You Love Me Tomorrow'. Jennifer Hudson sung the King-written Aretha Franklin classic '(You Make Me Feel Like) A Natural Woman'.
Tina Turner was inducted by Angela Bassett, who played the singer in 1993 biopic What's Love Got To Do With It.
In Tina's honour, Christina Aguilera sung 'River Deep, Mountain High'. H.E.R. and Keith Urban played 'It's Only Love' and Mickey Guyon performed 'What's Love Got To Do With It'.
Angela hailed the induction as part of Tina's "journey to independence" and added: "For Tina, hope triumphed over hate. Faith won over fear. And ambition eclipsed adversity."
LIVE: Official Red Carpet of the 2021 Rock & Roll Hall of Fame Induction Ceremony
Also at the ceremony, Patti Smith inducted Todd Rundgren, Dave Chappelle inducted Jay-Z and Drew Barrymore inducted The Go Go's.
Kraftwerk, Charley Patton and Gil Scott-Heron were inducted in the Early Influences category.