Carole King facts: Classic songwriter's life, hits, children, awards and split from Gerry Goffin
22 March 2022, 12:11 | Updated: 26 September 2023, 13:13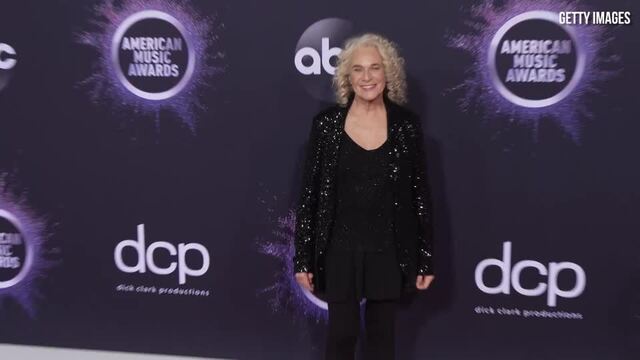 Carole King oozes elegance on red carpet for 2019 American Music Awards
Carole King is one of the greatest ever songwriters and a key architect of modern music.
Carole King isn't just one of the greatest performers of all time.
From her time in the Brill Building through to her collaborations with Gerry Goffin and then her solo works, she changed the face of music in the 20th century.
Fewer than 30 musicians have been inducted into the Rock and Roll Hall of Fame more than once, and Carole King on that elite list of names.
She turned 80 in February 2022, so it feels like the perfect time to induct Carole into our own digital Hall of Fame here at Gold.
Join us for a look back at the life and work of one of pop's very best songwriters.
When and where was Carole King born and what is her real name?
My Father's Hat - Chapter One: 'A Natural Woman'
Carole King was born Carol Joan Klein in Manhattan, New York City on February 9, 1942 to teacher mum "Genie" Eugenia and radio announcer-turned-firefighter dad "Sid" Sidney.
Her grandparents were from Russia and Poland and emigrated to Brooklyn. Her paternal grandparents' surname of Glayman was mistranscribed as "Klein" at Ellis Island.
"My name at birth was Carol Joan Klein," she wrote in her memoir A Natural Woman.
"It would take me five decades to appreciate my surname and the history that came with it. Along the way I would add an 'e' to Carol and acquire several more surnames."
She wryly added: "Note to self: wanting to change your surname is not a good reason to get married."
How did Carole King get into music?
Many pop superstars were first exposed to music very young. Not Carole, whose first experience of music came before she was even born.
"My mother loved music and she had an eclectic collection of classical and show tunes and some popular music," Carole told the Academy of Achievement.
"So she just loved it and always listened to it, so I was exposed to it in the womb and as a child."
Her first-ever recording was made when she was around three year's old, made on a trip to Coney Island.
He Hit Me (It Felt Like a Kiss)
"The thing I remember most about Coney Island is Daddy, Mommy, and I crowded into one of those primitive audio recording booths to record my voice on a black acetate disc so they could preserve the moment for posterity memoir," Carole said in her memoir.
"That was my first recording experience. I no longer have that disc, but I still remember my three-year-old baby voice saying, 'My name is Carol Joan Klein, and I live at 2466 East 24th Street in Brooklyn, New York'.' I sang 'Twinkle, Twinkle, Little Star'. And then I began to cry."
Why did she cry? "I don't know. Because I was two or three probably."
Maybe all that in-the-womb experience helped. Carole's mum started teaching her the basics of piano when she was three, and it was immediately clear that she had absolute pitch, being able to immediately name any note.
She soon started proper piano lessons, and by the time she attended James Madison High School in the 1950s, she had changed her name to Carole King and had formed a band called The Co-Sines.
When she went to Queens College in New York, she met Neil Sedaka, Paul Simon, and Gerry Goffin. She recorded demos with Paul, and briefly dated Neil, who went on to have a hit with 'Oh! Carol!).
When did Carole King have her first hit?
The Shirelles - Will You Still Love Me Tomorrow (1961)
Carole's first proper recording was the 1958 ABC-Paramount promo-single 'The Right Girl, which she wrote and sang to a Don Costa arrangement. Her first actual single was called 'Baby Sittin''.
"I was a teenager when I first started going to record companies in New York," she said.
"I was 15 and I loved the people that were making records then. And I thought, 'Well, I want to do that too'.
"So I went for it and Don Costa recognised some talent. Don Costa was an A&R man. He was an arranger, producer, and he recognised my ability and let me make records and put them out."
But it was after she met Gerry Goffin at college that things really took off.
King became pregnant and the couple got married when she was just 17. They quit college and both got dayjobs (King as a secretary and Goffin as an assistant chemist), but more importantly, they started writing songs together after hours.
"I married a lyricist," Carole said. "My first husband was a lyricist. And I wasn't even thinking about being beautiful then. I was thinking about writing songs, and in that there was beauty."
Goffin and King released a cheeky reply to Sedaka's Carole-inspired hit called 'Oh! Neil!' with 'A Very Special Boy' on the flip. It didn't do all that much.
Then they wrote 'Will You Love Me Tomorrow', which was recorded and released in 1960 by The Shirelles.
It went all the way to number one on the Billboard Hot 100, becoming the first-ever chart-topper by a black girl group – and Goffin and King were on their way to superstardom.
She and Goffin worked in New York's Brill Building, alongside many of the greatest composers of the age, including the likes of Burt Bacharach, Jeff Barry, Neil Diamond, Ellie Greenwich, Jerry Leiber and Mike Stoller, Johnny Mercer, Mort Shuman, Paul Simon and Cynthia Weil.
The Drifters - Up on the Roof
"Every day we squeezed into our respective cubby holes with just enough room for a piano, a bench, and maybe a chair for the lyricist if you were lucky," Carole said years later
"You'd sit there and write and you could hear someone in the next cubby hole composing a song exactly like yours. The pressure in the Brill Building was really terrific – because [publisher] Donny [Kirshner] would play one songwriter against another.
"He'd say, 'We need a new smash hit' –and we'd all go back and write a song and the next day we'd each audition for Bobby Vee's producer."
What songs has Carole King written?
Little Eva - Loco-motion(1962)
It's estimated that around 400 Carole King songs have been recorded by more than 1,000 artists, racking up around 100 hit singles.
Carole King's first run of hits were written with her then-husband Gerry Goffin and performed by other artists. Among many, many hits, they included:
Will You Love Me Tomorrow – The Shirelles
Take Good Care of My Baby – Bobby Vee
Halfway to Paradise – Tony Orlando
Don't Ever Change – The Crickets
I've Got Bonnie – Bobby Rydell
Chains – The Cookies (later covered by The Beatles)
The Loco-Motion – Little Eva (Born Eva Narcissus Boyd, Little Eva was Carole and Gerry's babysitter)
He Hit Me (It Felt Like a Kiss) – The Crystals
Go Away Little Girl – Steve Lawrence
It Might As Well Rain Until September – Carole King (written for Bobby Vee, but Carole's demo became a massive hit)
Up on the Roof – The Drifters
One Fine Day – The Chiffons
Just Once in My Life – The Righteous Brothers
Don't Bring Me Down – The Animals
Goin' Back – Dusty Springfield
Pleasant Valley Sunday – The Monkees
(You Make Me Feel Like) A Natural Woman – Aretha Franklin
Carole King - It's Too Late (Official Lyric Video)
After King's split from Goffin, she continued to write and record hits for herself and others, establishing herself as a solo star with the massive-selling Tapestry album in 1971. Her later hits included:
It's Too Late
I Feel the Earth Move
So Far Away
You've Got a Friend
Beautiful
Sweet Seasons
Been to Canaan
Nightingale
Only Love Is Real
Now and Forever
When did Carole King split from Gerry Goffin?
While their songwriting was arguably getting better and better, the relationship between Carole and Gerry was in big trouble by the late 1960s, with Goffin's repeated infidelity obviously being a problem.
Carole wrote about the break-up in her 1967 song 'The Road To Nowhere' (no relation to the 1985 Talking Heads hit).
The pair's short-lived record label Tomorrow and their songwriting partnership disintegrated, as did their marriage, and they were divorced in 1968.
After the split from Gerry, Carole was briefly in a group with Danny Kortchmar and future husband Charles Larkey, called The City. They split after one album Now That Everything's Been Said.
Carole King - (You Make Me Feel Like A) Natural Woman (Live from Oakland - 1972)
Carole and her two daughters moved to Laurel Canyon to hang out with Joni Mitchell and James Taylor and kick-start her solo career.
"When Gerry and I eventually divorced, I had to find my own voice and my own way of thinking, but I brought to my life what I have learned from him," Carole said. "And I became a lyricist along with being a musician."
She had a little help from her friends, too including Toni Stern who wrote the words for her hit 'It's Too Late'.
"Toni was a wonderful help with the transition from writing with Gerry to writing songs on my own," Carole said. "I didn't have the courage initially. James inspired me a lot. I write heavily under the influence of James Taylor."
How many times has Carole King been married, and how many children does she have?
Gerry Goffin and Carole King Songwriting in the 1960's
Carole King has been married four times.
She wed her first husband Gerry Goffin in 1959, and they divorced in 1968. They had two children together – Louise and Sherry.
Carole married her second husband Charles Larkey in 1970, and they divorced in 1976. They also had two children, named Molly and Levi.
Carole and Rick Evers married in 1977, but her third husband died tragically of an overdose the following year.
She married her fourth husband Rick Sorenson in 1982, and they got divorced in 1989.
Is there a Carole King biopic?
Grace of My Heart Official Trailer #1 - John Turturro Movie (1996) HD
While there hasn't been a proper biopic of Carole's amazing life, Allison Anders' 1996 film Grace of My Heart is loosely based on Carole's story.
It follows an aspiring singer named Denise Waverly who first writes songs for other artists before overcoming a bad marriage to record her own hit album, just like Carole did.
It also featured songs from the likes of Burt Bacharach, Elvis Costello, Joni Mitchell, Gerry Goffin, and Jill Sobule.
Beautiful The Carole King Musical Trailer
Carole does have her own Broadway musical though.
After tryouts in San Francisco, Beautiful: The Carole King Musical formally opened on Broadway in January 2014. It's since toured the world, including runs in London's West End and two UK tours.
Jessie Mueller won a Tony Award for Best Performance by an Actress in a Leading Role in a Musical for her turn as King on the original Broadway run,
What awards has Carole King won?
Carole King receives the 2013 Gershwin Prize for Popular Song
Unsurprisingly given her incredible back catalogue, Carole King has been recognised many times over for her incredible life's work.
She swept the Grammys in 1972, with Tapestry winning the awards for Album of the Tear and Best Female Pop Vocal Performance, while 'It's Too Late' won Record of the Year and 'You've Got A Friend' won Song of the Year.
SINGER SONGWRITER CAROLE KING HONORED WITH HOLLYWOOD WALK OF FAME STAR
Alongside Gerry Goffin, she's been inducted into the Songwriters Hall of Fame and Rock and Roll Hall of Fame, and also picked up the Songwriters Lifetime Achievement Award and Grammys Trusteed Award.
As a solo star, she was also given the Songwriters Hall of Fame Johnny Mercer Award, a Grammy Lifetime Achievement Award, and a star on the Hollywood Walk of Fame.
Then-President Barack Obama gave her the Library of Congress Gershwin Prize for Popular Song, and in 2012 she was also inducted into the Rock and Roll Hall of Fame as a solo artist.