'Merry Xmas Everybody' by Slade: The making of the Christmas classic
22 December 2021, 14:18 | Updated: 20 September 2023, 12:21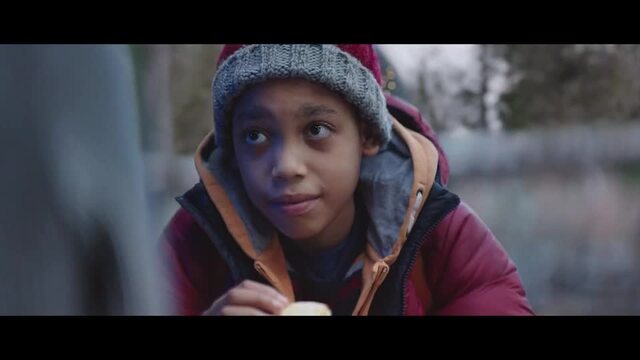 John Lewis launch 2021 'Unexpected Guest' Christmas advert
In the immortal words of Noddy Holder: "It's Christmaaaaaas!"
Before the advent (ho ho ho) of glam rock, the nation's favourite Christmas tunes were still the old standards like 'Winter Wonderland', 'The Christmas Song' or 'Let It Snow'.
But the early '70s brought with it a new love for festive tunes thanks to Mud, Wizzard, Johnny Mathis and, of course, Slade.
Leading the charge was Slade's 'Merry Xmas Everybody', which snagged (and arguably invented the concept of) the Christmas #1.
It also cemented the position of Slade as the UK's most popular band of the time.
Fast forward nearly 50 years later, and it's still heard on British radio non-stop around the festive season.
But how did the song come to be? Here's everything you need to know.
Who wrote 'Merry Xmas Everybody'?
Merry Christmas Everybody - Slade
'Merry Xmas Everybody' is one of the most commercially successful Christmas songs of all time (more on that later), so the question of who wrote it is pretty important.
And if you check the credits, you'll see that it was written by the group's singer Noddy Holder and the bass player Jim Lea.
Incidentally, while Slade still exist today, led by founding guitarist Dave Hill, both Noddy and Jim left the band in 1992.
Why did Slade decide to write a Christmas song?
By 1973, Slade had already scored five number ones singles, and two in that year alone with 'Cum On Feel The Noize' and 'Skweeze Me Pleeze Me'.
That year, their manager and producer Chas Chandler (formerly of The Animals, and also Jimi Hendrix's manager in his heyday) suggested to the band that they write and record a Christmas song.
Although most of the band weren't too convinced, Jim Lea relented and actually came up with the majority of the song while having a shower.
After writing the verse melody, Lea remembered a song Noddy Holder had binned of in 1967, which he had written when the band were still called the 'N Betweens.
Slade Cum On Feel The Noize 1973
Called 'Buy Me a Rocking Chair', it was Noddy's first solo composition. 'Merry Xmas Everybody' took the melody of this song for the chorus, with Lea's melody for the verses.
"Nod had written the chorus of it in 1967. In those days it was all flower power and Sgt Pepper and Nod had written this tune," Lea told Record Mirror in 1984.
"The verse was naff but then he came to the chorus and went 'Buy me a rocking chair to watch the world go by, buy me a looking glass, I'll look you in the eye' – very Sgt Pepper.
"I don't use tape recorders, I just remember everything and if something's been written 10 or 15 years ago, it stays up there in my head."
Jim Lea tells the story behind Merry Xmas Everybody!
He added: "I never forgot that chorus, and I was in the shower in America somewhere thinking – Bob Dylan, Bob Dylan – and suddenly out came 'are you hanging up the stocking on the wall' and I thought that'll go with that chorus Nod did in '67.
"So I rang Nod and said what about doing a Christmas song and he said alright, so I played it to him and that was it."
After a night out at the pub, Noddy finished the song at his mother's house in Walsall.
What is 'Merry Xmas Everybody' actually about?
Jackson 5 - I Saw Mommy Kissing Santa Claus (Official Video)
'Merry Xmas Everybody' didn't just rip up the rulebook of Christmas singles musically. It also gave a (post)modern twist on the lyrics, too.
Rather than plainly focusing on the joys of the season, it was as much about pure nostalgia as it was about Christmas – a celebration of celebrating.
It came complete with nods to Christmas classics old and new ("Does he ride a red nosed reindeer?" "What will your daddy do / When he sees your Mama kissin' Santa Claus?").
And the key lyric? "Does your granny always tell ya / That the old songs are the best? / Then she's up and rock 'n' rolling with the rest".
Speaking to the Daily Mail in 2007, Noddy said: "We'd decided to write a Christmas song and I wanted to make it reflect a British family Christmas.
"Economically, the country was up the creek. The miners had been on strike, along with the grave-diggers, the bakers and almost everybody else.
"I think people wanted something to cheer them up – and so did I. That's why I came up with the line, 'Look to the future now, it's only just begun'.
"Once I got the line, 'Does your Granny always tell you that the old ones are the best', I knew I'd got a right cracker on my hands."
Did Slade record 'Merry Xmas Everybody' at Christmastime?
Dave Hill from Slade Explains and Plays Chords of Merry Xmas Everybody
Nothing feels more seasonal than Noddy Holder letting you know Itttttttttt's Christmas, but the song was actually recorded in the heat of summer.
It was laid down in July 1973 at the Record Plant in New York during Slade's tour of the east coast US.
"It was really hot and it certainly wasn't Christmassy," guitarist Dave Hill told the Yorkshire Post about recording in the office block studio.
"It was quite funny because we were in the corridors singing 'Christmas' and they were coming in the building saying 'My God, what's going on? There's some English people singing about Christmas. It's 80 degrees outside, are they crazy?'.
"Eventually towards the end of the year we heard the song and of course then it made a lot more sense."
Does 'Merry Xmas Everybody' have a music video?
Slade - Merry Xmas Everybody - Official Video
For nearly 50 years, the answer to this question would have been, incredibly, no.
The "video" that's been on TV and YouTube for the last half-century is actually the band's Top of the Pops performance.
Slade were just too busy filming interviews and doing other promo at the time to make a proper video for the song, but finally in 2021 they got round to it.
Rather than piece together archive footage or pull together something with the estranged members of the group, they decided to go the timeless option with a charming animated video.
Where did 'Merry Xmas Everybody' get in the charts – and how many copies has it sold?
Slade, Merry Xmas Everyone - Carnaby Christmas Countdown
'Merry Xmas Everybody' was always going to be a massive hit.
Even before its release, the song had about half a million advance orders. 350,000 copies were bought on release, and it became the band's sixth (and final) number one single.
Slade's record label Polydor had to to use their French pressing plant to keep up with the phenomenal demand, and the song sold over one million copies.
In the glam battle for the top, there was only one winner. 'I Wish It Could Be Christmas Everyday' by Wizzard had to settle for fourth place that year.
It stayed at number one until mid-January and has re-entered the UK charts year after year after year – and in the download and then streaming era it's clocked up even more sales and equivalent sales.
You could definitely give a good argument that it was the success of 'Merry Xmas Everybody' (and its head-to-head battle with Wizzard) that popularised the battle for the Christmas Number 1 and made it a British institution.
How much does 'Merry Xmas Everybody' generate in royalties every year?
Slade Merry Christmas Everybody
Between continued sales, downloads, streaming, and it being blared out of every single in the radio non-stop during December, 'Merry Xmas Everybody' racks up impressive royalties every year.
It's no wonder that Noddy has in the past referred to the song as his pension scheme.
Exactly how much money the song makes every year isn't known for sure, as we've not got those record deals in front of us or the licensing arrangements either, but the experts can make a pretty good guess.
And recent estimates put the value at a whopping £500,000 – a cool half-million.
Who has covered 'Merry Xmas Everybody' since it was released?
It's hard to match the glam power of Slade's original, but that hasn't stopped some pretty big names giving it a go.
Variety performer Max Bygraves got in early incorporating a cover into his Christmas medley just a year after it was released and Oi! band The 4 Skins had their version out by 1981.
More recently, Steps did a cover in 2000 and Slade superfans Oasis recorded a cover for the 1 Love charity album in 2002.
Girls Aloud and Tony Christie both tried their hand at the song in 2005, The Wurzels did it in 2011 and Ladyhawke did it in 2014, while Robbie Williams enlisted Jamie Cullum to help him record it in 2019;.
On the live stage, everyone from REM to Reef to James Blunt to Bastille have rocked out to Slade's Christmas classic.