The Monkees' Micky Dolenz sings 'Shiny Happy People' from new REM covers album
14 September 2023, 11:31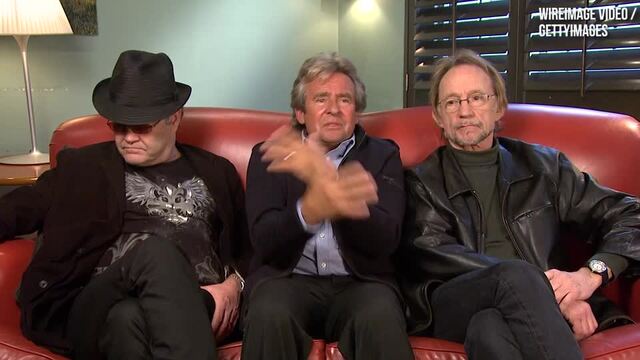 The Monkees reveal how they proved critics wrong
Micky Dolenz covers one of the biggest bands he influenced on a new EP.
Micky Dolenz is the last man standing in The Monkees, but he's showing absolutely no sign of hanging up his microphone any time soon.
As well as touring his previous bands' work – including their vital Headquarters album in full – he's also been in the studio making new music.
And Micky's upcoming release is maybe his most intriguing yet – a four-track cover of songs by US indie darlings REM, which has been produced by Christian Nesmith, the son of Micky's late Monkees bandmate Michael Nesmith.
"Once again, this EP reaffirms my long-held conviction that a solid recording always begins with solid material," said Micky.
"You don't get much solid than REM. What a joy to, once again, bring these songs to life."
Micky Dolenz - Shiny Happy People (from "Dolenz Sings R.E.M.")
The EP is trailed by 'Shiny Happy People', and also includes reworkings of 'Man on the Moon', 'Radio Free Europe' and 'Leaving New York' from across the group's career.
Former REM frontman Michael Stipe has never much liked 'Shiny Happy People', but was won over by Micky's interpretation.
"These songs are ABSOLUTELY INCREDIBLE," Stipe said. "Micky Dolenz covering REM Monkees style, I have died and gone to heaven.
"This is really something. Shiny Happy People sounds INCREDIBLE (never thought you or I would hear me say that!!!). Give it a spin. It's wild. And produced by Christian Nesmith (son of Michael Nesmith), I am finally complete."
REM drummer Mike Mills added: "That voice-one of the main voices of my musical awakening-singing our songs... It is beyond awesome. Let's help make this as huge as we possibly can. I am beyond thrilled."
Guitarist Peter Buck said: "I've been listening to Micky's singing since I was nine years old. It's unreal to hear that very voice, adding new depth to songs we've written ourselves, and inhabiting them so completely. "
Frequent REM collaborator Scott McCaughey added: "I am blown away! Micky and Christian just take these tracks to unexpected places."
R.E.M. - Shiny Happy People (Official Music Video)
As for how the EP came together, Dolenz told Rolling Stone: "I was talking to [7A records boss] Glenn [Grutland] about what to do next,
"The band REM came up. I went, 'Wow, that's very cool'. I'm a big fan. I remember their stuff very well. And I've heard through the grapevine that the band were fans of the Monkees. I found that incredibly flattering."
While it might not seem an obvious mashup at first, The Monkees and REM do have a history together.
Buck and McCaughey co-wrote and played guitar on 'Christmas Party', the title track from The Monkees final album in 2018.
Of his reworkings of REM's music, Dolenz added: "My first instinct was to go back and listen to all their songs. Fortunately, I caught myself.
"I said, 'Wait a minute. I do not want to make a karaoke version of this music. If I listen to these songs over and over, it'll be very difficult to not just do somebody else's vocal'. That was my overall approach. I didn't listen before going to the studio."
The video for 'Shiny Happy People' was crafted by Monkees manager Andrew Sandoval, who used home videos from Micky's own private collection.