Bon Jovi's 10 greatest songs, ranked
2 February 2023, 12:07 | Updated: 15 September 2023, 15:19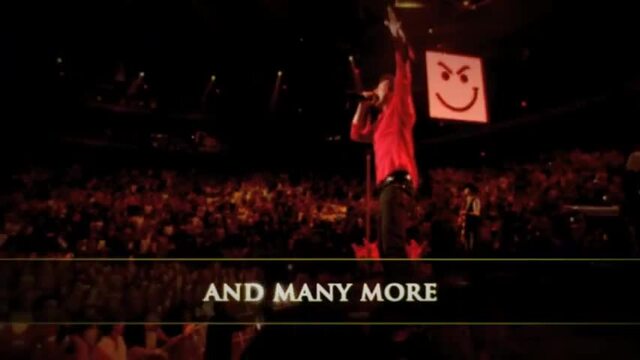 Bon Jovi Greatest Hits - The Ultimate Video Collection - DVD Trailer
From hair metal to heritage rock, we round up the very best songs by Jon Bon Jovi and co from their 40 years in rock 'n' roll.
Bon Jovi have been around for 40 years and counting, and they've racked up countless hits over that time.
In their four decades together the band have released 15 studio albums – plus a couple of solo outings for frontman Jon – packed with over 65 singles.
So it's not been easy to whittle that list down to just 10 songs, and it's been even harder to rank their biggest and best hits, but that's just what we've done.
There's no room for some of our favourites (no 'These Days', 'In These Arms' or 'Someday I'll Be Saturday Night') but we think we've managed to put together the ultimate introduction to the band, or a snappy greatest hits for long-time fans to enjoy,
Bad Medicine

Co-written by Jon Bon Jovi and guitarist Richie Sambora together with songwriter-for-hire Desmond Child (more from him later), who had already had hits with Kiss, Cher and Bonnie Tyler, 'Bad Medicine' was the lead single from the band's fourth album New Jersey.

Released in 1988, it's a great example of the band's slick hair metal sound that came to typify the decade, it became the band's third number one single in the US. It only got to number 17 in the UK but eventually went Silver.

Lay Your Hands on Me

Bon Jovi - Lay Your Hands On Me

The video for the fourth single from New Jersey is one of the band's most classic hair metal moment, complete with Richie Sambora's double-necked guitar, all those capes and more enough headbanging to give you whiplash just watching.

It's a hell of a tune, though, and went all the way to number seven in the US charts.

Bed of Roses

Bon Jovi - Bed Of Roses (Official Music Video)

Most of the songs on this list are stomping glammy hair metal pop rockers, but on the flipside of the Bon Jovi coin were their totally emotional power ballads, and they rarely get more powerfully ballady than 'Bed of Roses', taken from 1992's Keep The Faith.

Written solely by Jon, apparently while nursing a hangover in a hotel room, it's a gorgeous melding of pounding piano, twanging riffs and then those big chords and soaring voice kick in.

Blaze of Glory (Jon solo)

Jon Bon Jovi - Blaze Of Glory (Official Music Video)

Is it cheating to include this? Nah. The band have pretty much absorbed it, and have played it 500 odd times in concert and featured it on their 1994 Cross Road best-of and 2010's Greatest Hits, so we're having it.

It's technically a solo Jon Bon Jovi single, released on his album of the same name, which features songs from and inspired by Young Guns II.

The story goes that star Emilio Estevez wanted the band's 'Wanted Dead Or Alive' on the western sequel's soundtrack, but Jon thought its lyrics didn't really fit.

"When Jon joined the team for Young Guns II, we were all eating hamburgers in a diner and Jon was scribbling on this napkin for, say, six minutes," actor Kiefer Sutherland told Uncut years later.

"He declared he'd written 'Blaze of Glory', which of course then went through the roof in the States. He later gave Emilio Estevez the napkin. We were munching burgers while he wrote a No. 1 song."

Always

Bon Jovi - Always (Official Music Video)

Bands often bundle in a new track or two on their best-ofs to get the old fans to buy them, but they rarely have the sort of impact 'Always' had – complete with a movie-in-five-minutes pop video.

This standalone from 1994's Cross Road album, written by solely by Jon, became one of the group's very biggest hits, going to number four in the US and number two in the UK – eventually going platinum in both countries.

The song was originally written for 1993 Gary Oldman flick Romeo is Bleeding, which explains that opening lyric ("This Romeo is bleeding / but you can see his blood"), but despite liking the script, Jon hated the movie on a preview screening, and held it back before re-recording it a year later.

The song was also bassist and founding member Alec John Such's final single with the band before he left later that year. Alec died in June 2022 of natural causes, aged 70.

Wanted Dead Or Alive

Bon Jovi - Wanted Dead Or Alive (Official Music Video)

As we mentioned, Emilio Estevez was a big fan of this western-tinged power ballad from 1986's breakthrough third album Slippery When Wet, which charted at number 13 in the UK and number 7 in the US – and so are we.

Inspired by Bob Seger's hit "Turn The Page', the song is apparently a nod to how bands of outlaws in the Old West are just like rock 'n' roll band "a young band of thieves, riding into town, stealing the money, the girls, and the booze before the sun came up", as he told Inside The Actors Studio.

It's My Life

Bon Jovi - It's My Life (Official Music Video)

The most recent Bon Jovi song in our rankings, and it's one of the best. Released in 2000 as the lead single from the band's Crush album, if you're wondering why it sounds more than a little bit like Britney Spears, that's because it was co-written by John and Richie with Max Martin, the man behind '...Baby One More Time', '(You Drive Me) Crazy'. 'Oops!... I Did It Again', and many more.

It mixed the new with the old, with Richie digging out his guitar talkbox and the lyrics namechecking 'Livin' on a Prayer's lead characters ("For Tommy and Gina, who never backed down").

Of that cheesy Frank Sinatra nod ("My heart is like an open highway / Like Frankie said / I did it 'My Way'"), Jon and Richie actually had quite the disagreement.

"I had just come home from making U-571 and I said, 'Sinatra made 16 movies and toured till he was 80. This is my role model'. Jon told Rock Radio.

"He said, 'You can't write that damn lyric. Nobody cares about Frank Sinatra but you'. And I wrote it anyway.

It went to number 33 in the US, number 3 in the UK, and has racked up over a BILLION views on YouTube.

Keep The Faith

Bon Jovi - Keep The Faith (Official Music Video)

The title track and lead single from the band's epic 66-minute fifth album, 'Keep The Faith' reached number 29 in the US and went all the way to number five in the UK on its release in 1992.

Like many of the band's biggest 1980s and 1990s hits, it was written by Jon, Richie and associate Desmond Child.

It's utterly ridiculous and overblown in places (especially the spoken word bit "I've been walking in the footsteps / Of society's lies / I don't like what I see no more / Sometimes I wish that I was blind"), but the truth is Bon Jovi are always at their best when they embrace ridiculous and overblown.

You Give Love A Bad Name

Bon Jovi - You Give Love A Bad Name (Official Music Video)

Maybe one of the most important songs in the history of Bon Jovi, 'You Give Love a Bad Name' was the lead single from 1986's Slippery When Wet, coming out a month before its parent album which took the band from successful niche act to globe-conquering superstars.

Another Jon/Richie/Desmond Child track, it was the band's first number one single in the US and reached number 14 here in the UK.

The song is actually a bit of a rewrite, taking its melody from 'If You Were A Woman (And I Was a Man)', which was written for Bonnie Tyler with lyrics commissioned by producer Jim Steinman, which is maybe why it doesn't sound a million miles away from Jim's work with Meat Loaf.

Livin' on a Prayer

Bon Jovi - Livin' On A Prayer

It wasn't going to be anything else, was it?

'Livin on a Prayer' is Bon Jovi's crowning glory. A song as catchy as any out-and-out pop song in the charts of the time, with as much punch as the metal-adjacent hard rock gaining popularity, bound together with a tale of working class everyday heroes that fellow New Jersey songwriter Bruce Springsteen would be proud to have written.

"It deals with the way that two kids – Tommy and Gina – face life's struggles, and how their love and ambitions get them through the hard times." Bon Jovi later said of the lyrics. "It's working class and it's real."

The band needed a couple of goes to get it right, drafting in-session player and future Bon Jovi member Hugh McDonald to write and re-record a new bassline uncredited.

Nobody's Hero / Livin' On A Prayer (Demo)

You can hear the original demo of the song as the hidden track on the 2004 box set 100,000,000 Bon Jovi Fans Can't Be Wrong

A re-recorded version of the song in a very different style called 'Prayer '94', appeared on the US version of that year's Cross Road compilation.