Bonnie Tyler facts: Age, songs, duets, husband and real name of the Welsh superstar
19 June 2023, 11:02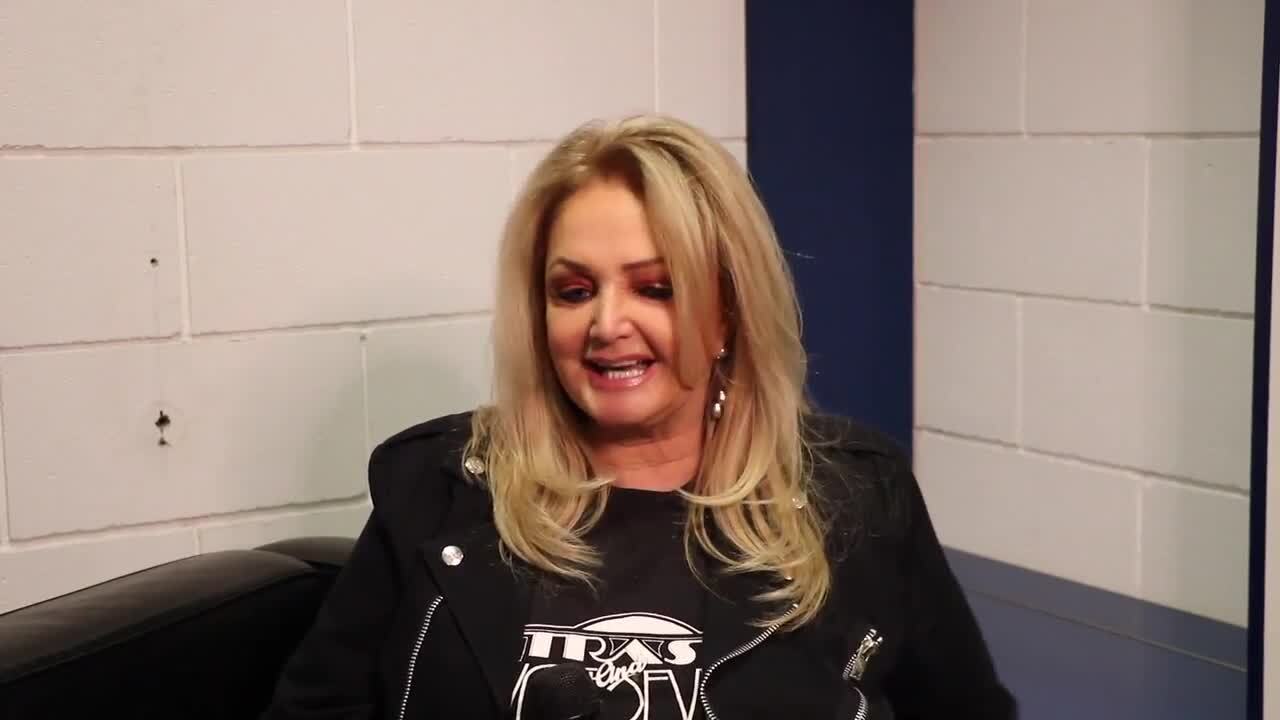 Bonnie Tyler wants Tom Jones duet to happen soon
The story of how a daughter of a miner became one of the biggest British singers of all time.
Bonnie Tyler kicked off her pop career in the late 1970s and she's still going strong today – she didn't call her 2021 album The Best Is Yet to Come for nothing.
Before her first decade was out she had already scored a top five hit, but it was in the 1980s when she came into her own, with songwriter/producer Jim Steinman at her side.
But do you know Bonnie Tyler's real name, or what Welsh mining village she grew up in?
Do you remember when Bonnie repped the UK at the Eurovision Song Contest and where she placed?
Read on for all the essential facts about the distinctive-voiced pop superstar.
How old is Bonnie Tyler and where was she born?
Bonnie Tyler was born in Skewen, Wales, to a coal miner father Glyndŵr and mother Elsie Hopkins, growing up with her three sisters and two brothers.
She was born on June 8, 1951 and celebrated her 72nd birthday in 2023.
What is Bonnie Tyler's real name?
Bonnie Tyler was born Gaynor Hopkins but changed her name quite early in her career, partially to avoid confusion with fellow Welsh singer Mary Hopkin.
She first changed her name to Sherene Davis, and was singing under that name when she was spotted by talent scout Roger Bell during a show in Swansea in 1975.
It was when she was signed by RCA Records a few months later that she changed her name again, apparently piecing together "Bonnie Tyler" after compiling lists of surnames and first names from a newspaper.
How did Bonnie Tyler get into music?
As we've noted in the past when looking at Tom Jones, Bonnie Tyler is Welsh, so singing is pretty much bound into her heart and soul.
Growing up in the 1950s and 1960s, she listened to the likes of Elvis Presley, Frank Sinatra and The Beatles growing up – as well as stars like Tina Turner and Janis Joplin – and her first performance was in church, singing 'All Things Bright and Beautiful'.
She decided to enter a local talent contest in 1969, and came second, inspiring her to kick on with her music career.
Bonnie Tyler - Lost In France (Official HD Video)
Bonnie became a backing singer for Bobby Wayne & the Dixies before forming her own soul band Imagination, which was around the time she switched up her name to Sherene Davis.
Imagination were performing at the Townsman Club in Swansea when talent scout Roger Bell spotted Bonnie and invited her to London to record a demo.
That resulted in her eventually being signed by RCA, where Ronnie Scott and Steve Wolfe were hired as her managers, songwriters and producers.
Bonnie Tyler - It's A Heartache (Official HD Video)
Bonnie's first single 'My! My! Honeycomb' failed to chart on its release in April 1976, and while follow-up 'Lost in France' initially looked like it might share its fate, it slowly rose to a top ten place.
Her single 'More Than a Lover got her on Top of The Pops, but her debut album The World Starts Tonight stalled.
It wasn't until 'It's A Heartache' was released in 1978 and went all the way to number 4 in the UK and one better in the US that was it clear that not only had Bonnie Tyler arrived, but she was here to stay.
How did Bonnie Tyler get her inimitable husky voice?
Bonnie Tyler - The Best (Official Music Video)
Like all the best singers, Bonnie Tyler's voice is immediately recognisable from a few seconds into any of her songs.
Her gritty, authentic tones have seen her dubbed "the female Rod Stewart", but really she's simply the one and only Bonnie Tyler.
Bonnie was born with that distinctive tone, but it was made more prominent in the mid-1970s when she underwent a vocal cord nodule operation.
"I had my first hit record in 1976, then all of a sudden, I had all these nodules on my vocal cords - I thought my career was over," Bonnie told The Guardian.
Bonnie Tyler "The World Is Full Of Married Men" (1979)
"They got quite big so I had to have an operation to remove them. You're not supposed to talk for six weeks after the operation but I found it very difficult because I'm a bit of a chatterbox."
She added: "After I got my voice back, I went into the studio for the first time and started singing. The band said, 'Woah, your voice sounds great'.
"My voice was huskier than before, and had more of an edge. It turned out losing my voice was not too treacherous for me – I had my first hit in America with my new husky voice on 'It's a Heartache'.
"Three other girls had recorded the song before me and it didn't go anywhere in America, so maybe my husky voice was what that song, and my career, needed."
How did Bonnie Tyler hook up with Jim Steinman?
Bonnie Tyler - Total Eclipse of the Heart (Turn Around) (Official Video)
Bonnie Tyler has released hit after hit over the last half century plus, but her best-loved work was made in collaboration with songwriter/producer Jim Steinman.
She had released four albums under the wing of Scott and Wolfe when her RCA contract expired and she moved over to CBS/Columbia.
While her previous team had been nudging her in a more country direction, Bonnie wanted to rock, and sought out Jim Steinman to help her do it.
"I'm a huge fan of his records, especially his solo album, and when my manager and I were discussing my comeback we both agreed that I had to sound the best or nobody would take me seriously," Bonnie said.
Bonnie Tyler - Holding Out For A Hero (Official HD Video)
Apparently, Jim himself wasn't too sure, but he was won over when Bonnie sent him some demos of her rockier material.
A few weeks later she was in Steinman's New York apartment, listening to 'Goin' Through the Motions' by Blue Oyster Cult and 'Have You Ever Seen the Rain?' by Creedence Clearwater Revival.
Jim wanted to check that he and Bonnie were on the same rock wavelength and she didn't disappoint. They ended up recording covers of both of those songs together.
That was where he also played her 'Total Eclipse Of The Heart', a song that would become her signature.
Bonnie Tyler - Loving You's a Dirty Job (But Somebody's Gotta Do It) (Video)
"I never thought it had a prayer as a single," Jim told People at the time. "It was an aria to me, a Wagnerian-like onslaught of sound and emotion. I wrote it to be a showpiece for her voice."
It became one of the biggest-selling singles of all time, selling over six million copies and taking Bonnie Tyler to the next level of stardom.
Jim produced Bonnie's hit Faster Than the Speed of Night album and co-wrote and produced 'Holding Out For A Hero' from the Footloose soundtrack, another massive hit for Bonnie.
That song appeared on the following Secret Dreams and Forbidden Fire album, which Steinman co-produced and wrote four of the songs for, including the Todd Rundgren duet 'Loving You's a Dirty Job but Somebody's Gotta Do It'.
When did Bonnie Tyler represent the UK at the Eurovision Song Contest?
Bonnie Tyler - Believe In Me (United Kingdom) - LIVE - 2013 Grand Final
The UK's strategy for Eurovision has veered in various directions in the two decades and counting since we won with 'Love Shine A Light' by Katrina and the Waves 'in 1997.
Newcomers, social media stars, girl groups, co-ed bands, ex-reality TV contestants, hand-picked artists, open submissions... plus a back-to-back pair of established artists near the start of the 2010s.
Despite Engelbert Humperdinck limping into 25th place with 'Love Will Set You Free' in 2012, they stuck with the formula for 2013.
That year, Bonnie Tyler performed 'Believe in Me', written by songwriting superstar and 'Livin on a Prayer' co-writer Desmond Child with Lauren Christy and Christopher Braide.
Bonnie did a little better than Engelbert, placing 19th with 23 points, while the song also got Tyler her first charting single in a couple of decades.
What are Bonnie Tyler's biggest songs?
Across her career, Bonnie Tyler's biggest songs include:
Lost in France
It's a Heartache
(The World Is Full of) Married Men
Total Eclipse of the Heart
A Rockin' Good Way (to Mess Around and Fall in Love) (with Shakin' Stevens)
Holding Out for a Hero
Loving You's a Dirty Job but Somebody's Gotta Do It (with Todd Rundgren)
The Best (later covered by Tina Turner)
Making Love Out of Nothing at All
Believe in Me
Is Bonnie Tyler married and does she have any children?
Bonnie Tyler married property developer and former Olympic judo competitor Robert Sullivan in 1973, and they're still together today. The couple don't have any children.