Cilla Black's 10 greatest songs ever, ranked
19 October 2022, 12:16 | Updated: 18 August 2023, 18:00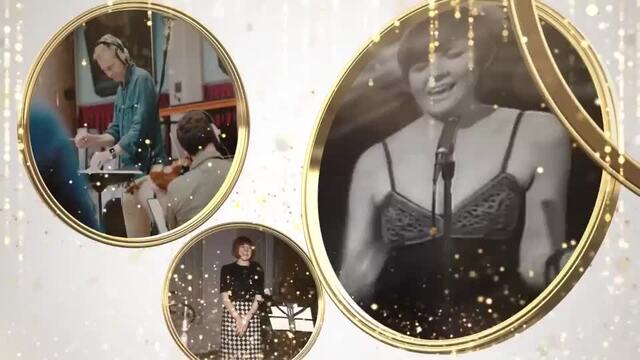 Cilla with the Royal Liverpool Philharmonic Orchestra trailer
Before her TV years, Cilla Black was a massively successful popstar who rubbed shoulders with The Beatles.
Before Blind Date and Surprise Surprise, Cilla Black was a bona fide pop superstar.
She was championed by The Beatles, who also lent her "Fifth Beatles" Brian Epstein and George Martin to manage and produce her.
So it's no surprise that she had a lot of excellent hit records, even if her tunes later got overshadowed by her TV roles.
Here at Gold we definitely think it's time to celebrate Cilla Black's music. Not sure where to start? Here's her ten finest records ranked all the way to her very best.
It's For You

Cilla Black - It's For You (Live)

Not the only Lennon/McCartney-written, George Martin-produced song on this list.

Despite its cinematic swoops and swirls, it's not quite as good as some of the other songs they gave to Cilla, but she still took it to number 7 in the charts in 1964.

An acetate demo featuring Paul McCartney's voice has been found, but not yet released.

You've Lost That Loving Feelin'

Cilla Black - "You've Lost That Loving Feeling"

If we were being uncharitable, we might argue that Cilla Black's early run of success was at least partially built on slightly safe covers of utterly bulletproof songs, like this take on the Phil Spector, Barry Mann and Cynthia Weil classic 'You've Lost That Loving Feelin'.

The original was the ultimate Wall of Sound experience performed by The Righteous Brothers that had already topped the charts in the US by the time Cilla got hold of it.

Word is the BBC weren't so keen on the Righteous Brothers version, preferring Cilla's more abbreviated take, so that when they both hit the UK charts on the same week, Black's actually charted higher.

Cilla had the edge over a four-week chart battle until the final week when, propelled by an impromptu tour and the support of Andrew Loog Oldham, The Righteous Brothers scored the number one, with Cilla dropping from two to five.

Step Inside Love

Cilla Black - Step Inside Love (Live)

As the 1960s went on, The Beatles didn't jettison their association with Cilla Black.

In fact, the Paul McCartney (and Lennon-McCartney-credited) 1967 song 'Step Inside Love' was written to order as the theme for her first TV show Cilla.

While The Beatles were jamming during the recording of The Beatles (aka The White Album), Paul McCartney, Ringo Starr and John Lennon skiffled through a version of the song, which was included on Anthology 3 and the 50th anniversary edition of The Beatles.

Work is A Four Letter Word

Work Is a Four Letter Word

The song that broke up The Smiths!

Johnny Marr was so miffed by Morrissey's insistence that the band cover the song as the B-side for 1987 single 'Girlfriend in a Coma' ("That was the last straw, really. I didn't form a group to perform Cilla Black songs.") that he fled to LA, breaking up the band.

Work Is a Four-Letter Word (2011 Remaster)

To give credit to Morrissey (not something we do often these days), written by Guy Woolfenden and Don Black with Cilla Black herself, 'Work is a Four-Letter Word' is actually a great little song, with a very Smiths-y message, too.

Cilla's 1968 original was the theme song from the 1968 Peter Hall film of the same name, which saw her star in her only leading cinema role alongside David Warner.

Something Tells Me (Something's Gonna Happen Tonight)

Cilla Black - Something Tells Me (Something's Gonna Happen Tonight)

Cilla's last top five hit, reaching number three, 'Something Tells Me (Something's Gonna Happen Tonight)' melded that orchestrated '60s Cilla sound with a slight touch of soft 1970s rock.

Written by Roger Greenaway and Roger Cook and produced by George Martin, it showed that Cilla still had plenty to offer going into a new decade.

Alfie

Cilla Black - Alfie (Live)

With their lush George Martin orchestration, so many Cilla songs feel a heartbeat way from being a Bond theme.

Maybe the closest she got to that, in vibe if not in strict musical style, was the theme song from the 1966 Michael Caine film Alfie.

It was written by Burt Bacharach and Hal David, who had suggested their usual collaborator Dionne Warwick. The movie studio wanted a Brit singer for this Brit movie, so in came Cilla who had already successfully covered the Bacharach/David/Warwick hit 'Anyone Who Had a Heart' (more on that later).

Dionne Warwick | Alfie | Live | 1973

Amazingly, Cilla wasn't convinced by the song at first.

"I actually said to Brian 'I can't do this'. For a start - Alfie?? You call your dog Alfie!" she later remembered. "Can't it be Tarquin or something like that?"

She insisted on Bacharach doing the arrangement, coming over to the studio AND playing on the piano, assuming that wouldn't happen. He agreed, and she recorded the song, taking it to the top ten.

For what it's worth, Dionne Warwick's later version went to number 15 in the US charts in 1967.

Love of the Loved

Cilla Black - Love Of The Loved

Where it all began for Cilla. Her debut single was another of her songs written by Paul McCartney, credited to the Lennon-McCartney partnership, and produced by George Martin. A horn-powered Mersey pop blast, it went all the way to number 35 in the charts.

The Beatles had actually played a version for their infamous failed Decca audition. While that recording didn't turn up on Anthology 1, you can find it on the 2013 I Saw Her Standing There bootleg, if you're that way inclined.

You're My World

Cilla Black - You're My World (Live)

Cilla Black's second (and last) number one single was this strings-driven reworking of Italian language track 'Il Mio Mondo'.

As well as her usual collaborators The Breakaways on backing vocals, Cilla later claimed her then-future husband Bobby Willis provided his voice on this George Martin-produced track, too.

Her 1963 single showed off her powerhouse vocals, while she reworked it in 1985 for the synth-powered Surprisingly Cilla.

Liverpool Lullaby

Cilla Black - Liverpool Lullaby

While her Scouse drawl was unmistakable when she spoke, a lot of Cilla's early hits were sung in a mix between received pronunciation and a sort-of neutral mid-Atlantic drawl when she was covering the likes of Dionne Warwick.

A key exception was 'Liverpool Lullaby', written by computer industry pioneer and sometimes folk musician Stan Bootle (aka Stan Kelly or Stan Kelly-Bootle), which is pure Scouse, without sacrificing any of her tone.

Based on elements of old traditional song 'Dollia' (or 'Dol-Li A') 'Stan's 'Liverpool Lullaby' was first released by folk duo Jacqueline and Bridie.

Judy Collins then made it famous with a version on her massive 1966 album In My Life (incidentally Cilla would release her own album called In My Life in 1974, with both LPs featuring a cover of the Lennon-McCartney classic).

Judy's version is masterful, certainly, but with its lyrics and sentiment it feels like a song Cilla Black was born to sing

She absolutely made it her own, even though it was only the B-side of 1969 single 'Conversations' – with both songs included on that year's Surround Yourself with Cilla album.

Anyone Who Had A Heart

Cilla Black - Anyone Who Had A Heart (Live)

Written by the hitmaking duo of Burt Bacharach and Hal David for Dionne Warwick, her version was a Top Ten success in the US, Canada and much of the rest of the world.

Over in the UK, the song was pitched to George Martin as a possible song for Shirley Bassey.

Instead – and with the full backing of Bacharach – Martin chose to record it with the up-and-coming Cilla Black.

The decision proved to be a good one when the song went to number one for three weeks and was the biggest UK of the 1960s by a female solo star.
BONUS TRACK: You're Sensational

You're Sensational (Matt Pop Radio Edit)

For all our affection for Cilla, she isn't an artist we were clamouring over the archives for for lost gems. More fool us.

In 2020 and a full five years after her death, the lost song 'You're Sensational' was discovered.

Recorded in the early 1970s as the proposed follow-up to 'Something Tells Me (Something's Gonna Happen Tonight)', it was mysteriously shelved.

Originally produced by David Mackay, the released version was given a sparkling '80s/'90s-style remix by Dutch producer Matt Pop.

It sounds like Gloria Gaynor crossed with early Kylie, and it's pretty wonderful.