Freddie Mercury facts: Real name, childhood, solo songs, sexuality and tragic death of the Queen icon
3 January 2023, 09:50 | Updated: 16 November 2023, 14:06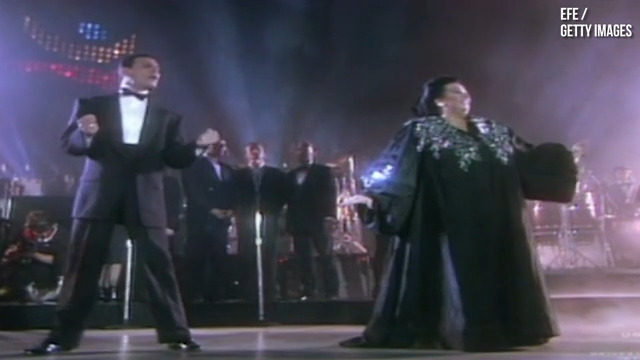 Freddie Mercury and Monserrat Caballe perform at Barcelona Olympics in 1992
Freddie Mercury wasn't just the frontman of Queen – he was the band's driving force and an utterly unique rockstar.
Naturally here at Gold we've celebrated the life and work of Queen many times, with the band one of the key artists in our virtual Hall of Fame.
And 30 years after his tragic death, we feel it's long overdue to give that accolade to Freddie Mercury in his own right.
More than just a great singer, Freddie was a masterful performer, an incredible songwriter and a rock icon who ripped up the rulebook for what a popstar could be. Read on to find out just how he did it.
What was Freddie Mercury's real name and where did he grow up?
Freddie Mercury - The Early Years
Freddie Mercury is one of the best names in rock, but it isn't Freddie's birth name.
He was actually born Farrokh Bulsara on September 5, 1946 to mum Jer and dad Bomi, but he adopted the name "Freddie" as a boy and legally changed his surname to Mercury in the early 1970s.
Freddie was born in Stone Town in what was then the British protectorate of Zanzibar (now part of Tanzania). He had one younger sister, whose name is Kashmira.
The family had its roots in western India, but had moved to Zanzibar for Bomi's job as a cashier at the British Colonial Office.
Freddie spent much of his childhood back in India with relatives, and was sent to British-style boarding school St Peter's in Panchgani near Bombay when he was eight.
The family eventually emigrated to England in 1964, escaping the violent revolution in Zanzibar.
They settled in Middlesex, and Freddie went on to study art at Isleworth Poly and then Ealing Art College, graduating in 1969.
How did Freddie Mercury get into music?
The Freddie Mercury Museum - Zanzibar
Unsurprisingly, Freddie was into music from a very young age, having piano lessons as a seven-year-old while living with his relatives in India.
A massive fan of Western pop, Mercury formed a school band called The Hectics when he was 12, covering rock 'n' rollers like Little Richard and Sir Cliff Richard.
After leaving art college, Freddie worked in Kensington Market and as a baggage handler at Heathrow and joined and left countless bands, including Ibex (later renamed Wreckage) and Sour Milk Sea, but nothing really seemed to stick.
When did Freddie Mercury join Queen?
While Freddie was doing his own thing, Brian May and Roger Taylor were in a band called Smile with singer Tim Staffell, who got signed to Mercury Records in 1969.
Freddie was at art college with Tim, and quickly became the band's biggest fan.
Tim left in 1970 to join the incredibly-named Humpy Bong, and Freddie convinced May and Taylor to not just carry on, but also to let him be the lead singer, even if his first auditions were apparently almost laughable.
While he was it, he also convinced Brian and Rog to change the band's name to Queen.
"It's very regal obviously, and it sounds splendid," he said. "It's a strong name, very universal and immediate. I was certainly aware of the gay connotations, but that was just one facet of it."
They auditioned a load of bassists before finding John Deacon in February 1971.
Which Queen songs did Freddie Mercury write?
Queen – Bohemian Rhapsody (Official Video Remastered)
Most bands are lucky to have one good songwriter. Queen had four great ones.
And even if we exclude the songs the band wrote together, a fair number of Queen's biggest and best songs were written by Freddie himself.
There are too many to list them all here, but they included:
Bicycle Race
Crazy Little Thing Called Love
Don't Stop Me Now
Jealousy
Killer Queen
Made In Heaven
Play the Game
Seven Seas of Rhye
Somebody to Love
What were Freddie Mercury's biggest solo songs?
Freddie Mercury - Love Kills (Official Lyric Video)
Given Freddie's unmistakable star power and his enviable songwriting ability, he was perhaps surprisingly loyal to Queen.
It's probably best to ignore the covers 'I Can Hear Music' and 'Goin' Back' recorded in 1972 when Queen were just getting started and released the following year under the Larry Lurex pseudonym.
With those recordings to one side, Freddie didn't step out on his own until 1984 – a decade and a half after joining the band.
His first proper solo single was 'Love Kills', written with and produced by Giorgio Moroder for his restoration/edit of Fritz Lang's 1927 silent cinema classic Metropolis.
Freddie Mercury - Made In Heaven (Official Video Remastered)
The following year he released his only proper studio solo album, Mr Bad Guy.
Its singles were 'I Was Born to Love You', 'Made in Heaven' (later re-recorded with Queen), 'Living on My Own' (a number one single when it was remixed and re-released after Freddie's death) and 'Love Me Like There's No Tomorrow'.
Then came 'Time' and 'In My Defence' for Dave Clark's "Time": The Album and the non-album single 'The Great Pretender', a cover of The Platters' 1955 hit.
After that was the remarkable Barcelona album, a collaboration with operatic soprano Montserrat Caballé, released in 1988.
Freddie Mercury & Montserrat Caballé - Barcelona (Original David Mallet Video 1987 Remastered)
Having been commissioned to write a song for the 1992 Summer Olympics, Caballé got in touch with Freddie and he wrote the masterful 'Barcelona' with Michael Moran.
One thing led to another, and the duo recorded a whole album together, including singles 'The Golden Boy' and 'Guide Me Home/How Can I Go On'.
Several of Freddie's songs were re-released after his death, and there was also the posthumous release of Michael Jackson duet 'There Must Be More to Life Than This' in 2014 which had originally been recorded during the Mr Bad Guy sessions but left unfinished, with a solo Freddie version appearing on the original album.
Lost Time outtake 'Time Waits For No One' followed in 2019.
Did Freddie Mercury ever marry or have any children?
Freddie Mercury - Living On My Own (Official Video Remastered)
Freddie Mercury never married, and he didn't have any children.
He had a long-term relationship with a woman, Mary Austin, and they lived together for several years until he came out as gay to her in 1976, having started a romantic affair with US record exec David Minns.
However, Freddie and Mary remained friends, and he even left his London mansion to her after he died.
"To me, she was my common-law wife," he said. "To me, it was a marriage. We believe in each other, that's enough for me."
Queen - I Want To Break Free (Official Video)
After he split from Mary, Freddie dated German restaurateur Winfried "Winnie" Kirchberger, even wearing a silver wedding band she had given him.
In 1985, he began another long-term relationship with Irish-born hairdresser Jim Hutton, who he stayed with for the rest of his life.
Equal marriage legislation wasn't passed in England and Wales until March 2014, over 20 years after Freddie died.
But Freddie referred to Jim as his husband and wore a gold wedding ring he had given him in 1986 until the end of his life – even being cremated with it on his finger.
How and when did Freddie Mercury die?
Freddie Mercury - Made In Heaven (Official Video Remastered)
The first news reports and clinical observations surrounding HIV emerged in 1981, with the name AIDS (acquired immunodeficiency syndrome) first coined by scientists in July 1982.
Biographers suggest that Freddie had exhibited symptoms of the disease as early as 1982, visiting a doctor in September 1982 to get a white lesion on his tongue examined,
Some newspapers reported in October 1986 that Mercury had been tested for HIV/AIDS, though Freddie's partner Jim Hutton confirmed after the singer's death that he had in fact been diagnosed with AIDS in April 1987.
At the time amid press rumours, Freddie had claimed to have tested negative for HIV, and he and his closest friends denied reports that he had AIDS.
Freddie Mercury - The Great Pretender (Official Video Remastered)
Freddie's health worsened, and Queen played their final live show at Knebworth on August 9, 1986, but they continued to work in the studio, with Freddie laying down his vocals when he was well enough to do so,
After his final work with the band in June 1991, Freddie went back to his Kensington home, where he was nursed by his partner Jim and visited by his ex Mary.
As his condition deteriorated, Freddie refused medication apart from pain relief. He released the following statement on November 23, 1991, which had been prepared with his manager Jim Beach the day before.
Following the enormous conjecture in the press over the last two weeks, I wish to confirm that I have been tested HIV positive and have AIDS. I felt it correct to keep this information private to date to protect the privacy of those around me. However, the time has come now for my friends and fans around the world to know the truth and I hope that everyone will join with me, my doctors and all those worldwide in the fight against this terrible disease. My privacy has always been very special to me and I am famous for my lack of interviews. Please understand this policy will continue.
He died the following evening, no November 24, 1991. The official cause of death is bronchial pneumonia resulting from AIDS.