'What a Wonderful World' by Louis Armstrong: The making of the jazzy pop classic
18 January 2022, 14:20 | Updated: 26 September 2023, 12:31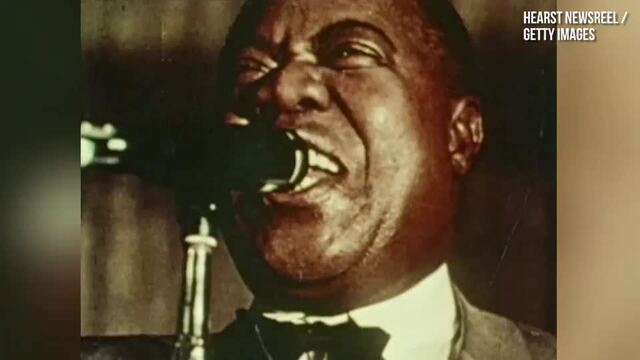 Louis Armstrong seen performing in old footage
Louis Armstrong had an incredible five-decade career, and was recording classic songs to the very end.
Louis Armstrong had changed the world of jazz as a trumpeter and cornet player way back in the 1920s.
By the end of the decade he emerged as a vocalist, and by the 1950s he was an international icon.
He kept performing all the way up to his death in 1971 at the age of 69, and a few years earlier had recorded one of his best-loved hits, 'What A Wonderful World'.
But who wrote the song? Was it really offered to Tony Bennett first? And why did it flop so badl in the US when it was first released? Here's everything you need to know.
Who wrote 'What A Wonderful World'?
Louis Armstrong - What A Wonderful World (Official Video)
Best known as a trumpet player and singer, Louis Armstrong was also a pretty nifty composer, writing many future jazz standards.
'What A Wonderful World' wasn't one of this, though,
It was written by ex-Impulse Records boss and producer Bob Thiele (credited on the label as "George Douglas") together with George David Weiss, who had previously written lyrics for songs like 'Lullaby of Birdland' and 'The Lion Sleeps Tonight'.
Did Tony Bennett really turn down 'What A Wonderful World'?
What A Wonderful World (Remastered)
Well, it depends on who you talk to.
One version of the story is that both Thiele and Weiss had pitched the song to Tony Bennett who turned it down.
Bennett did go on to record the song in 2002 for his A Wonderful World duet album with kd lang, and again by himself on Volume 3 of his Tony Bennett Sings the Ultimate American Songbook series.
But in 2002, Weiss told Graham Nash that he had written the song specifically for Louis Armstrong, inspired by Satchmo's ability to bring people together across the racial divide.
Whatever the truth, back in summer 1967 the song was offered to Louis Armstrong (some say on the recommendation of producer Artie Butler).
So Thiele, Weiss and Butler went to Las Vegas to meet Armstrong and put down the track.
Why did 'What A Wonderful World' flop so badly in the US?
Louis Armstrong, who had recently signed to ABC Records, was performing a residency at the Tropicana Hotel when he was given the song, so he recorded it at Bill Porter's nearby United Recording studio after his midnight show.
The tape was rolling by 2am, and despite the late start things were going well.
But just then, ABC boss Larry Newton rocked up to take some snaps of his new signing. And he was apparently aghast to hear the laidback strains of 'What A Wonderful World'.
Larry is said to have wanted Louis to record a nice uptempo number to replicate the success of the swinging 'Hello, Dolly!'.
That song had got all the way to number one on the Billboard Hot 100, ending The Beatles' remarkable 14-week run at the top with three different singles ('I Want To Hold Your Hand', 'She Loves You' and then 'Can't Buy Me Love').
Confronted with the chilled out orchestral optimism of 'What A Wonderful World', Newton even tried to stop the session, but was evicted out and locked out instead.
Things got even worse.
"I will never forget that in the middle of recording a freight train came into town blowing its whistle,: said producer Artie Butler.
"We had to stop the session and wait about twenty minutes. About an hour later the train left town and blew its whistle again. We had to stop the session once more. I remember Louis and I laughing out loud till it hurt. "
The gang got over the Union Pacific freight trains and Larry Newton's moping and wrapped up recording by 6am.
That was pretty long for a recording session back then, and to make sure the orchestra got paid a fair amount, Louis – who loved the song – is said to have agreed to be paid the musician's union scale amount of just $250.
But Larry wasn't done meddling. He was so down on the track that he refused to promote it in the US.
So while the song briefly hit the Billboard Bubbling Under charts, it was a total flop, failing to reach the Hot 100.
Over in the UK it was released on EMI's HMV imprint early the following year, and went all the way to number one.
It eventually became the biggest selling song of 1968. Louis was the oldest man to top the singles chart until 2009, when Tom Jones took that crown.
How did Robin Williams finally help get 'What A Wonderful World' into the US charts?
Louis Armstrong - What A Wonderful World
It's claimed that 'What A Wonderful World' sold fewer than 1,000 copies on its initial US release.
Despite that, and amid the backdrop of the Vietnam War and Kennedy and Martin Luther King Jr. assassinations, Louis insisted on playing the song everywhere he went.
Why on earth was Armstrong pushing so hard with such an optimistic song in such dark times? He explained in a specially-recorded spoken word intro to the song in 1970.
Louis Armstrong - What A Wonderful World (Original Spoken Intro Version) ABC Records 1967, 1970
"Some of you young folks been saying to me: 'Hey, Pops, what do you mean, what a wonderful world? How about all them wars all over the place, you call them wonderful? And how about hunger, and pollution, they ain't so wonderful either'.
"But how about listening to old Pops for a minute? Seems to me it ain't the world that's so bad but what we're doing to it
"And all I'm saying is, see what a wonderful world it would be if only we'd give it a chance. Love, baby, love. That's the secret.
"If lots more people loved each other we'd solve lots more problems, and then this world would be... that's what's old Pops keeps saying."
Louis Armstrong - What a Wonderful World (Good Morning, Vietnam's Soundtrack)
So 'What A Wonderful World' was an appropriate song to include in Robin Williams's classic movie Good Morning, Vietnam (even though it was set in 1965, two years before the track was actually recorded).
It was re-released as a single off the back of the film and 20 years after its initial release eventually charted in the US, reaching number 32 on the Billboard Hot 100.
The song was later used in films like 12 Monkeys in 1995 and Madeline in 1998.
Who has covered 'What A Wonderful World'?
Joey Ramone - What A Wonderful World
As well as Tony Bennett (eventually), 'What A Wonderful World' has been covered by countless other musicians in varying styles since it was first released.
To give a flavour of just how different the song can sound, Nick Cave and Shane MacGowan did it in 1992, Israel Kamakawiwo'ole picked up his ukulele and did it as a medley with 'Somewhere Over The Rainbow' the following year, and Joey Ramone punked it up as the opening track of his posthumous album Don't Worry About Me in 2002.
Katie Melua & Eva Cassidy - What A Wonderful World (Official Video)
Others who have performed it over the years include Roy Clark, Rod Stewart and Stevie Wonder, and Barbra Streisand, who mashed it up with John Lennon's 'Imagine'.
In 2007, Katie Melua took 'What A Wonderful World' all the way to the top of the UK singles charts once more, when she recorded a Red Cross charity duet with Eva Cassidy, despite Eva dying over a decade earlier
Melua made the song by recording over the original Cassidy recording from her 1996 Live at Blues Alley album – the last song Eva ever recorded live before her death at the age of 33.