'Happy Xmas (War is Over)' by John Lennon and Yoko Ono: The making of the Christmas peace anthem
20 December 2021, 19:31 | Updated: 26 September 2023, 12:21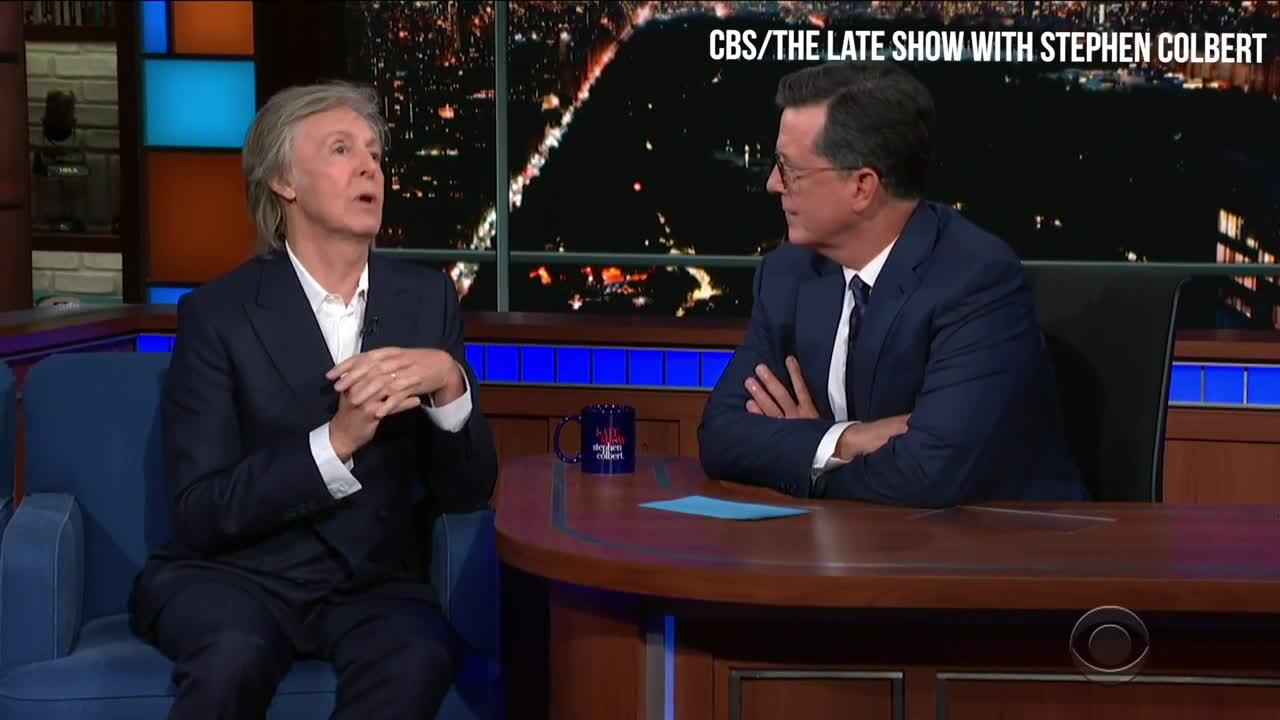 Paul McCartney sometimes dreams of John Lennon
John Lennon got the jump on the other Beatles with his Christmas cracker.
When The Beatles disintegrated at the end of the 1960s, each of the four members leapt into their solo work.
Within a couple of years, Paul McCartney released McCartney, Ram and Wild Life John Lennon had John Lennon/Plastic Ono Band and Imagine, Ringo Starr had Sentimental Journey and Beaucoups of Blues and George Harrison had the triple album All Things Must Pass.
There was plenty of healthy (and not-so-healthy) competition between the four ex-Beatles, but it was John Lennon who was the very first to release a Christmas single.
The Beatles were famous for their relatively throwaway Christmas fan club EPs. but John & Yoko's 'Happy Xmas (War is Over)' was something altogether different.
Read on to find out everything you need to know about the seasonal peace anthem.
Who wrote and played on 'Happy Xmas (War is Over)'?
HAPPY XMAS (WAR IS OVER). (Ultimate Mix, 2020) John & Yoko Plastic Ono Band + Harlem Community Choir
With his Lennon/McCartney days firmly behind him by 1971, most of John Lennon's original songs were credited to him alone.
There were some exceptions – songs John had written together with Yoko Ono.
'Happy Xmas (War is Over') is one of them, with both partners sharing joint credit as writers and performers – even though she doesn't feature on the original demo of the song.
Also getting joint performance billing on the sleeve was the Harlem Community Choir, a group of 30 kids, most aged 4-12 who recorded backing vocals on the track.
Other performers on the track were John's future Lost Weekend lover May Pang, session players Teddy Irwin, Hugh McCracken, Chris Osbourne and Stuart Scharf (all guitar), Nicky Hopkins (piano, chimes and glockenspiel), and Jim Keltner (drums and sleigh bells)
Like John Lennon/Plastic Ono Band and Imagine, it was produced by Phil Spector.
John borrowed a bit of 1961 Spector-produced Paris Sisters' single 'I Love How You Love Me' and the riffs from Ronnie Spector's 'Try Some, Buy Some' (another Spector production, this time with George Harrison), and elements of Peter, Paul and Mary's 'Stewball' version of trad English ballad 'Skewball'.
Lennon recorded an acoustic demo of the song at the St Regis Hotel in New York City in October 1971, before going to the Record Plant Studio with Phil Spector on Thursday, October 28.
The choir came along on Halloween, recording that chorus and all-important counter-melody backing vocals on the verses.
What is 'Happy Xmas (War is Over)' actually about?
Wedged between the avowedly commercial Imagine and the firebrand activism of Some Time in New York City, 'Happy Xmas (War is Over)' mixes up those worlds.
It mashes up seasonal platitudes ("A very merry Christmas / And a happy new year") with John and Yoko's philosophical sloganeering ("War is over if you want it").
'Happy Xmas (War is Over)' came after years of activism for peace from John and Yoko and was arguably its most on-point moment.
The pair were staging their bed-ins during spring 1969 (when John was still a Beatle), and the song is thematically reminiscent of that year's 'Give Peace A Chance'.
That Christmas, two years before they recorded and released the single they displayed posters reading "WAR IS OVER! If You Want It – Happy Christmas from John & Yoko" across 12 major cities around the world.
When was 'Happy Xmas (War is Over)' released and where did it get in the charts?
'Happy Xmas (War is Over)' is rightly acclaimed as one of THE great Christmas singles, but it wasn't always that way.
It was released in the US via Apple Records, backed with 'Listen, the Snow is Falling' on December 1, 1971.
These days, December 1 would be plenty of time for a song to top the charts,. but in the US back then it was all about radio play, and the song didn't have the run-in it needed.
It got to number 3 on the Billboard Christmas Singles Chart, but only 36 on the Cash Box Top 100 Chart.
Incredibly, the song didn't get released at all in the UK till the following year. It was a massive smash on its release in November 1972, peaking at number 4 on the UK singles chart that Christmas.
HAPPY XMAS (War Is Over) (New Alt Acoustic Mix 2018) JOHN & YOKO, Plastic Ono Band (music video HD)
The song has charted in the UK and US again and again at Christmastime since its original release.
Over here, it rose all the way to number 2 after Lennon was murdered on December 8, 1980 – only behind the chat-topping reissue of 'Imagine'.
After its initial release as a non-album single, it popped up on the 1975 Shaved Fish compilation, and several other best-ofs since.
A video was made for the song in 1992 mixed up clips from the 1969 peace campaign with family snaps from the late 1970s. A new video made in 2003 featured footage from the Vietnam War and other conflicts.
In 2021, 50 special limited edition acetates were made to celebrate the song's 50th anniversary, with each being donated to record stores or raffled off for charity.
John Lennon & Yoko Ono: WAR IS OVER! (If You Want It)
"Happy Xmas. This is one of only fifty Limited Edition acetates hand-cut at Abbey Road, it's yours – to sell, auction, raise money to help your business or your favourite charity or to fund your Xmas party – to spread Xmas cheer," said Sean Ono Lennon.
"We'd love to see the journey these acetates take, and the goodwill that they spread – please use the hashtag #HappyXmasVinyl and we'll retweet and share their progress on Social Media to help promote the good causes and good vibes."
Who has covered 'Happy Xmas (War is Over)'
Miley Cyrus, Mark Ronson ft. Sean Ono Lennon - "Happy Xmas (War is Over)" Official Performance |Vevo
'Happy Xmas (War is Over)' is one of the most-covered seasonal hits, with many artists choosing to release their covers as proper singles, or including them in their Christmas albums.
Among those to give their take on John & Yoko's classic are Andy Williams, Neil Diamond, Diana Ross, Maroon 5, Sarah McLachlan, The Fray, Miley Cyrus and Mark Ronson, John Legend, a supergroup of Sheryl Crow, Aloe Blacc, and Peter Frampton, Celine Dion, Carly Simon, Damien Rice, Badly Drawn Boy, Darlene Love, Sarah Brightman, REO Speedwagon, Jessica Simpson, The Twang, Train, Marillion, McFly, Jake Bugg, Alanis Morissette, the cast of Glee, Yoko Ono & The Flaming Lips and, er, The Wurzels.