The Beatles vs The Rolling Stones – in their own words
15 June 2022, 10:57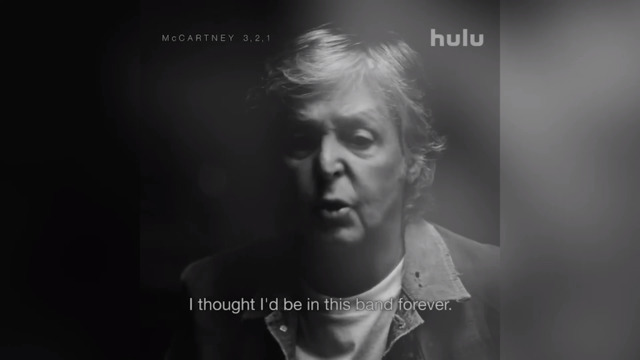 Paul McCartney reveals he thought he'd be in the Beatles forever in Hulu promo to mark release date of documentary 'McCartney 3,2,1'
The battle of the 1960s kicks off again as Paul McCartney and Mick Jagger have a new war of words.
Blur or Oasis. Take That or East 17. The Cure or The Smiths. The Velvet Underground or The Mothers of Invention. Spice Girls or All Saints. (Daddy or Chips?).
Pop has always had its rivalries, but one of the first, and most discussed, dates back to the 1960s.
Back then, the first question you might ask anyone was if they were a Beatles person or a Rolling Stones person.
Of course, the right answer was always "why not both?", but the feuding between superfans probably wasn't helped by the friendly, and sometimes not-so-friendly, rivalry between the band members themselves.
There was plenty of mutual love and cross-pollination between both groups, too: The Beatles wrote 'I Wanna Be Your Man' for the Stones. John and Paul did backing vocals on 'We Love You', and Brian Jones played sax on 'You Know My Name (Look Up the Number)'.
John appeared on The Rolling Stones Rock and Roll Circus and eventually, Mick Jagger inducted The Beatles into the Rock and Roll Hall of Fame.
The Rolling Stones Rock and Roll Circus (4K HD Trailer) | ABKCO Films
But the quibbling kicked off once more when Paul McCartney seemingly dismissed the Stones as a "blues cover band" earlier this month, prompting Mick Jagger to hit back in interviews and even onstage.
So we thought it was a perfect opportunity to look back at one of pop's neverending feuds. The Beatles vs The Rolling Stones – in their own words.
John Lennon suggests that the Stones are imitators
Dig A Pony (Remastered 2009)
"Oh, now. I a, hi, hi, a, hi, hi, roll a stoney.
Well you can imitate ev'ryone you know.
Yes, you can imitate ev'ryone you know."
– John Lennon on 'Dig a Pony' from Let It Be (1970)
Paul McCartney admits that there was "competition" and "rivalry" between the bands
The Rolling Stones - We Love You (Official Lyric Video)
"We'd be hanging out with the Stones, working on their sessions; it was a very friendly scene. There must have been a bit of competition because that's only natural, but it was very friendly.
"We used to say, 'Have you got one coming out?' and if they had we'd say, 'Well, hold it for a couple of weeks, because we've got one.' It made sense, really, to avoid each other's releases."
– Paul McCartney quoted in The Beatles: Anthology
John Lennon goes on a MASSIVE, swear-filled rant against Mick Jagger and the Stones
John Lennon Rolling Stone Full Interview (1970) by Jann Wenner
"I think its a lot of hype. I like 'Honky Tonk Woman' but I think Mick's a joke, with all that f*g dancing, I always did... I was always very respectful about Mick and the Stones, but he said a lot of sort of tarty things about The Beatles, which I am hurt by.
"I would like to just list what we did and what the Stones did two months after on every f**kin' album. Every f**kin' thing we did, Mick does exactly the same – he imitates us.... Satanic Majesties is Pepper, 'We Love You', it's the most f**kin' bulls**t, that's 'All You Need Is Love'.
"I resent the implication that the Stones are like revolutionaries and that the Beatles weren't...they are not in the same class, music-wise or power-wise, never were.
"He's obviously so upset by how big the Beatles are compared with him; he never got over it. Now he's in his old age, and he is beginning to knock us, you know, and he keeps knocking. I resent it, because even his second f**kin' record we wrote it for him."
– John Lennon to Rolling Stone (1970) [cut down from a much, much longer rant]
Mick Jagger hits back at "butch" John Lennon
David Bowie & Mick Jagger - Dancing In The Street (Official Video)
"[John Lennon] said something in your magazine. It wasn't to do with appearance, more with music. When asked about the Rolling Stones, he said, 'I like the butch stuff, and I don't like the f*ggy stuff'.
"But you don't want to be butch the whole time. It would drive you mad, wouldn't it?"
– Mick Jagger to Rolling Stone (1971)
Mick Jagger dismisses The Beatles as "a pop band"
i just wanna make love to you
"We were not The Beatles… The Beatles were a pop band… and though we liked them, you know, I mean… Keith and Brian sort of liked them, but I didn't really. I mean they were sweet and all that, but we were a blues band.
"We played blues and we played in clubs and we didn't play ballrooms and we just played in clubs and we played blues… we didn't play that kind of music, pop music.
"We didn't play like… what was it? 'Please Please Me'... we didn't play adolescent love songs at all… we were doing 'I Just Want to Make Love To You'."
– Mick Jagger quoted in 50 Licks: Myths and Stories from Half a Century of the Rolling Stones (1977)
John Lennon says The Beatles gave a "throwaway" song to the Stones
Rolling Stones - I Wanna Be Your Man HQ
"Paul had this bit of a song and we played it roughly for them and they said, 'Yeah, OK, that's our style'. But it was only really a lick, so Paul and I went off in the corner of the room and finished the song off while they were all sitting there, talking.
"We came back and Mick and Keith said, 'Jesus, look at that. They just went over there and wrote it'. You know, right in front of their eyes.
"We gave it to them. It was a throwaway. Ringo sang it for us and the Stones did their version. It shows how much importance we put on them.
"We weren't going to give them anything great, right? That was the Stones' first record. Anyway, Mick and Keith said, 'If they can write a song so easily, we should try it'. They say it inspired them to start writing together. "
– John Lennon to Playboy on writing 'I Wanna Be Your Man' for the Stones (1980)
John Lennon says Paul McCartney and Ringo Starr are as good – or better – players than the Stones
"If you compare [Pauls's bass playing with Rolling Stones' bass playing and you compare Ringo's drumming with Charlie Watts's drumming, they are equal to them, if not better.
"I always objected to the fact that because Charlie came on a little more 'arty' than Ringo, and knew jazz and did cartoons, that he got credit.
"I think that Charlie's a damn good drummer and the other guy's a good bass player. But I think Paul and Ringo can stand up anywhere with any of the rock musicians.
– John Lennon quoted in The Beatles: Anthology (1980)
Mick Jagger "couldn't give a s**t" when The Beatles broke up
John Lennon on Why The Beatles Broke Up | The Dick Cavett Show
"No-one should care if the Rolling Stones have broken up, should they? I mean, when the Beatles broke up I couldn't give a s**t. Thought it was a very good idea. And I don't believe the fact that the Smiths' guitarist has left is of any import to anyone whatsoever. I don't think anyone should give a s**t."
– Mick Jagger to Q magazine (1987)
Mick Jagger was "almost sick" with jealousy at The Beatles success
Mick Jagger inducts The Beatles - Rock and Roll Hall of Fame Inductions 1988
"They had long hair, scruffy clothes, and they had a record contract. And they had a record in the charts with a bluesy harmonica on it called 'Love Me Do'. When I heard the combination of all these things, I was almost sick.
"We went through some pretty strange times. We had a sort of a lot of rivalry in those early years, and a little bit of friction, but we always ended up friends.
"And I like to think we still are, 'cos they were some of the greatest times of our lives, and I'm really proud to be the one that leads them into the Rock and Roll Hall of Fame."
– Mick Jagger inducts The Beatles into the Rock and Roll Hall of Fame (1988)
Mick Jagger blames John and Paul's "strong personalities" for The Beatles' split
Mick & Keith talk about their time living in Edith Grove
"I can hazard a guess that they were both rather strong personalities, and both felt they were totally independent. They seemed to be very competitive over leadership of the band.
"John and Paul felt they were too strong, and they wanted to be in charge. If there are ten things, they both wanted to be in charge of nine of them. You're not gonna make a relationship like that work, are you?"
– Mick Jagger to Rolling Stone on the unhealthy rivalry between John and Paul (1995)
Keith Richards calls Sgt Pepper "a mishmash of rubbish"
Sgt. Pepper's Lonely Hearts Club Band (Remastered 2009)
"The Beatles, those chicks wore those guys out. They stopped touring in 1966 – they were done already. They were ready to go to India and s**t..
"The 
Beatles sounded great when they were the Beatles. But there's not a lot of roots in that music. I think they got carried away. Why not? If you're the Beatles in the '60s, you just get carried away – you forget what it is you wanted to do.
"You're starting to do Sgt. Pepper. Some people think it's a genius album, but I think it's a mishmash of rubbish, kind of like Satanic Majesties – 'Oh, if you can make a load of s**t, so can we'."
– Keith Richards to Esquire (2015)
Paul McCartney calls the Stones a "back-up band" for Mick Jagger
Octopus's Garden (Remastered 2009)
"I talked to Keith Richards recently... well, a couple of years ago, and his take on it was, 'Man, you were lucky, you guys, you had four lead singers', whereas the Rolling Stones only had one.
"I could sing, John could sing, George could sing and Ringo did numbers that he could sing. So it wasn't just the front man and the back-up band. Mick used to call us the Four-headed Monster. We would show up at places all dressed the same.
– Paul McCartney to Radio Times (2011)
Keith Richards says The Beatles were never a great live band
The Beatles - I Want To Hold Your Hand - Performed Live On The Ed Sullivan Show 2/9/64
"You have to think what had being the Beatles done to the Beatles? They wanted somebody else to take them away, they didn't want to be God any more, they plugged it all onto the Maharishi.
"Musically, the Beatles had a lovely sound, great songs, but the live thing? They were never quite there."
– Keith Richards to Radio Times (2016)
Paul McCartney says The Beatles were better than the blues-obsessed Stones
Howard Asks Paul McCartney Who's the Better Band: Beatles or Rolling Stones?
"The Stones are a fantastic group. I go see them every time they're out. They're a great, great band.... but they are rooted in the blues. When they are writing stuff, it's to do with the blues.
"Whereas had a little more influences. … There's a lot of differences, but I love the Stones, but I'm with you. The Beatles were better.
"We started to notice that whatever we did, the Stones sort of did it shortly thereafter. We went to America and we had huge success. Well, then the Stones went to America. We did Sgt Pepper the Stones did a sort-of psychedelic album. There's a lot of that."
– Paul McCartney to The Howard Stern Show (2020)
Mick Jagger says there's "no competition" between the stadium success of the Stones and The Beatles who never did an arena tour
Mick Jagger: New Rolling Stones Music, The Beatles and Performing Live | Apple Music
"There's obviously no competition... the big difference is, slightly seriously the Rolling Stones have been a big concert band in other decades and other eras when the Beatles never even did an arena tour.
They broke up before that business started – the touring business for real. That business started in 1969, and the Beatles never experienced that.
"Yes they played and did a great gig, and I was there at Shea Stadium but the Stones went on. We started doing stadium gigs in the '70s and are still doing them now.
"That's the real big difference between these two bands: One band is unbelievably, luckily still playing in stadiums, and the other band doesn't exist."
– Mick Jagger to Zane Lowe's Apple Music show (2020)
Paul McCartney calls the Rolling Stones a "blues cover band"
The Rolling Stones – Little Red Rooster (1964) [High Quality Sound, Subtitled]
"I'm not sure I should say it, but they're a blues cover band, that's sort of what the Stones are. I think our net was cast a bit wider than theirs."
– Paul McCartney to The New Yorker (2021)
Mick Jagger calls out Paul McCartney from the stage
Dedicated to Paul Mccartney 😎

Posted by GRRRolling Stones on Saturday, October 16, 2021
"There's so many celebrities here tonight, of course, you know, naturally. Megan Fox is here, she's lovely. Leonardo DiCaprio. Lady Gaga. Kirk Douglas... Paul McCartney is here, he's going to help us – he's going to join us in a blues cover later on."
– Mick Jagger live on stage in Los Angeles (2021)
Keith Richards says Paul McCartney got in touch to clarify the whole "blues covers band" thing
"I got a note from Paul about that, saying 'I was taken totally out of context'. He said, 'That's what I thought when I first heard them'. Paul and I know each other pretty well, and when I first read it I said, 'There's been a lot of deleting and editing going on here'.
"The next day I got a message from Paul saying, 'If you've read this s**t, it's all out of context, believe me, boys'... Paul's a great guy, man. I mean, Jesus Christ, look at the songs he's written."
– Keith Richards to Rolling Stone (2022)