How Billy Preston saved Get Back and became the Fifth Beatle
30 November 2021, 13:23 | Updated: 21 September 2023, 12:36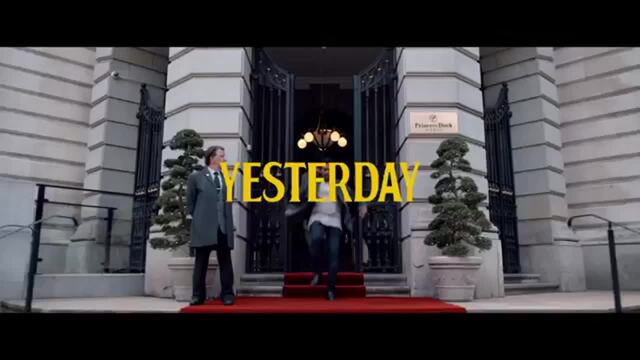 First trailer for Danny Boyle's Beatles comedy-drama Yesterday
Billy Preston is the only person to ever get joint credit on the label of a Beatles release.
Brian Epstein, George Martin, Stuart Sutcliffe, Pete Best, Jimmie Nicol, Neil Aspinall, Eric Clapton... there are many people who have been dubbed the Fifth Beatle.
US DJ Murray the K even gave himself the title (though we're not sure if anyone else would agree), but maybe there's only one true candidate: Billy Preston.
All those other Fifth Beatles played an important role in The Beatles' career, managing, producing, supporting and even playing with the band.
But only one person* has ever shared joint credit on the label of a record by The Beatles, and that's Billy.
(*Singer Tony Sheridan's early collaborations with the band were first released as under the name "Tony Sheridan and The Beat Brothers" – so it doesn't count.)
A self-taught musical prodigy, Preston had been playing with stars like Mahalia Jackson and Nat King Cole from the age of 10, and joined Little Richard's band as a teenager in 1962.
"Get Back" in Apple Basement | The Beatles: Get Back | Disney+
It was when Billy was on tour with Little Richard that he first met the Beatles in Hamburg.
He went on to perform with the likes of Sam Cooke and Ray Charles, picking up a reputation as THE guy you wanted to play the organ for you live or on record.
So, when tensions were rising during the Get Back sessions, George Harrison piped up with a solution.
Why not get Billy Preston in for the recording sessions? Billy agreed, and was an immediate hit with the band, with his playing all over the finished Let It Be album.
He played Hammond organ on 'Let It Be' and 'Dig It', and Fender Rhodes electric piano on 'Dig a Pony', 'I've Got a Feeling', 'One After 909', 'The Long and Winding Road' and – most importantly – 'Get Back' and its B-side 'Don't Let Me Down'.
When 'Get Back' was released as a single on April 11, 1969, it was credited to The Beatles with Billy Preston.
So successful was the collaboration, that after a fun run through 'I've Got a Feeling' John Lennon looked at Billy and said: "You're in the group."
It wasn't just a throwaway compliment, either. John seriously suggested that Billy join the band, and even referred to him as The Fifth Beatle.
The Beatles - Don't Let Me Down
It's one of the great rock 'n' roll what-ifs. With Billy as a proper, permanent member, would a rejuvenated Beatles have been able to carry on for years and years, absorbing and adapting to a new sound and influence?
We'll never know. Paul McCartney, probably fairly, pointed out that it was hard enough getting four talented musicians on the same page, so what hope would they have with five.
As it was, after the tumultuous Get Back sessions The Beatles had enough energy for a final joyous explosion of creativity with their swansong Abbey Road.
And while he wasn't an Official Beatle, Billy Preston was still very much part of proceedings, adding his Hammond organ to George Harrison's gorgeous 'Something' and John's 'I Want You (She's So Heavy)'.
It wasn't Billy's last association with The Beatles.
As well as appearing in Robert Stigwood's 1978 oddity Sgt. Pepper's Lonely Hearts Club Band as Sgt Pepper himself, Preston played on a number of George Harrison's 1970s solo albums, and also popped up on John and Ringo's records.
Billy also joined a number of George's live tours, and played a vital role in The Concert for Bangla Desh.
Billy Preston - My Sweet Lord (Live)
Away from The Beatles he played with The Rolling Stones and Eric Clapton live and on record.
And as well as collaborating with countless other top artists, he also had a successful career as a solo artist in his own right.
After years of struggling with kidney disease and drug abuse issues, Billy died on June 6, 2006. He was 59.