'All Right Now' by Free: The making of the classic rock anthem
13 March 2023, 13:21 | Updated: 19 September 2023, 13:48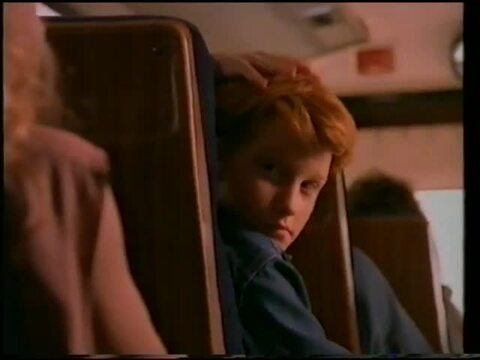 Wrigley's classic 1990 Bus Journey advert featuring Free's 'All Right Now'
Free's signature song is so massive it's been a hit single not once, not twice, but THREE times.
Before Bad Company, The Firm, The Law and his stint with Queen, Paul Rodgers' first major band was the hard-rocking Free.
The band were only around for around half a decade, but they packed in plenty of tunes in that time.
Despite taking a year off in 1972, they released six albums in five years and scored four top 20 singles in the UK before calling it a day for good.
The song they're best remembered for is the all-conquering 'All Right Now'.
But do you know who wrote the song, where it got in the charts, and why it became a hit again at the dawn of the 1990s? Read on to find out.
Who wrote 'All Right Now'?
A quick look at the label confirms that 'All Right Now' was written by Free's bassist Andy Fraser and singer Paul Rodgers.
While Queen's 'We Are The Champions' was inspired by the roar of an adoring crowd, it was the exact opposite experience that prompted the creation of 'All Right Now'.
After a particularly flat gig at the Durham Students' Union building, Dunelm House, Free knew they needed a certain something extra in their set.
"We left the stage to the sound of our own feet and we didn't like that because the fans would normally be screaming for more," said Free's drummer Simon Kirke told The Journal.
"We decided there and then we needed an up-tempo song to put that right."
He added in the liner notes for the Molten Gold anthology: "All of a sudden the inspiration struck Fraser and he started bopping around singing 'All Right Now'.
"He sat down and wrote it right there in the dressing room. It couldn't have taken more than ten minutes."
Of who wrote what, Kirke said: "Andy soon had the riffs worked out and Paul came up with the words. That song changed our lives."
In Songwriting Magazine, Andy gave a more thorough breakdown of that special night
"We'd driven up there on a rainy Tuesday, it was cold and miserable and we got there in a pretty foul mood to be honest," he said
"And then we saw the audience… it was a venue that could hold 2,000 people, but there were only about 30 people there. And those 30 were all off their heads on Mandrax… it was pretty grim."
He admitted that the band "absolutely sucked", and revealed how the song's chorus came out of nowhere.
Free - All Right Now (Doing Their Thing, 1970) Official Live Video
"Afterwards, in the dressing room, there was just this horrible silence… a really bad atmosphere," said Fraser.
"So to try and alleviate the tension, I just started singing… y'know, 'All right now, baby it's all right now', over and over, kind of like a parent trying to gee their kids along!
"But it worked, the rest of the band started tapping along and so I thought, we're onto something here."
Fraser's riff was a Pete Townshend impression he originally put together on the piano before guitarist Paul Kossoff transposed it on to the guitar,
"Basically the chorus wrote itself, the chords took me about 10-15 minutes and then Paul came up with the verses while he was waiting for a lift to a gig the next day."
What is 'All Right Now' actually about?
Unsurprisingly given its swift genesis, 'All Right Now' isn't the deepest of lyrics.
Boy meets girl ("There she stood in the street"), boy uses cheesy chat-up lines ("I said hey, what's your name baby... let's move before they raise the parking rate"), boy takes girl back for a coffee ("I took her home to my place"), girl questions boy's intentions ("Are you tryin' to put me in shame") before boy reassures girl that hey, it's all right now.
When was 'All Right Now' released and where did it get in the charts?
It may well be the signature song not just for Free but all of its individual members, but the band didn't even think of it as a single at first
"We really thought it was just kind of something light and throwaway – y'know, at last we've got an uptempo song, was basically all we were thinking!" said Fraser.
"We were very serious boys you see, we liked to write songs we felt had some kind of depth, whereas 'All Right Now' is just pure fantasy, really."
Island Records boss Chris Blackwell knows a hit single when he hears one though, and insisted they release it as a standalone cut.
Free - "Fire and Water" Album Commentary - Paul Rodgers
"That was one of the few arguments we had with Chris that he won, and of course in the long run he was right," Fraser admitted.
So about four months after it was recorded, 'All Right Now' was released as a single in the UK on May 15, 1970.
The song was an immediate hit, going to number 2 in the UK and number 4 in the US – it's still the band's biggest hit on either side of the Atlantic.
It went on to appear on the band's third studio album Fire and Water, released in June 1970, helping the album match the single's chart position of number 2 in the UK, and go as high as 17 in the US.
Free - "Fire and Water" Album Commentary - Simon Kirke
The band capped off this success with a storming performance at that year's Isle of Wight Festival, closing their main set with 'All Right Now'.
If all that wasn't enough, as Free were disintegrating with first Fraser and then Kossoff leaving the band, 'All Right Now;' was re-released in 1973, and got back in the UK top 20, peaking at number 15.
The single version of 'All Right Now' clocked in at a relatively snappy 4:14, with the album version at 5:31. When the song was re-released in the US as 'All Right Now (Long Version)' in 1978 an extra 40 seconds were dug out to make it an epic 6:11.
Finally, a remix of 'All Right Now' by Bob Clearmountain was released in 1991, with this re-release peaking at number 8.
Why did 'All Right Now' become a UK hit once more in 1991?
Yep, as well as its 1970 and 1973 chart success, 'All Right Now' was straight back in the top 10 two decades on.
Like most resurfaced hits before TikTok memes started putting old songs back in the charts, the reason for the song's return was an advert.
Not a Levi's ad like many, but a commercial for Wrigley's Spearmint gum.
In this ad, our fella doesn't use a cheesy chat-up line like in the song, but instead offers the object of his affections his last stick of gum.
She rips it in two an returns half to him. They get chewing and talk before he disembarks. As he sits at a counter and gets out that half wrapper, a nail-varnished hand appears with the other half. She got off with him, as it were.
"Island Records owned the publishing rights to all our songs in perpetuity," Rodgers told The Independent in 2010.
"In theory, they're supposed to call me and ask, 'Can we use this song in this way?' but they often don't. I think if the money's good enough, they just go, 'Yes! Wrigley's? YES!!'."
A classic ad with a classic tune, and the reason why so many of us can't here that massive riff without the slogan "great to chew, even better to share" popping in our head uninvited.
A less happy situation popped up when 'All Right Now' was being used to sell foot powder.
"You use this stuff on your feet and the song comes on to signify that your feet are All Right Now, you see," Rodgers said.
"I rang Chris Blackwell about it. He had it taken off pretty smartly."
Who has covered 'All Right Now'?
Queen + Paul Rodgers - All Right Now (Live at 46664)
Both Andy Fraser and Paul Rodgers continue to play 'All Right Now' wherever they go.
Rodgers even belted it out every night when he was walking in Freddie Mercury's footsteps as the frontman of Queen + Paul Rodgers between 2005 and 2008.
Other artists who have given the song a go over the years include Mike Oldfield, whose rare 1979 promo 7" featured vocals by Wendy Roberts, Pierre Moerlen and producer Tom Newman.
All Right Now (2008 Remaster)
The same year a radical disco reworking came from Witch Queen, released as a double A-Side with their take on T.Rex's 'Get In On'.
A Rod Stewart remake charted at number 72 in 1985, while Pepsi & Shirlie even named their 1987 debut album after their cover.