'I Believe in Father Christmas' by Greg Lake: The making of the melancholy festive classic
8 December 2022, 15:14 | Updated: 5 October 2023, 13:04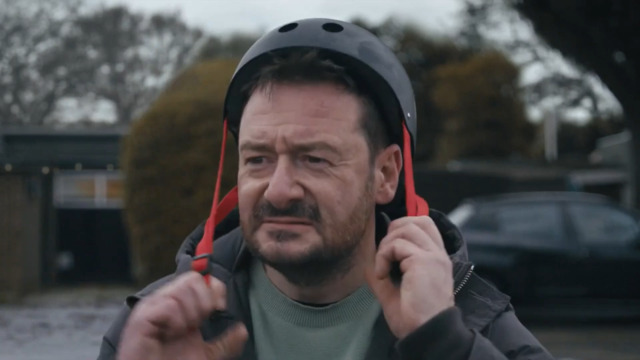 John Lewis release 'The Beginner' Christmas advert for 2022
When Greg Lake took a break from Emerson and Palmer to record an enduring Christmas classic.
Christmas is a time of laughter and joy, which is usually reflected in so many seasonal songs – but there are a few festive standards that have a wintry, sombre vibe, too.
'Stop The Cavalry' by Jona Lewie is one of our favourite downbeat Christmas songs, and so is Greg Lake's shimmering 'I Believe in Father Christmas'.
Former King Crimson man turned Emerson, Lake and Palmer prog icon Greg Lake took the unusual step of launching his solo career with a Christmas song.
Do you know who he wrote the song with, or what song kept it from scoring the Christmas No.1?
Read on for everything you ever wanted to know about 'I Believe in Father Christmas'.
Who wrote and played on 'I Believe in Father Christmas'?
Greg Lake was still very much a member of Emerson, Lake and Palmer when he decided to simultaneously strike out on his own.
Well, what actually happened was Keith Emerson wanted to do a solo side for ELP's upcoming Works album. That meant Greg Lake and Carl Palmer each doing their own side, too.
Needing a hand, Greg got in touch with his old King Crimson pal Peter Sinfield, who had written the lyrics and co-produced his former band's 1969 genre-defining classic debut In The Court of the Crimson King.
For 'I Believe in Father Christmas', Lake wrote the music, Sinfield wrote the words, and they both produced it together.
"I wrote it in my house in West London," Greg told Uncut in 2011. "I'd tuned the bottom string on my guitar from E down to D and got this cascading riff that you hear on the record.
How To Play "I Believe In Father Christmas" (Official Tutorial)
"But I couldn't really place what the song was about. I was out driving one day and it was playing on my mind, and, all of a sudden, it occurred to me that the tune of 'Jingle Bells' fitted over it.... I thought, 'Ah... I wonder if this could be a song about Christmas?'"
For what it's worth, Peter has a slightly different story: "I remember him playing the riff and me saying it sounds like a Christmas song. Him saying it was not the sort of thing he would do. It's out of character.
"Not that it matters. It's quite amusing that there are two egos here, both of which might supersede the truth."
It was Keith Emerson who suggested using elements of the 'Troika' portion of Sergei Prokofiev's Lieutenant Kijé Suite (written for 1934 movie Lieutenant Kijé) in the instrumental riff between verses to lighten the mood.
University of Melbourne Symphony Orchestra: Sergei PROKOFIEV - Troika (from Lieutenant Kijé)
ELP would return to Prokofiev for Works, with the opening track of Carl Palmer's side – 'The Enemy God Dances with the Black Spirits' – being an arrangement of the second movement of his 1915 Scythian Suite.
As for who played on the song, a guide version was recorded by Greg and Keith Emerson, before the version we all known was recored in the sweltering heat of August 1975 (another Christmas hit recorded in summer), with Greg Lake on vocals and 12-string guitar, backed by a 100-piece (that's right, ONE HUNDRED) orchestra conducted by Godfrey Salmon and 30-piece choir.
Salmon refused to wear a Father Christmas outfit to get in the mood, and joked about getting a stripper along to amuse the orchestra.
Unfortunately, someone actually booked a fan dancer for the second session. and the whole incident caused total havoc.
I Believe in Father Christmas
"She went straight over to the lead violinist and started to bury his face into her huge breasts," Lake recalled. "He went bright red. He was really straight-laced and didn't want it, really."
Some of the other players ran to the front of the orchestra for a peek, and things just got worse from there.
"All of a sudden there was this crunch... and someone had put their foot right through the double-bass. Some of the women in the choir were going, 'That's disgusting!"
"She was only there for five minutes but by the time she left there was total desolation and destruction This guy crying about his double-bass. Angry women. Guys cheering."
Money was spent, people reimbursed, and everyone calmed down enough for them to nail the finished single in the first take.
What is 'I Believe in Father Christmas' about?
Greg Lake 'I Believe In Father Christmas' (Official Lyrics Video)
While the popularity of what we think of as a modern Christmas is tied in to how it was sold to the world by marketers in the 1840s and 1930s, it's fair to say that the commercialisation of Christmas seems to ramp up a few notches every year.
That's been acknowledged in festive songs before – the cheeky cash register chime at the start of Wizzard's 'I Wish It Could Be Christmas Everyday' is a great example.
'I Believe in Father Christmas' is a more overt critique of the increasing commercialisation of Christmas as the 20th century wore on. What it's not is an attack on Christianity or religious belief.
"There are kind of three versions of Christmas songs," Greg Lake said on a Noddy Holder-fronted Xmas songs rundown.
"One is a sort of religious song. Then you've got the songs which are the party songs. Then you've got songs that are about Christmas... and the song that i wrote is one of those. It is all those mixed emotions that go up to make a very special time."
Peter added to Uncut. "It's not anti-religious. It's a humanist thing, I suppose. It's not an atheist Christmas song, as some have said."
Where was the 'I Believe in Father Christmas' video filmed?
Greg Lake - I Believe In Father Christmas (Original Version - 4K Restored)
Appropriately for a song touching on the religious origins of Christmas ("And they told me a fairy story/'Till I believed in the Israelite"), the video was shot in and around the Holy Land, with filming taking place in the Sinai Peninsula, as well as Qumran in the West Bank.
"Well, the Christmas song, the essence of it, the beginning of the story is religious, and it goes back to Israel. And that is where we shot the film," Lake told Songfacts in 2013.
"Some bright spark came up with the idea of shooting it in the Dead Sea Scroll caves. It sounded good, you know. The idea of that sounded appealing... until I actually had to do it.
"And it was a most treacherous thing. Now I look back on it, I was mad to do it."
Tour manager Andrew Lane, who had been a soldier in the Six-Day War, took Greg over and they shot the promo with local Bedouins.
Lake's performance with intercut with footage from the Vietnam War and Six-Day War ("Powerful visually, but gratuitous," admits Lake), and despite refusals to cut the video for the BBC, it still got shown on Top of the Pops.
Young thinks it would have got played even more, but the channel was apparently wary of having to pay massive repeat fees to the 100-strong orchestra as demanded by the powerful Musician's Union at the time.
When was 'I Believe in Father Christmas' released and where did it get in the charts?
'I Believe in Father Christmas' was released as a standalone single in November 1975, with 'Humbug' on the B-side.
It entered the charts at the start of December, rising to number 2 in the last rankings before Christmas Day, being kept off the top by Queen's all-conquering 'Bohemian Rhapsody'.
"Normally I would've been quite peeved," Lake said. "But a record like that, which, for them. was also a once-in-a-lifetime recording... I don't think you can complain.
"I got beaten by one of the greatest records ever made. I would've been pissed off if I'd been beaten by Cliff."
A more stripped-down recording by ELP was included on the band's Works Volume 2 in 1977, with that album charting at 20 in the UK and 37 in the US.
ELP recorded it again in 1993 for The Return of the Manticore box set and Lake put down another solo version for 2002's A Classic Rock Christmas compilation.
How much money does 'I Believe in Father Christmas' make each year?
I Believe in Father Christmas
When the Daily Mail estimated the earnings of the very biggest Christmas songs in 2015, 'I Believe in Father Christmas' wasn't on the list.
So we're guessing it's less than the hundred grand odd that songs on the bottom end of that ranking make, but of course it'll vary from year-to-year, depending on what films and adverts it appears in, and how many copies are bought, downloaded or streamed.
In 2005, Greg Lake responded to a reader letter in The Guardian about whether or not he could live off the song alone.
It was a big hit and it still gets played on the radio every year around December, and it appears on more or less every Christmas compilation going," Lake said.
U2 I Believe in Father Christmas
"So I can tell you from experience that it's lovely to get the old royalty cheque around September every year, but on its own, the Christmas song money isn't quite enough to buy my own island in the Caribbean."
He also quipped at the time: "I'm on tour at the moment and the Christmas song is as well received now as it was 30 years ago – maybe even more so.
"If Guardian readers could all please request it be played by their local radio stations, maybe that Caribbean island wouldn't be so far away – and if I get there, you're all invited."
Who has covered 'I Believe in Father Christmas'?
Toyah - I Believe in Father Christmas
Despite its melancholy, contemplative vibe, 'I Believe in Father Christmas' has been covered by a surprisingly large number of artists – certainly more than say, 'Stop the Cavalry'.
Leaving aside all of the different versions Lake and ELP recorded, it's been covered by Toyah Wilcox, Elaine Paige, Robbie Williams, U2, Susan Boyle, Joe McElderry, Sarah Brightman, Six By Seven, Flying Pickets, Tony Hadley, Chris Kamara, Jamie Cullum, Gary Barlow and Hannah Peel, among others.