'I Wish It Could Be Christmas Everyday' by Wizzard: The making of 1973's other Christmas cracker
23 November 2022, 14:00 | Updated: 19 September 2023, 14:30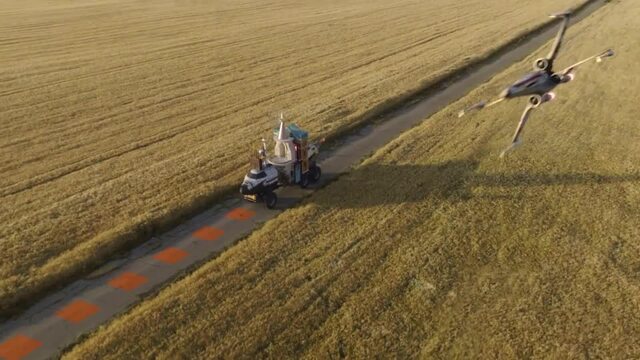 Katy Perry stars in Lego Christmas Advert
Slade's 'Merry Xmas Everybody' claimed the number one, but Wizzard's seasonal hit was almost as big.
Between The X Factor, Ed Sheeran, streaming and sausage rolls, the last decade or so has seen a massive shift in the race for the Christmas number 1.
What we think of as a venerable British tradition only really began in earnest in 1973, when glam icons Slade went head-to-head with Wizzard.
It was Noddy Holder and the lads who ended up winning the battle, but that's no shade on Wizzard's own Christmas hit, which has rightly endured to this day.
But did you know that the version of 'I Wish It Could Be Christmas Everyday' you're hearing on the radio today almost certainly ISN'T the original recording?
Read on for everything you ever wanted to know about 1973's OTHER Christmas cracker.
Who wrote 'I Wish It Could Be Christmas Everyday'?
Like nearly all of the songs released by Wizzard in their short, three-year run, 'I Wish It Could Be Christmas Everyday' was written and produced by the band's singer and leader Roy Wood.
"I decided to make a Christmas single because they'd been unfashionable for years," he told Q in 1996.
"We thought it would be worth trying a real rock 'n' roll Christmas song."
Wizzard - I Wish It Could Be Christmas Everyday (Official Music Video)
Wood had previously enjoyed fame as a founding member of both The Move and Electric Light Orchestra.
Roy left the latter amid tensions with the other members and founded Wizzard as its leader, having nabbed keyboard player Bill Hunt and cellist Hugh McDowell from his own band and rounding out the sound with saxophonists Mike Burney and Nick Pentelow.
The band were an instant hit. Debut single 'Ball Park Incident' went to number 6 in the charts. 1973's follow-ups 'See My Baby Jive' and 'Angel Fingers (A Teen Ballad)' both went to number 1, the latter topping the chart at the end of September.
Then, Christmas was coming...
Is that a cash register sound at the start of 'I Wish It Could Be Christmas Everyday'?
Pink Floyd - Money (Official Music Video)
Earlier in 1973, Pink Floyd had released 'Money', a scathing, ironic attack on our culture of greed, complete with cash register sound FX.
It made total sense there, but it's something of a surprise Wizzard's joyous, innocent celebration of Christmas ("Then your rosy cheeks gonna light my merry way"), opens with an acknowledgement of just how commercial the festive season was becoming.
"We got a sound effects record but it was crap, so we hired a proper old-fashioned metal cash register with all the scroll work on the sides, and I pressed the buttons while [bassist] Rick [Price] dropped the coins in," Wood explained.
When was 'I Wish It Could Be Christmas Everyday' released and where did it get in the charts?
The release of 'I Wish It Could Be Christmas Everyday' wasn't completely straightforward.
Wizzard had only been signed to a short singles deal with EMI, and it was initially thought that the contract would expire by the time of the festive single.
The group were moving to Warner Brothers, and early copies of the single were actually pressed by the rival company.
Just in time, someone checked the small print. The pressings were halted, and 'I Wish It Could Be Christmas Everyday' came out on EMI's Harvest subsidiary with 'Rob Roy's Nightmare (A Bit More H.A.)' written by Mike Burney on the B-side.
It was released in December 1973 and raced into the charts at number 19 on December 8, rising to number 6 the following week, and peaking at number four on December 22, just before Christmas.
Rob Roy's Nightmare (A Bit More H.A.) (2006 Remaster)
It stalled there for four weeks before drifting out the charts... but it would eventually make its return.
As we've mentioned, Slade's 'Merry Xmas Everybody' won the now-coveted Christmas number one spot in 1973.
"Neither of us knew the other was doing a Christmas song," Roy Wood said years later about the unexpected competition.
"Strange. Any other year, it would've been great."
Both singles were recorded in the summer, with Wizzard's track taped in August 1973 at Phonogram Studios in London, with engineer Steve Brown apparently turning up the aircon, popping in blue lightbulbs and decorating the studio to give the place a Christmassy feel.
Slade - Merry Xmas Everybody - Top Of The Pops - 1973
For the record, Gary Glitter's 'I Love You Love Me Love' was at number two, and The New Seeker's featuring Lyun Paul were at number three with 'You Won't Find Another Fool Like Me'.
Wizzard split in 1975, but in 1981 they decided to have another crack at the Christmas charts with the same song.
It turned out the master tapes had been lost.
"When we got that phone call, we just panicked, that is the only word for it," said producer Muff Murfin on finding out that the tape was lost.
"It took a good few bottles of brandy before we even thought about how we would manage it."
He added: "Roy just popped over and negotiated a deal with the music teacher - a one-off payment was made to the school, I don't know how much, that was just between them.
"So the kids came over and we taught them the song."
Roy Wood (Wizzard) - I Wish It Could Be Christmas Everyday - TOTP 1984
So they re-recorded the song with this new choir (more on that later), with the release credited to Roy Wood & Wizzard.
The new version wasn't as successful, only reaching number 41 on the charts. A re-release of this version bundled with an extended 12" mix did better in 1984, reaching 23.
If you listen to the song on the radio today, it'll almost certainly be that 1981 re-recording you're hearing, unless the DJ has dug out their original vinyl copy from 1973.
That was it for 'I Wish It Could Be Christmas Everyday' and the charts until the late-00s, when downloads and then streaming changed everything.
The song reached number 16 in 2007, and has been in the Top 50 every year since, with a peak of number 10 in 2019.
Who is singing in the choir on 'I Wish It Could Be Christmas Everyday'?
Wizzard - I Wish It Could Be Christmas Everyday (TOTP 1973) HD
On the sleeve, the song is credited to Wizzard ft. vocal backing from the Suedettes plus the Stockland Green Bilateral School First Year Choir with additional noises by Miss Snob and 3C.
That's true if you're playing the original 1973 recording on your record player (aside from that Miss Snob/3C bit, obviously).
"[Roy] wanted a choir of children on the track, and he insisted it had to be Birmingham kids, even though we were recording in London, so I got the job of sorting it out," said keyboard player Bill Hunt.
One of the singers, then-schoolgirl Hilary Gunton said: "My mother didn't want me to go. I was just 12 and she was worried about what might happen to me with these rock types, but I said I would never ever talk to her again if she stopped me.
"One day at assembly, the music teacher auditioned us by having us sing hymns unaccompanied in front of the whole school.
"It was incredibly embarrassing but I knew that if I wanted to meet Wizzard, I had to do it."
If you're listening to the Roy Wood & Wizzard re-recording from 1981 – and if you're listening to the radio, CD or digital version then that's what you'll be doing – then backing up the band is a new choir from Kempsey Primary School in Worcester.
One of the original Stockland Green singers is adamant that she's still on the "current' recording.
"I may not have a musical ear, but I can tell it is us singing," she said.
"All the chatter and that at the end, you can't recreate it. You just can't."
Roy Wood Big Band I Wish It Could Be Christmas Every Day Live 1992
But Muff explained: "There were some pretty good audio engineers who could help make it sound pretty much identical.
"It's likely the recording of the original chatter would have been mixed in with the new singing."
As for who that with Wizzard on Top of the Pops in 1973... that's not Stockland Green School or Kempsey Primary School either, instead being made up from drama school ringers from London.
"I really wanted to use the schoolkids but we had to use Equity children, so we got them from the Italia Conti acting school," Wood complained in 1996.
"I was really brassed off because the kids they sent were much too big, and they didn't even know the song, so half of them just stood there. They didn't even sing the words."
Wizzard - I Wish It Could Be Christmas Everyday (Official Animated Video)
And if you're watching the 1981 Top of the Pops recording, that's the Kempsey Primary School choir, miming along to a recorded a special for-telly version with a second group of kids.
"I'm the devilishly handsome one who puts a pie in Roy Wood's face," said former student Paul Evans.
"The first recording was done by the year above me, but they all left the school that summer because they were in the top class.
"So then my year did a recording too, and we were the ones taken to Top of the Pops."
Is the grammar all wrong in the title of 'I Wish It Could Be Christmas Everyday'?
Slade - Cum On Feel The Noize (Official Visualizer)
Are we nitpicking? Yes. But also, grammar is important!
Pop pedants know that song should really be called 'I Wish It Could Be Christmas Every Day'.
To explain, via Grammarly:
Everyday is an adjective we use to describe something that's seen or used every day. It means "ordinary" or "typical".
Every day is a phrase that simply means "each day".
On Christmas we don't eat everyday food like beans on toast, so if it were Christmas every day we'd probably run out of turkeys and Brussels sprouts.
With all that said, given that Wizzard's competition was Slade, who had a run of SEVEN misspelled top 5 singles ('Coz I Luv You', 'Look Wot You Dun', 'Take Me Bak 'Ome', 'Mama Weer All Crazee Now', 'Gudbuy T'Jane', 'Cum On Feel the Noize' and 'Skweeze Me, Pleeze Me'), we can probably let off Roy Wood and co.
Though, while we're having a whinge, a snowman is made of snow, rather than bringing the snow, no?
Who has covered 'I Wish It Could Be Christmas Everyday'?
The Wombles - I Wish It Could Be A Wombling Merry Christmas Every Day
Before we get to "proper" covers, it's worth noting that Roy Wood has had plenty of goes at reworking the song himself.
After the 1973 original and 1981 re-recording, Wood released a live version of the song in 1995, credited to The Roy Wood Big Band, which crept into the charts at number 59.
Wood then joined forces with Mike Batt for a mashup with 'Wombling Merry Christmas' called 'I WIsh It Could Be a Wombling Christmas Everyday', credited to The Wombles with Roy Wood which did better, reaching number 22.
The Big Reunion - I Wish It Could Be Christmas Everyday
Two decades on, Wood performed the song on Dave's Meet the Richardsons at Christmas, with this version credited to The Roy Wood Rock & Roll Band.
Then comes other artists giving it a go.
Artists as diverse as A-Teens, Girls Aloud, Sarah Brightman, Wilson Phillips, Leona Lewis, Olly Murs, Nick Lowe, Kylie Minogue, Cheap Trick, Denny Laine, The Wurzels, The Vamps and The Monkees have put their spin on it.
Chris Kamara - I Wish It Could Be Christmas Everyday (Official Video)
ITV2's The Big Reunion supergroup of Five, 911, Atomic Kitten, B*Witched, Blue, Honeyz and Liberty X released a charity version in 2013 that made it to number 21 in the charts.
And most surprisingly, footballer-turned-presenter Chris 'Kammy' Kamara released his own version in 2020.