'Stop The Cavalry' by Jona Lewie: The making of the protest song turned Christmas hit
6 December 2022, 12:52 | Updated: 7 December 2022, 09:48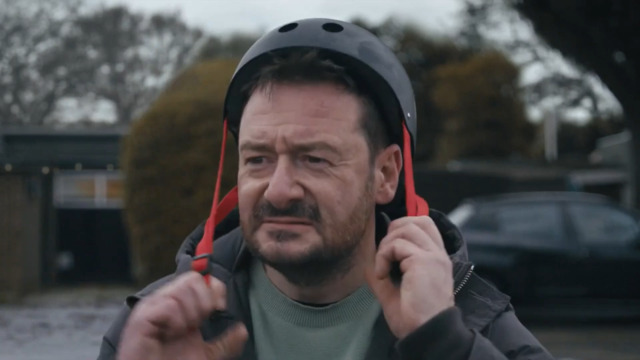 John Lewis release 'The Beginner' Christmas advert for 2022
How did a song originally about the Crimean War become an out-and-out Christmas classic?
There are all-sorts of Christmas songs: Songs about Jesus, songs about Santa, songs about reindeer, songs about shopping, and songs about drinking (hiccup).
And there's also been quite a few more serious Xmas songs about the weighty issue of war – which makes sense given Jesus's role as The Prince of Peace (via Isiah 9:6, if you were wondering).
The very best of those included John Lennon and Yoko Ono's 'Happy Xmas (War is Over)', as well as Jona Lewie's more surprising Christmas hit 'Stop The Cavalry'.
While Lennon and Ono's song was an unabashed Christmas classic from the outset, that wasn't the case with Jona's more downbeat single.
Want to know more? Read on for everything you could ever want to know about 'Stop The Cavalry'.
Who wrote 'Stop The Cavalry'?
'Stop the Cavalry' was written and performed by Jona Lewie.
Born in 1947, Jona was a bit of a late developer when it came to scoring chart hits. After his early years in jazz, blues and boogie, he scored a novelty hit as part of Terry Dactyl and the Dinosaurs in 1971, but he didn't release his first solo single till 'Cherry Ring' in 1976.
He actually wrote 'Stop The Cavalry' when he was living at home with his parents.
"I was playing about on my grandmother's piano and came up with a particular refrain I liked and kept coming back to," Jona told PRS for Music in 2011.
"A little germ of an idea had been planted in my head, but one that didn't come fully into fruition for about the next five months."
What is 'Stop The Cavalry' about?
Jona Lewie - Stop The Cavalry
Originally, 'Stop The Cavalry' was nothing to do with Christmas at all, and in fact it topped the French charts when it was released over there in the middle of summer.
"The first lyrics I thought of were actually 'can you stop the gallantry', about the gallant soldiers of the Crimean War and especially the charge of the Light Brigade," Jona explained.
"I widened the perspective of the song to be about all wars and all soldiers. There's even a reference to nuclear fall-out shelters in there.
"I imagined the soldier in this song being an eternal soldier, rather like the eternal flame that burns under the Arc de Triomphe... The central image of the song though is the soldier at the front during the Great War.
1914 | Sainsbury's Ad | Christmas 2014
"All the generals and commanders have been out to cheer the poor soldiers on, but once they've returned home the soldiers are left alone at the front."
So where does Christmas come into it? Well, Christmas always held great resonance with World War I.
The Great War was infamously meant to be "over by Christmas" but it instead went on for four horrific years.
In 1914 there was of course the Christmas truce, the unofficial ceasefires, which were even said to have seen football matches played between the warring factions.
"Christmas Day itself is so cold and so particularly miserable that he wishes to himself that he was back at home, in the warm, with his girlfriend," Lewie said.
"To be honest, it was always intended as an anti-war song rather than a Christmas song."
Jona Lewie - Stop the Cavalry - TOTP 1980 [HD]
It was Lewie's punk label Stiff Records who saw the potential of turning the song into a full-on festive cracker, with Lewie telling The Guardian in 2015 about how they made what the label had previously dismissed as "just another antiwar song" sound so seasonal.
"When we recorded it properly, I got a Salvation Army brass band to play the kazoo parts," Jonah said,
"The co-producer, Bob Andrews, suggested adding a tubular bell. That made it even more Christmassy."
Bob remembered: "I've always loved a Christmas single. I think it was me who suggested the brass band, actually, to make it more Christmassy."
The music video foregrounded both the war and Christmas angles, being filmed in Hampstead Heath with the Salvation Army brass band and set in the trenches of WWI.
It was filmed a month before the single was released, and Lewie didn't have the best time of it.
"It was snowing and I was freezing cold and bloody uncomfortable," he said. "So you could say I was method acting."
When was 'Stop The Cavalry' released and where did it get in the charts?
JONA LEWIE - You'll Always Find Me In The Kitchen At Parties
Jona Lewie's early solo singles failed to trouble the charts, but in 1980 he catapulted into the top 20 with his classic 'You'll Always Find Me in the Kitchen at Parties', which peaked at number 16 in June.
Despite '...Kitchen...' enjoying 11 weeks on the charts, follow-up "Big Shot – Momentarily' flopped and failed to chart altogether in the UK (it scraped into the top 75 in Germany).
'Stop The Cavalry' was released on November 21, 1980, with 'Laughing Tonight' on the B-side.
It went all the way to number 3 in the UK singles charts, and was kept off the Christmas number one spot by two very different songs.
In at number one was St Winifreds School Choir with their novelty hit 'There's No-one Quite Like Grandma'. As a former member of Terry Dactyl and the Dinosaurs, he could hardly complain.
St Winifreds School Choir - Theres No-One Quite Like Grandma
In at number two was John Lennon's '(Just Like) Starting Over', the lead single from John and Yoko's Double Fantasy album.
The track had been released in October but rose up the charts after John was murdered outside his New York apartment building on December 8.
For the first chart of 1981. Lewie was kept off the top by two re-released Lennon singles, with 1975's 'Imagine' going to number one for the first time, and 'Happy Xmas (War is Over)' at number two.
"I was very happy to be number three and I never thought at the time, 'Oh it's a pity it's not number one'," Lewie told the BBC in 2009 "I thought, 'It's bloody marvellous it's number three'"
How much money does 'Stop The Cavalry' earn Jona Lewie every year?
Jona Lewie - Stop The Cavalry -13th Dec 2017
With the usual caveats that no-one knows for sure, and the amount varies depending on how many streams, how much radio play and what adverts are using it every year, the Daily Mail estimated in 2015 that 'Stop The Cavalry' earned Jona Lewie £120,000 a year.
That's more than the hundred grand that Cliff Richard gets for 'Mistletoe and Wine', but less than the cool half million Noddy Holder and Jim Lea share for 'Merry Xmas Everybody'.
"I absolutely did not sit down with the idea of writing a big Christmas hit," Lewie admitted to the Beeb. "I don't think I would have been able to.:
Nevertheless, he added: "It's played a major role in terms of looking at my whole catalogue. It's provided about 50% of the total income stream."
Who has covered 'Stop the Cavalry'?
EastEnders - Sean Slater Sings "Stop The Cavalry" (25th December 2008 - Part 1)
'Stop The Cavalry' is a little more quirky than many Christmas hits, so it's not racked up quite the number of high profile covers that say, 'Last Christmas' or 'Merry Xmas Everybody' have enjoyed.
A few acts have tried to put their own spin on it, though, with Marillion's 2003 version and Sean Slater's EastEnders attempt in 2008 probably the best-known.