'Merry Christmas Everyone by Shakin' Stevens: The making of the delayed Xmas No.1
15 December 2022, 14:14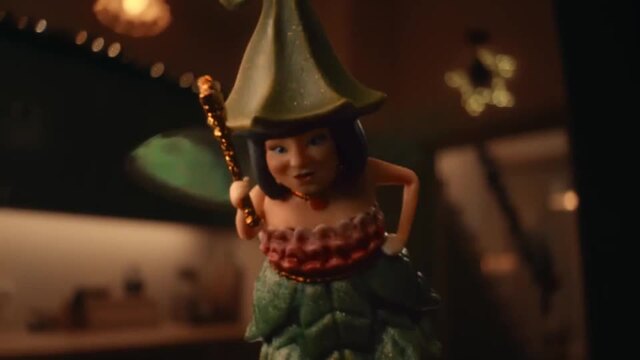 Fairy returns in M&S Food Christmas advert 2022
Shakin' Stevens hangs back a year to earn the Christmas No.1 with an enduring classic.
Shakin' Stevens had been toiling away as a jobbing musicians since way back in the 1960s, but it was only in the 1980s when he really burst through into the mainstream.
His stint as The King in 1977 hit West End musical Elvis! helped pave the way for a decade of success, with oodles of Top 40 hits and four number ones.
The last of those was 'Merry Christmas Everyone', written and recorded in 1984 but held back a whole 12 months (more on that later) to earn the top spot the following year.
But do you know who wrote the song, or why its release was put on ice for so long? Read on for everything you ever wanted to know about Shakin' Stevens 'Merry Christmas Everyone'.
Who wrote 'Merry Christmas Everyone'?
Shakin' Stevens - Merry Christmas Everyone (Official 4K Video)
Shakin' Stevens was a strong songwriter in his own right, and had even written his 1982 number one 'Oh Julie', but it was Scottish songwriter Bob Heatlie who wrote 'Merry Christmas Everyone' with Stevens in mind.
Bob had previously worked with Shaky on the singles 'Cry Just a Little Bit' and 'Breaking Up My Heart', and had also written Cliff Richard album track 'Locked Inside Your Prison' and the number one 'Japanese Boy' for fellow Scot Aneka.
"I always thought it would be nice to have a Christmas No 1 – if nobody remembers you for the rest of the year, they'll remember you at Christmas," Shaky told The Guardian in 2018.
"Bob Heatlie wrote the song especially for me and I thought it had all the ingredients for a Christmas single: festive lyrics, bells, the lot. I listened to it and I could picture snow."
Heatlie remembered: "I made some Christmassy sounds on a keyboard and the lyrics just started coming... I wrote the song in summer, during a heatwave.
"It was so hot I was wearing shorts, dripping in sweat, standing there recording with jingling bells, thinking, 'This is crazy!'."
The song's producer was Stevens' own countyman Dave Edmunds. Coincidentally Dave had some happy Christmas history, with his 1970 hit 'I Hear You Knocking' being that year's Christmas number 1 during its six-week run at the top.
Stevens acknowledged that the demo was pretty much perfect and complete and Heatlie quipped: "Dave Edmunds will have got himself a lovely producer's fee for just saying, 'Copy that!'."
What is 'Merry Christmas Everyone' about?
Shakin' Stevens - Merry Christmas Everyone (Remastered)
Unlike 'Mary's Boy Child' and similar, 'Merry Christmas Everyone' isn't about the birth of Jesus, but instead a party-like celebration of all the modern trappings of Christmas ("Time for presents / And exchanging kisses").
It's also one of those Christmas songs that is well aware that music itself is a key part of festive celebrations ("Time for singing Christmas songs... "Room is swaying, records playing / All the old songs, we love to hear").
And of course it celebrates the more romantic side of the season ("I'm gonna find that girl underneath the mistletoe / We'll kiss by candlelight")
When was 'Merry Christmas Everyone' released and where did it get in the charts?
'Merry Christmas Everyone' was recorded in time for the 1984 Christmas season, but wasn't actually released until the following November.
Why on earth would Shaky have sat on what was quite obviously a massive Christmas cracker of a song?
"I thought the song deserved to be No 1 and didn't want it to be a No 2, but in 1984, Band Aid released Do They Know It's Christmas?'," Shaky said.
"There was no way we could compete with such a high-profile charity single, so we held our song back for a year."
Stevens was right. There was zero chance of anything else getting the Christmas Number One that year. Even the modern classic 'Last Christmas' by Wham! stalled at number two.
So Stevens and co. held back, and eventually released the 'Merry Christmas Everyone' on November 25, 1985.
It had 'With My Heart' on the B-side, while the 12" nodded at Shaky's past run as Elvis Presley with a cover of The King's 'Blue Christmas' rounding out the package.
The decision to delay the release by 12 months did what it was supposed to: the song rose to number one on December 22 and stayed there for two weeks, scoring the Christmas No.1 in the process.
Shakin' Stevens - Echoes of Merry Christmas Everyone
In the download and then streaming era it's continued to chart in recent years, hovering around the top dozen or so with all those other Christmas songs.
Shakin' Stevens himself released a reworked version of the song in 2015 with The Salvation Army for charity as 'Echoes of Merry Christmas Everyone'. Sadly, that version didn't crack the Top 100, but the original peaked at number 26 that year.
A special "advent calendar" 12" vinyl edition was released last year, mimicking the original design.
What is going on in with Shakin' Stevens jumper in the video for 'Merry Christmas Everyone'?
Shakin' Stevens - Merry Christmas Everyone (Official Video) [Directors Cut]
"People always remind me of the embarrassing Christmas jumper in the video, but I didn't have stylists, I just threw something on," Shaky explained.
As for that tumble in the snow that so amused Duran Duran on the Saturday Superstore Video Vote, Stevens did that on purpose (obviously) to make the snowball fight look a lot more realistic.
The clip was filmed at a place called Santaworld in Sweden, and the young girl had won a competition to visit Lapland, while one of the kids in the toy-stuffed log cabin was Stevens' own son.
Who has covered 'Merry Christmas Everyone'?
A celebrity supgroup called The Celebs recorded a charity cover of 'Merry Christmas Everyone' in 2020 to raise money for the Alzheimer's Society and Action for Children.
The massive all-star cast for that year's edition of The Celebs included Sam Bailey, Frank Bruno, Toby Anstis, Anne Hegarty, Kellie Shirley and Richard Arnold, among many, many others.
There haven't been as many high-profile covers of 'Merry Christmas Everyone' as you might thing, with Pinky and Perky in 2000 and Gary Barlow in 2021 standing out.