'Puppet on a String' by Sandie Shaw: The making of the UK's first Eurovision winner
21 April 2023, 11:46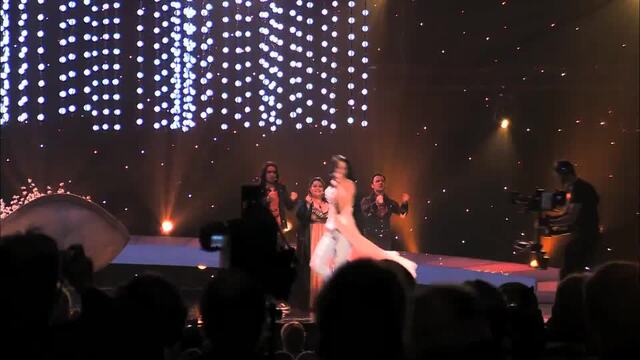 The Secret History of Eurovision – documentary trailer
As the UK looks to add to its Eurovision wins, we look at its first leaderboard topper.
At the time of writing, the UK has won the Eurovision Song Contest a very respectable five times – only Sweden (6) and Ireland (7) have notched up more victories.
After a whopping five second-place spots, the very first Eurovision win for Le Royaume-Uni came in 1967, with Sandie Shaw's performance of 'Puppet on a String'.
Sandie was a well-established star at that point, having scored six top 10 singles, including the number ones '(There's) Always Something There to Remind Me' and 'Long Live Love''
But as well as Sandie coming at a good time for the UK at Eurovision, it turns out that Eurovision also came at a good time for Sandie.
Do you know who wrote the song, what it's actually about, and what Shaw really thought about it? Read on to find out.
Who wrote 'Puppet on a String'?
Not to be confused with the Elvis Presley song of the same name (written by Roy C Bennett and Sid Tepper for the 1965 movie Girl Happy), 'Puppet on a String' was written by the songwriting team of Bill Martin (words) and Phil Coulter (music).
The duo had only met in 1965, and 'Puppet on a String' was their first high-profile collaboration, but they went on to have a successful partnership that stretched past a decade.
Their other songs included Cliff Richard's own Eurovision entry (and controversial 1968 runner-up) 'Congratulations', and Bay City Rollers hits 'Shang-A-Lang' and 'Saturday Night'.
They also wrote Cilla Black's 'Surround Yourself with Sorrow' and the English translation of Jean-Pierre Bourtayre and Claude François's 'My Boy' as sung by Elvis Presley.
Coulter and Martin also wrote the 1970 England Football World Cup song 'Back Home'... more on that later.
How did Sandie Shaw end up singing 'Puppet on a String' at Eurovision?
Puppet on a String - Sandie Shaw (Eurovision Song Contest - United Kingdom 1967)
The UK had put forward some serious contenders at Eurovision before Sandie Shaw, as evidenced by all those runners-up spots.
But even taking into account Matt Monro's 1964 effort 'I Love The Little Things', it's not an exaggeration to say that Sandie Shaw was probably the biggest star we entered into the contest by that point.
With a couple of number ones in her back pocket, you'd be forgiven for thinking that Sandie would be the sort to give Eurovision a wide berth, fearing a risk to her credibility should she flop – or perhaps even if she won.
It's worth bearing in mind that Eurovision wasn't yet the kitch-fest that it became in the decades that followed, though it certainly wasn't at the vanguard of cool.
So getting Sandie on board was a definite coup for Team UK, but why did she agree to do it?
Well, despite only breaking through in 1964, by 1967 it could be argued that Sandie's star was already on the wane.
In August 1966, her single 'Run' stalled at number 32 in the charts. Three months later, 'Think Sometimes About Me' could only match that spot.
The following January, 'I Don't Need Anything' failed to crack the Top 40, only reaching 50.
And while her debut album Sandie charted at number 3 in 1965, the same year's follow-up Me flopped.
Sandie Shaw - (There's) Always Something There To Remind Me - HQ
It was around this time that her manager Eve Taylor started pushing her towards cabaret, and the invitation came in from the BBC.
Sandie was far from certain, but Adam Faith encouraged her to go for it.
It's also worth mentioning that Sandie had been caught up in a scandal which was threatening her career.
In 1966, Sandie was named as a co-respondent in the breakup of Ready Steady Go! TV executive Douglas Murdoch and his wife Veronica Sands.
The judge decided that it was the then-18-year-old Shaw who caused the break-up, calling her a "spoilt child who would do anything to gain her own ends".
So Sandie had her reasons to entertain Eurovision, though the whole situation nearly stopped it from happening.
"The BBC wanted to fire me because I had a divorce scandal at the time, just before the contest," she later told Desert Island Discs.
"They didn't think it was the right image so it was incredibly unpleasant."
But they stuck with her, and of the five-song shortlist performed on The Rolf Harris Show ahead of the contest, it was 'Puppet on a String' that won by a landslide.
What did Sandie Shaw really think of 'Puppet on a String'?
Sandie, it must be said, was not a fan of the song, ranking it bottom of the five possible number she was due to sing.
"I hated it from the very first 'oompah' to the final 'bang' on the big bass drum," she said in her memoir.
"I was instinctively repelled by its sexist drivel and cuckoo-clock tune,"
One of the song's writers, Phil Coulter, hit back in a rant for the ages.
"Sandie Shaw is not one of the greatest brains in the world," he warmed up. "If some pop music critic whom I respected said such things about 'Puppet On A String, I'd think 'Well, that's a bit of an affront'.
Sandie Shaw - Puppet On A String (1967)
"But Sandie Shaw's job was to sing songs, and I wouldn't take her analysis or criticism of the song really seriously," he said.
"She is very dismissive of a song that, by any standard, she should feel a debt to. She owes something to that song because it brought her to a much wider audience than she had beforehand, sold her a lot of records, and I dare say gained her a lot of royalties."
He continued: "She has consistently bad-mouthed 'Puppet on a String'. Maybe she thinks she's a more credible artist than one who would sing a cute Eurovision-winning song, conveniently forgetting that it was her biggest hit and the one that broke her throughout Europe.
Sandie Shaw - Un tout petit pantin (Puppet on a string - French Version) - 1967 - stereo
"We didn't have any choice but to give the song to Sandie - she was the nominated singer by the BBC. And for all her bad-mouthing of 'Puppet', she did a bloody good job of singing it.
"I prefer to think of the positives of 'Puppet on a String'. As a songwriter, just because you give an artist a big hit, you don't expect loyalty. They say in the music business, 'If you're expecting loyalty, buy yourself a dog!"
Shaw's distaste for the song didn't stop her re-recording it, as she did many of her songs, in several languages to shift copies abroad.
Sandie Shaw - Puppet's Got A Brand New String (Audio Enhancement)
Sandie recorded versions in French ("Un tout petit pantin"), Italian ("La danza delle note"), Spanish ("Marionetas en la cuerda"), and German ("Wiedehopf im Mai").
More strikingly, Shaw re-recorded the song in a completely different style in 2007 to celebrate her 60th birthday, dubbed 'Puppet's Got A Brand New String'.
The remake grew out of a jam with her friend Howard Jones, and the downtempo electronic version was produced and mixed by Andy Gray (the Perfecto producer and Big Brother theme composer, not the football one). Unlike the original song, Sandie loved it.
What is 'Puppet on a String' about?
As Sandie pointed out, 'Puppet on a String' was hardly the most enlightened song for a woman to be singing in the late 1960s.
She croons that if the object of her affections simply says he'll care and loves her madly, she'll be there for him "Like a puppet on a string".
Eurgh.
The narrator even worries "I'm all tied up in you / But where's it leading me to?" but then we're straight back into that chorus.
How many points did 'Puppet On a String' get at Eurovision?
Scoring in the Eurovision Song Contest has gone through many changes over the decades, so you can't really compare one year with another.
In 1967, there were 17 competing nations, and – perhaps buoyed by Sandie's continent-wide fame and multilingual single releases – UK came out on top with 47 points.
That may not sound like a lot, but it was over double the number scored by second-placed Ireland (Sean Dunphy's 'If I Could Choose on 22 points) and third-placed France (Noëlle Cordier's 'IIl doit faire beau là-bas' on 20 points).
When was 'Puppet on a String' released and where did it get in the charts?
'Puppet on a String' was released a month before Eurovision, on March 7, 1967 with 'Tell The Boys' on the B-side.
Her success at Eurovision propelled the single to the top of the charts for her third and final number one, and the song eventually sold a whopping four million copies around the world.
Who has covered 'Puppet on a String'?
Perhaps surprisingly for such a simple yet iconic song, 'Puppet on a String' hasn't been covered that many times by major artists.
Maybe they like it about as much as Sandie does?
Beyond Shaw's own foreign language re-recordings and 2007 remake, 'Puppet on a String' has been covered by Pinky and Perky (who seem to cover everything), and more entertainingly by the 1970 England World Cup Squad – or at least in a mainly instrumental version on an album credited to them.
BACK HOME. ENGLAND WORLD CUP SQUAD 1970. TOTP 1970
While that team was knocked out in the quarter-finals after a 3-2 defeat by West Germany, they did top the charts with 'Back Home', written by the same Bill Martin and Phil Coulter who had written 'Puppet on a String' a few years earlier.
That single was backed by another Martin/Coulter number 'Cinnamon Stick' (resurrected years later by the Fantasy Football team).
Amazingly, it spawned a whole album called The World Beaters Sing the World Beaters, which among some other Martin/Coulter tracks like 'Congratulations' and – of course – 'Puppet on a String', also included covers of 'Sugar Sugar', 'Lily the Pink' and 'Ob-La-Di, Ob-La-Da'.