'A Whiter Shade of Pale' by Procol Harum: The making of the classical rock masterpiece
22 February 2022, 17:34 | Updated: 6 October 2023, 15:13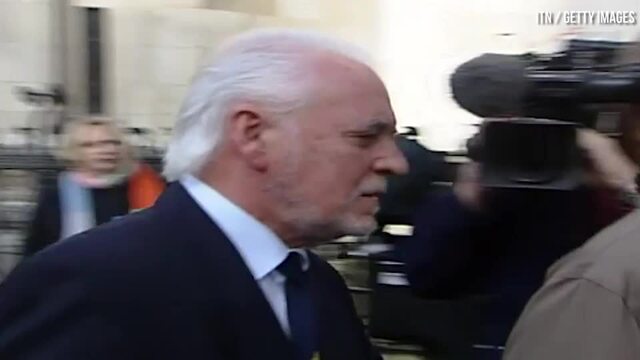 Procul Harum singer Gary Brooker seen in stock footage
In 1967, Procol Harum mashed up Bach and psychedelic rock for one of the greatest singles in pop history.
Few people would imagine that a proto-prog band from Southend-on-Sea and Essex named after a misspelled Burmese cat could have recorded one of the biggest selling singles of all time.
But that's just what happened when Procol Harum released their debut single 'A Whiter Shade of Pale'.
An instant classic, it racked up millions of sales on its release.
The band went on have a decade of success before splitting up. Procol Harum reformed in 1991, and one of the highlights of their live shows for the following decades was always 'A Whiter Shade of Pale'.
Following the sad news of singer Gary Brooker's death at the age of 76, we take a closer look at his classical rock masterpiece
Who wrote 'A Whiter Shade of Pale'?
PROCOL HARUM - A Whiter Shade Of Pale - promo film #1 (Official Video)
This isn't as simple a question as it first seems, and has actually proved to be quite a controversial one.
When it was first released, the song was credited solely to Gary Brooker (music) and Keith Reid (words).
Keith Reid was at a party and overheard someone telling a guest "you've turned a whiter shade of pale". The phrase stuck with him, and he knocked out four full verses.
Four? Yep, despite the song only having two verses, Keith actually wrote a couple more. Sometimes the band will play the third in concert. Very rarely, they'll even play the fourth, too.
"The fourth wasn't any great loss, but you had the whole story in three," Reid told Uncut magazine in February 2008.
"When I heard what Gary'd done with them, it just seemed so right. We felt we had something very important. As soon as we played it for anyone, we got an immediate response."
Of the music, Brooker told Prog: "I'd been working on a musical idea, which until then had been purely instrumental, when I opened the post and 'A Whiter Shade Of Pale' was on the top of other lyrics.
"I was immediately taken with the immense length of the original four verses with a chorus on each, and the narrative form it took, with its mysterious characters and goings-on."
He added to Uncut: "I'd been listening to a lot of classical music, and jazz. Having played rock and R&B for years, my vistas had opened up.
"When I met Keith, seeing his words, I thought, 'I'd like to write something to that'. They weren't obvious, but that doesn't matter. You don't have to know what he means, as long as you communicate an atmosphere."
So where's the controversy?
Well in 2005, the band's ex-organ player Matthew Fisher sued Gary Brooker, claiming he'd co-written the music for the song.
There was some back-and-forth with various appeals until April 2009, when the final appeal was heard in the House of Lords – the fist time a dispute over songwriting had reached that court.
The Law Lords ruled in Fisher's favour so the song is now credited to Gary Brooker, Matthew Fisher and Keith Reid.
"As one of those people who do remember the '60s, I am glad that the author of that memorable organ part has at last achieved the recognition he deserves," said Law Lord Baroness Hale.
How was 'A Whiter Shade of Pale' inspired by JS Bach's 'Air on the G String'?
A Whiter Shade of Pale/Air on a G String | Procol Harum JS Bach Mash up
You cultured listners at Gold will no-doubt recognise a little bit of something in the instrumental organ break of 'A Whiter Shade of Pale' – something that sounds a lot like JS Bach's 'Air' from his Orchestral Suite No. 3 BWV1068 (aka 'Air on the G String').
Brooker told Uncut: "Things can be gifted. If you trace the chordal element, it does a bar or two of Bach's 'Air on a G String' before it veers off.
"That spark was all it took. I wasn't consciously combining rock with classical, it's just that Bach's music was in me."
Who performed on 'A Whiter Shade of Pale'?
'A Whiter Shade of Pale' was the first Procol Harum single, and the band's lineup was very much in flux when they recorded it at Olympic Sound Studios in London with produer Denny Cordell.
On the recording you've got Gary Brooker on vocals and piano, Matthew Fisher on Hammond M-102 organ, Ray Royer on guitar, and David Knights on bass.
The group didn't have a proper drummer at the time, with session player Bill Eyden ably sitting in.
Incredibly, they laid it down in just two takes (or three, depending on who you talk to), with no overdubs.
"We had this concept for the sound of Procol Harum to be Hammond organ, piano and blues guitar," Reid told Uncut.
"No other band had that; it gave us a bigger sound. It's a live recording… I think we did three takes. It's equal parts Dylan and Stax. On our own terms, we were always trying to make a soul record."
Procol Harum - a white shade of pale, at Gala du Midem 1968
Procol Harum enlisted Bobby Harrison on drums soon after, and tried to re-record with him at Advision Studios. But you can't improve on perfection, and they stuck with the utterly perfect original.
This Procol Harum lineup didn't last long. By the time the group released their self-titled debut album later that year, Ray Royer was replaced by Robin Trower, and Harrison was replaced with BJ Wilson.
The eagle-eyed among you will spot that, despite writing the words for 'A Whiter Shade of Pale' (and ALL of their original lyrics apart from on their 2017 swansong Novum), Keith wasn't actually a performer.
That didn't stop him being a full-fledged member of the band who showed up at most of their recording sessions and concerts.
What is 'A Whiter Shade of Pale' about?
Procol Harum - A Whiter Shade of Pale, live in Denmark 2006
Keith Reid's lyrics for 'A Whiter Shade of Pale' aren't your basic throwaway pop fluff.
The chorus seemingly nods at Geoffrey Chaucer The Miller's Tale ("And so it was that later / As the miller told his tale"), but Reid brushed that off.
"I'd never read The Miller's Tale in my life," Reid told Songfacts. "Maybe that's something that I knew subconsciously, but it certainly wasn't a conscious idea for me to quote from Chaucer, no way."
As well as surrealists like surrealism, Magritte and Dali, French cinema like Pierrot Le Fou and Last Year In Marienbad, Keith Reid has revealed that he was influenced by The Beatles, Ray Charles, Stax records, and especially Bob Dylan.
If you were wondering, in the state religion of ancient Rome, Vestal Virgins were the priestesses of the Roman goddess of the hearth, Vesta.
"I was trying to conjure a mood as much as tell a straightforward, girl-leaves-boy story," he told Uncut.
"With the ceiling flying away and room humming harder, I wanted to paint an image of a scene. I wasn't trying to be mysterious with those images, I wasn't trying to be evocative.
"I suppose it seems like a decadent scene I'm describing. But I was too young to have experienced any decadence, then, I might have been smoking when I conceived it, but not when I wrote it. It was influenced by books, not drugs."
For his part, Brooker said: "'A Whiter Shade Of Pale' seemed to be about two people, a relationship even. It's a memory.
"There was a leaving, and a sadness about it. To get the soul of those lyrics across vocally, to make people feel that, was quite an accomplishment."
When was 'A Whiter Shade of Pale' released and where did it get in the charts?
'A Whiter Shade of Pale' was recorded in April 1967 and released just a month later, on May 12, 1967. It even had a music video – a relative rarity at the time.
The song opened the US version of the band's album debut Procol Harum in September 1967, but didn't appear on the UK version of the album that was released a few months later.
In 2017, a special A Whiter Shade of Pale EP featuring a 50th Anniversary Stereo Mix of 'A Whiter Shade of Pale', clocking in at 5:54, nearly two minutes longer than the 4:03 original.
A Whiter Shade of Pale [50th Anniversary Stereo Mix]
On its release in 1967, 'A Whiter Shade of Pale' stormed to number one in the UK singles chart. It went to number one in several other countries around the world, and as high as number 5 in the US charts.
While Procol Harum aren't in the Rock and Roll Hall of Fame, in 2018 'A Whiter Shade of Pale' was just one of six songs in the inaugural Singles category (along with 'The Twist' by Chubby Checker, 'Rocket 88' by Jackie Brenston and his Delta Cats, 'Rumble' by Link Wray, 'Louie Louie' by The Kingsmen and 'Born To Be Wild' by Steppenwolf.
In 2004, the song was recognised by Phonographic Performance Limited as the most-played record by British broadcasting of the past 70 years. Five years later the same body also named it the most played song in public places of the last 75 years.
It was named joint winner of the Best British Pop Single of 1952-1977, along with Queen's 'Bohemian Rhapsody', at the 1977 Brit Awards.
Who has covered 'A Whiter Shade of Pale'?
Annie Lennox - A Whiter Shade of Pale (Remastered)
Despite the Procol Harum version being pretty much unimprovable, that hasn't stopped many artists giving it a pretty good go... it's estimated that over 1,000 covers exist.
It's worth mentioning that the fledgling Procol Harum almost gave up the first version of the song. "Funnily enough, Otis Redding wanted to do it," Reid told Uncut. "But we wanted our record out first, and Stax wanted the exclusive."
A version by the Sammy Hagar-fronted Hagar Schon Aaronson Shrieve scraped into the top 100 and also appeared on their 1984 album Through the Fire.
Santana, Steve Winwood - Whiter Shade of Pale
Annie Lennox did even better, taking her version to number 16 in the UK in 1995, and also featuring the album on her chartopping Medusa album.
It's also been covered by The Everly Brothers, The Box Tops, The Telstars, Joe Cocker, Bonnie Tyler, Willie Nelson, Gerry & The Pacemaker, Michael Bolton, Sarah Brightman, Barrett Strong, Vanilla Fudge, Fun Lovin' Criminals, and Santana featuring Steve Winwood.