Slade facts: Glam band members, songs, break-ups and possible reunion revealed
5 December 2022, 10:50 | Updated: 10 March 2023, 13:36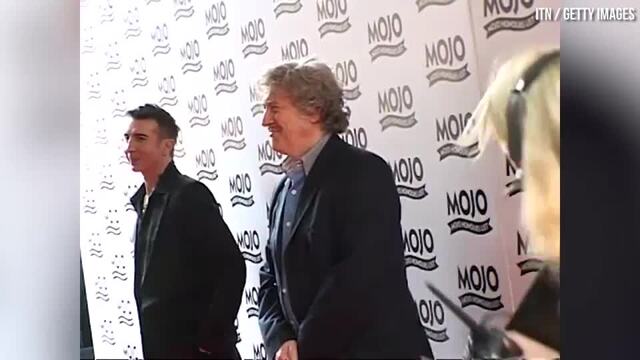 Noddy Holder of Slade hits the red carpet at photocall
With 17 consecutive top 20 hits and six number ones, Slade ruled the 1970s.
Slade are best remembered by some for their massive seasonal hit 'Merry Xmas Everybody', but the truth is that the glam icons were – and are – much more than that.
Between 1971 and 1976 they scored a remarkable 17 (SEVENTEEN!) consecutive top 20 hits, with six of those reaching No. 1.
The truth is that If the first half of the decade belonged to anyone, it belonged to Slade.
But how much do you know about Noddy Holder and co? Do you know the names of all those gloriously-misspelt hits, or which original members are in the current Slade lineup?
Read on for everything you ever wanted to know about Slade, as they enter our digital Hall of Fame.
When did Slade form and who was in their original lineup?
Slade had their roots all the way back in 1964, when guitarist Dave Hill and drummer Don Powell were playing in a group called The Vendors. Meanwhile, Noddy Holder was in Steve Brett & The Mavericks.
Inspired by US bluesmen, The Vendors switched up their sound and changed their name to The 'N Betweens.
The 'N Betweens and The Mavericks crossed paths on a ferry to Germany for some (separate) live shows and the former tried to nab Noddy, but he said no.
Back in Wolverhampton, and with bass player Jim Lea now part of the group, they had another go. This time Holder said yes.
It was now 1966, and the four-piece that would be Slade were now together, but they were still called The 'N Betweens, and still playing R&B and Motown-type music.
They were spotted by promoter Roger Allen who gave a call to Philips Records boss Jack Baverstock, who offered them a deal: but only if they changed their name.
So Ambrose Slade were born, inspired by what Bravestock's secretary called her handbag (Ambrose) and shoes (Slade),
They released the flop album Beginnings under that name, before incoming manager Chas Chandler urged a change of style.
The Shape Of Things To Come (Official Vizualizer)
The group also dropped Ambrose from their name, becoming Slade.
After a brief dalliance with the skinhead look, they grew their hair out and hitched their wagon to the burgeoning glam rock scene, effectively relaunching with a cover of Little Richard's 'Get Down and Get With It', written by Bobby Marchan.
It earned the group their first hit, reaching number 16 in the charts in 1971. Chandler insisted the band write their own follow-up.
Noddy and Jim wrote 'Coz I Love You', which went all the way to number one. Slade had arrived.
Who has been in Slade over the years and who is in the current touring lineup?
The original Slade lineup stuck together for a remarkable length of time: all the way from 1966 to 1992.
That's when Noddy Holder and Jim Lea decided to call it a day and left the group.
Between then and now, Slade have continued in various forms. For their first decade without Noddy and Jim they were known as Slade II, but then they dropped the number and became just plain Slade again.
Slade - Coz I Love You (1971)
For a couple of years, Dave Hill and Don Powell performed with Steve Makin on guitar, Craig Fenney on Bass and Steve Whalley on vocals and guitar.
Fenney was then replaced by Trevor Holliday (1994), then Makin left (1996). Holliday was replaced by Dave Glover (2000), who in turn was replaced by John Berry (2003).
Whalley was replaced by Mal McNulty in 2005, and that lineup remained stable for nearly 15 years.
Slade - Mama Weer All Crazee Now • TopPop
In 2019, Russell Keefe replaced McNulty and the most striking lineup change since 1992 happened in 2020 when Don Powell – an ever-present since 1966 – was forced from the group.
Currently, Dave Hill (guitar and vocals) is the sole remaining original member of Slade, joined by Russell Keefe (vocals and keyboards), John Berry (vocals, bass, violin and newbie Alex Bines (drums).
What were Slade's biggest songs and albums?
Slade - Cum On Feel The Noize • TopPop
Slade were more than just a singles band, and their third album Slayed? and follow-up Old New Borrowed and Blue topped the LP charts, while Slade in Flame went to number 6 and Nobody's Fools reached 14.
Even though it didn't chart at the time, Whatever Happened to Slade has grown in stature over the years, especially among grunge bands and fans.
They continued releasing albums all the way to 1987's You Boyz Make Big Noize (their 14th), while the post Noddy/Jim group released their sole effort Keep On Rockin' in 1994 as Slade II.
Slade's biggest songs included:
Get Down and Get with It
Coz I Luv You
Look Wot You Dun
Take Me Bak 'Ome
Mama Weer All Crazee Now
Gudbuy T'Jane
Cum On Feel the Noize
Skweeze Me, Pleeze Me
My Friend Stan
Merry Xmas Everybody
Everyday
The Bangin' Man
Far Far Away
How Does It Feel
Thanks for the Memory (Wham Bam Thank You Mam)
In for a Penny
Let's Call It Quits
Who wrote Slade's songs?
Slade - Skweeze Me Pleeze Me
Slade's first album was a mix of mainly covers, plus three songs written by the band and one by the partnership of Noddy Holder and Jim Lea.
The second album saw more self-penned material, with Lea and Dave Powell joining forces on a few songs, but by Slayed? it was clear that the songs by Holder and Lea were the ones breaking through.
Their songs dominated Old New Borrowed and Blue, the Slade in Flame soundtrack, and all the band's releases till they left the group in 1992.
Exactly how much money does 'Merry Xmas Everybody' earn the band every year?
Slade - Merry Xmas Everybody (1973) [Restored]
All those hits. Two chart-topping albums. But still the question on everyone's lips is "How much money do Slade make from 'Merry Xmas Everybody' every year?
Obviously it'll vary year-to-year, and no-one other than Slade's accountant will know for sure.
The song was – like most of their hits – written by Noddy Holder and Jim Lea, so they get the lion's share of royalties
The total sum comes from a mixture of streaming, downloads (not so much these days), CD and vinyl (probably even less), PRS public performance fees (every time you hear it in the supermarket), and "sync rights" – when the song is used in adverts, films or TV shows.
Noddy holder has quipped that the song is his "pension scheme", while in 2015 it was estimated that the track brought in £500,000 of royalties every year.
Will Slade ever reunite with Noddy Holder and Jim Lea?
While Dave Hill's Slade have soldiered on and continue to play today, there have long been hopes of a "proper' reunion, featuring not just Don Powell, but also the band-leading, songwriting partnership of Noddy Holder and Jim Lea.
Hopes were raised by an apparent "interview" with Noddy in early 2022, but his manager poured cold water on the idea and claimed no such interview had taken place.
It wouldn't be straightforward.
"It would be amazing if we could work out our differences," Noddy was quoted as saying in the interview-that-maybe-never-happened.
"I think it's a long time before [Don Powell and Dave Hill] get talking again. But that happens in rock 'n' roll bands. If it's not one crisis, it's another."
A month later, Noddy and Dave had lunch together, with Holder's wife sharing a picture with the teasing caption: "Lunch TODAY 👍 I will not be taking any further questions 😜 #NoddyHolder #DaveHill #Slade."
Over recent months, the band had been adding official "visualizer" videos of their biggest hits to their official YouTube channel, and re-releasing their classic albums in limited edition "splatter" vinyl.
Were they to return, they could even have their first new material since 1987, as Noddy revealed back in 2020 that he had been playing guitar again and had a "stockpile" of songs.