10cc's 10 greatest songs, ranked
4 July 2023, 13:22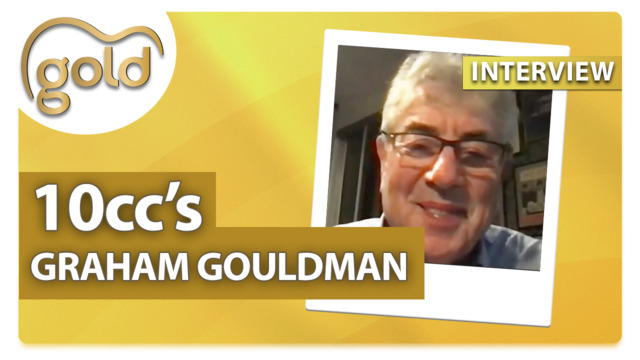 Graham Gouldman teases new 10cc album!
10cc had five consecutive hit albums packed with a load of classic tracks.
Fronted by founding member Graham Gouldman, 10cc are still going strong today – touring their hits year after year.
And they've got plenty of hits to choose from, too.
That's no surprise, given Graham's previous gig as a songwriter who came up with classics like The Yardbirds 'For Your Love' and 'Heart Full of Soul', The Hollies 'Bus Stop' and many more.
When he teamed up with the just-as-talented Eric Stewart, Kevin Godley and Lol Creme, it was surely inevitable that 10cc would recorded some absolutely massive tracks.
So it's not been easy to choose the ten best 10cc songs and put them in order all the way up to the very greatest, but that's just what we've done.
The Dean and I

10CC - The Dean and I 1973

A song from 10cc's self-titled debut album, 'The Dean and I' was written by the group's artier half, Lol Creme and Kevin Godley, and features the duo sharing lead vocals.

It was the fourth single from the album and reached number 10 in the UK singles chart.

Good Morning Judge

10cc - Good Morning Judge

This Eric Stewart and Graham Gouldman-written single was the second to be taken from 10cc's 1977 album Deceptive Bends and went all the way to number five in the UK singles chart.

The lyrics are about a chap who basically can't stop nicking lovely cars, and seems unashamed to admit it ("A pretty thing took a shine to me / I couldn't stop it so I let it be... "I found a car but I couldn't pay / I fell in love and I drove it away").

Art for Art's Sake

10cc - Art for Art's Sake (Promo Clip)

"Art for art's sake, money for God's sake, okay," is what Graham Gouldman's dad Hymie used to say.

10cc obviously achieved both several times over with their hits, with this top five single from How Dare You! one of many, may examples.

'Art For Art's Sake' was a wry comment on the values of the music business, which became ever more apparent as our career developed," said Graham years later.

Graham wrote the song with Eric lending a hand, and he handed over lead vocal duties to Eric and Lol.

The Wall Street Shuffle

Eric Stewart and Graham Gouldman wrote this 1974 single from Sheet Music, which also reached number 10 in the UK singles chart.

Full of financial wordplay ("You need a yen to make a mark"), it's not a celebration of wealth but instead a wry look at the excess and unpleasantness of the markets and those who dabble in them ("Bet you'd sell your mother / You can buy another").

The Things We Do For Love

10cc - The Things We Do For Love

A crucial song in 10cc history, 'The Things We Do For Love' was the band's first single released after the departure of key members Kevin Godley and Lol Creme.

"While we were recording it, Kevin was coming out with some heavy statements like, 'I don't want to do any more crap like this,' after I played 'The Things We Do for Love' to him and Lol," Stewart later revealed.

The fans liked it though, and when it was released as a single in 1976, it went all the way to number 6. It was also featured on the following year's Deceptive Bends album.

Donna

Where it all began. Written by Godley and Creme, 10cc's debut single went all the way to number 2 in the UK singles charts, which is one hell of a splash.

"We knew it had something," said Eric Stewart rightly of the absurd doo-wop parody that set the band on their way to superstardom almost immediately.

I'm Mandy Fly Me

Another number six single, 'I'm Mandy Fly Me' featured on the last 10cc album featuring the original lineup How Dare You! (until their short-lived 1992 reunion with ...Meanwhile.)

The idea for the song came from Eric Stewart, inspired by seeing a homeless person underneath a glossy advert in Manchester.

"National Airlines used to have this beautiful poster that they displayed of this gorgeous stewardess inviting you onto the plane," he said.

"Now her name wasn't Mandy actually, it was something like, er, oh gosh knows, 'I'm Cindy', a very American name. 'I'm Cindy, fly me' which was a quite sexual connotation as well."

Graham provided the chords before Kevin rewrote the rhythm of the thing completely.

Rubber Bullets

10cc - Rubber Bullets (TOTP 1973)

Written by the trio of Graham Gouldman with Godley and Creme and taken from the band's self-titled 1973 debut, 'Rubber Bullets' flopped in the US but went all the way to the top of the UK singles charts, and became the band's first number one single.

"I was amazed, but pleased that the BBC never banned the track, although they limited its airplay, because they thought it was about the ongoing Northern Ireland conflicts," said Eric Stewart.

"In fact, it was about an Attica State Prison riot like the ones in the old James Cagney films."

Dreadlock Holiday

A lot of groups who genre hop come across as faintly desperate or silly, but 10cc got away with their brief excursion into reggae for 'Dreadlock Holiday'.

While some of the lyrics may feel a touch problematic to some listeners over 45 years on, you need to hear them as intended – an askance look at white tourists stomping through places without the right amount of regard ("Don't you walk through my words, you got to show some respect").

It probably didn't hurt that the song was loosely based on the real-life experience of Graham Gouldman in Jamaica, as well as Eric Stewart and the Moody Blues' Justin Hayward in Barbados.

The song topped the UK singles charts, and was a number one in a number of other European countries.

I'm Not In Love

The second single from The Original Soundtrack album, this number one single has become 10cc's signature song, and was even a number two hit in the US.

Written by Eric Stewart with some help from Graham Gouldman, their bandmates Godley and Creme weren't too impressed.

"He said, 'It's crap', and I said, 'Oh right, OK, have you got anything constructive to add to that? Can you suggest anything?'," Eric said of Godley's reaction.

"He said, 'No. It's not working, man. It's just crap, right? Chuck it.' And we did. We threw it away and we even erased it, so there's no tape of that bossa nova version."

Stewart twisted their arm though, and it was Godley who eventually played a vital role in suggesting a move away from a guitar-powered sound to the voice-led masterpiece we know and love today.

The song won THREE Ivor Novello Awards in 1976 and has featured in countless TV shows and movies since.