Suzi Quatro facts: Glam icon's songs, acting career, marriages and groundbreaking influence
7 March 2023, 14:52 | Updated: 19 September 2023, 14:33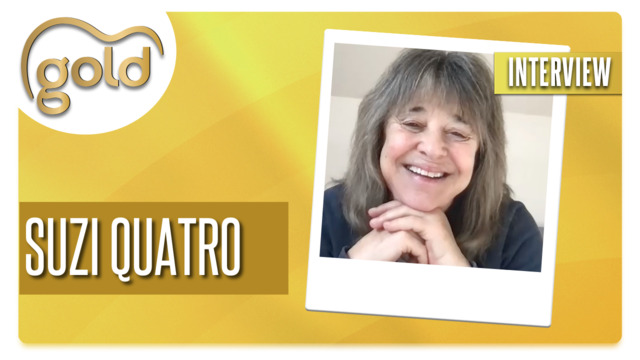 Suzi Quatro interview: How she became a rock queen
How a Detroit-born rocker became an undisputed Queen of British Pop.
Suzi Quatro was one of the most recognisable 1970s rockers, and she's still going strong today.
She's released chart-topping singles, appeared in some of the biggest TV shows of all time, and had a giant influence on rock and pop that belies her 5ft stature.
But do you know Suzi's real name, or how she got into the music business?
As she enters our digital Hall of Fame, we celebrate all things Suzi by recapping her amazing life and work.
When was Suzi Quatro born and where did she grow up?
It may sound like the ultimate stage name, but Suzi Quatro was born... Susan Kay Quatro on June 3, 1950 to Hungarian mum Helen and dad Art.
Going back a few generations, the family surname was actually Quattrochhi ("four-eyes" i.e. glasses-wearing), but it was shortened to the easier-to-pronounce Quatro around the time her great-grandad immigrated to the US from Italy.
Quatro was born in the ultimate rock city, Detroit Michigan.
She has three sisters, a brother, and an older half-sister, as well as oodles of foster siblings growing up.
One of her sisters, Arlene, is the mum of Twin Peaks actor Sherilyn Fenn, which makes Suzi Q her aunt.
How did Suzi Quatro get into music?
Never Thought You'd Leave Me
Like much of the population of Detroit, Suzi's dad worked for General Motors, but he was also a semi-pro musician.
Quatro gave him a hand by playing drums in his jazz band the Art Quatro Trio, having previously had lessons in classical piano and percussion, as well as being inspired by seeing Elvis on The Ed Sullivan Show.
Her first instrument was the bongos, but she was given a bass by her dad in 1964 and learned the instrument when she joined her sister Patti (future player in the incredibly-named Fanny) that year as co-lead singers in The Pleasure Seekers.
Suzi even still uses that 1957 Fender Precision bass in the studio today.
Calling themselves Suzi Soul and Patti Pleasure, The Pleasure Seekers were rounded out by Nancy Ball on drums, Mary Lou Ball on guitar and Diane Baker on piano.
They released the independent single 'Never Thought You'd Leave Me' (backed with 'What A Way To Die') in 1965 and major label follow-up 'Light of Love' (backed with 'Good Kind of Hurt') in 1968.
There were several membership and organisational changes, with Suzi's other sisters Arlene and Nancy getting involved and the group morphing into a new lineup called Cradle. Future New York Dolls drummer Jerry Nolan even joined the band at one point.
How did US-born Suzi Quatro become a British Glam Rock Icon?
Rolling Stone (2022 Remaster)
As Cradle disintegrated, Suzi decided to move to England in 1971 to meet producer and record label boss Mickie Most, who had already scored countless hits with everyone from The Animals and Herman's Hermits to Donovan and Lulu.
The story is that Most was on the lookout for a female rocker to step up to the plate after the tragic death of Janis Joplin, when Suzi caught his eye.
Despite that, it was Mickie's belief in letting Suzi be herself that was the clincher, and why she picked his RAK Records over Elektra, who were also interested.
"According to the Elektra president, I could become the new Janis Joplin," she told the Newcastle Journal.
"Mickie Most offered to take me to England and make me the first Suzi Quatro – I didn't want to be the new anybody."
Before going into the studio, Most spent a year coaching Quatro, leading up to her debut solo single 'Rolling Stone'.
Billed to Suzi alone (albeit initially misspelt as Susie Quatro), the song had some star quality backing her up, with Micky Waller on drums, Peter Frampton on guitar and Hot Chocolate's Errol Brown on backing vocals.
The song went all the way to number one... in Portugal. It didn't make a dent anywhere else, and Mickie and Suzi went back to the drawing board.
Suzi Quatro - Can The Can
Most hooked her up with the Nicky Chinn/Mike Chapman songwriting team, and they collaborated on her image.
They leaned into her androgynous look and love of leather as the glam scene exploded, while booking her a slot as a support for Thin Lizzy and Slade.
Her second solo single 'Can The Can' (a Chinn/Chapman production) was released in May 1973 and saw Suzi backed by her own hand-picked band, while it's definitely worth noting that Suzi wrote the Most-produced B-side 'Ain't Ya Something Honey'.
'Can The Can' went to number one in the UK the following month, and after a decade odd of playing, Suzi was seemingly an overnight success.
What were Suzi Quatro's biggest songs and albums?
Suzi Quatro: "Devil Gate Drive" (UK, 1974)
Suzi's only top 40 album in the UK was her debut Suzi Quatro, while it was her fifth album If You Knew Suzi... that went to number 37 in the UK. Her second album Quatro topped the charts in Australia.
They may not have been chart smashes, but some of her other albums beloved by fans include Your Mamma Won't Like Me, Aggro-Phobia, Suzi ... and Other Four Letter Words and Rock Hard.
Suzi's biggest songs include:
Rolling Stone
Can the Can
48 Crash
Daytona Demon
All Shook Up
Devil Gate Drive
Too Big
The Wild One
Your Mamma Won't Like Me
I May Be Too Young
Tear Me Apart
Make Me Smile
If You Can't Give Me Love
Stumblin' In" (with Chris Norman)
Rock Hard
Heart of Stone
How did Suzi Quatro end up in Happy Days?
Happy Days (TV-series 1977) - leather compilation
Suzi has had hits in the US – 'Tumblin' In' with Chris Norman reached number four on the Billboard Hot 100 – but she's maybe best-known Stateside for playing the incredibly-named Leather Tuscadero in hit sitcom Happy Days.
She popped up several times in the show, appearing as the bass player for seven episodes of the show between 1977 and 1979.
Producer Garry Marshall offered Quatro the gig without even an audition, just having seen a presumably incredibly cool photo of Suzi on his daughter's wall.
Her US rep Toby Mamis thrashed out the deal, and finally Suzi was as big a star back home as she was in the UK
Happy Days: Leather Tuscadero (Suzi Quatro) - Devil Gate Drive -
"Being in Happy Days left me with good, lasting friendships," Quatro recently told The Guardian.
"I email Henry and Ron quite a bit, and it was a wonderful experience to be a new actress in such a family of fine actors."
Leather's time in the show saw Joanie Cunningham join her band, and even a fraternity formal date with Ralph Malph.
She was such a hit that Marshall offered Suzi her own Leather Tuscaredo spinoff, but she declined.
"It was enough," Suzi told ABC Mallorca. "Time to move on. And I was proved right."
What other acting roles has Suzi Quatro had?
Leather Tuscaredo was her biggest role, but you'll have seen Suzi popping up elsewhere on screen and stage over the years.
In 1982, she appeared in an episode of Minder called 'Dead Men Do Tell Tales' as Nancy, the singer girlfriend of Dennis Waterman's Terry.
Three years later she played an ex-MI5 operative in Dempsey and Makepeace episode 'Love You To Death'.
Suzi's part in Clive Barker's 1990 horror Nightbreed was cut from the film, but you would have seen her cameo as one of several guest stars in the 1994 'Hospital' episode of Absolutely Fabulous.
Built to be Wild: Trailer (UK)
She played the nurse, while other special cameos included Sylvia Anderson, Helena Bonham Carter, Richard E Grant, Germaine Greer and Mandy Rice-Davies.
Like pretty much anyone who's acted in the UK, Suzi appeared in an episode of Midsomer Murders, being electrocuted on stage as the singer Mimi Clifton in the episode 'The Axeman Cometh'.
Most importantly, she provided the voice of Rio in the Bob the Builder movie Built to Be Wild in 2006.
On the stage, she played Annie Oakley in a London production of Annie Get Your Gun in 1986. She also played Tallulah Bankhead in the musical Tallulah Who?. She co-wrote the music and lyrics with Shirlie Roden, with the book by Willie Rushton.
Is Suzi Quatro married and does she have any children?
Suzi Quatro - Your Mama Won't Like Me - "Very Rare"
Suzi married Len Tuckey – her long-time guitarist – in 1976, and they have two children together. Laura was born in 1982 and Richard Leonard was born in 1992.
Richard is a musician himself, and has lent Suzi a hand on her last couple of albums.
Suzi and Len divorced in 1992, and Suzi married German concert promoter Rainer Haas in 1993.
What awards has Suzi Quatro won and who has she influenced?
Suzi Quatro - Daytona Demon "The Very First Clip Ever"
In October 2016, Quatro received an honorary doctorate in music from Anglia Ruskin University, Cambridge. In 2013, she was given the Woman of Valor Award from Musicians for Equal Opportunities for Women.
Suzi was inducted into the Michigan Rock and Roll Legends Hall of Fame in 2011 and awarded the Icon Award by the Women's International Music Network in 2020.
In April 2009 – and despite her being American – she was named one of the 12 Queens of British Pop in a TV show of that title.
Among those to openly admit Suzi's influence was Talking Heads bassist Tina Weymouth.
Suzi Quatro - I May Be Too Young RARE HD Music Video 1975
"We all shared a loft just down the street from CBGB's; he'd go there every night looking for a bass player, but no one was interested," Tina said. "So he started to play Suzi Quatro albums for me.
"Of course, she was really cute and all, but I'd taught myself guitar out of Bob Dylan songbooks and spent two years in an English handbell-ringer group – so playing bass in a band seemed very far-removed to me. It just didn't seem realistic."
She also influenced the likes of The Runaways and Joan Jett, Girlschool and Chrissie Hynde, and The Go-Go's bassist Kathy Valentine, as well as the likes of 1990s indie rockers Tuscaredo and Scottish singer-songwriter KT Tunstall.