Watch Paul McCartney's incredible virtual duet with John Lennon at arena show
3 May 2022, 17:26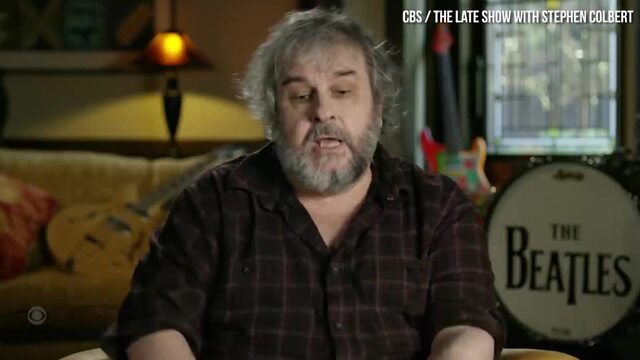 Peter Jackson stripped away guitar sounds to hear the honest conversations between members of The Beatles in 'The Beatles: Get Back'
Paul McCartney twists up the space-time-continuum to perform 'I Got A Feeling' with John Lennon.
One of the great what-ifs of rock and roll surrounds what might have happened if John Lennon hadn't been murdered in 1980.
Despite their ups and downs, John and Paul McCartney were actually on pretty good terms by the end of the 1970s, and there's plenty of evidence that they might have even performed again together one day,.
We got just a tiny glimpse of what that might have looked like at a recent Paul McCartney live show.
McCartney was playing at Spokane Arena in Spokane, Washington, USA on April 28, when he kicked into The Beatles 'I Got A Feeling' from their final Let It Be album.
Around two minutes into the song, the big screens were filled with the face of John Lennon, with footage and audio from the Beatles' farewell rooftop performance being perfectly mixed with the live show for the ultimate virtual duet.
Paul McCartney John Lennon I've Got a Feeling
'I Got A Feeling' features heavily in Peter Jackson's stunning three-part Get Back documentary on Disney+, which offers a new look at the controversial recording of the Let It Be album.
The song was part of a career-spanning 36-track setlist, which featured 1958's 'In Spite of All The Danger', a rare Paul McCartney and George Harrison co-write first recorded by the pre-Beatles band The Quarrymen.
The comeback gig was the first proper show of McCartney's Got Back tour, which marks his return to performance after the COVID-19 pandemic.
I've Got a Feeling Clip | The Beatles: Get Back | Disney+
The full setlist was as follows:
Can't Buy Me Love
Junior's Farm
Letting Go
Got to Get You Into My Life
Come On to Me
Let Me Roll It
Getting Better
Women and Wives
My Valentine
Nineteen Hundred and Eighty-Five
Maybe I'm Amazed
I've Just Seen a Face
In Spite of All the Danger
Love Me Do
Dance Tonight
Blackbird
Here Today
Queenie Eye
Lady Madonna
Fuh You
Being for the Benefit of Mr. Kite!
Something
Ob-La-Di, Ob-La-Da
You Never Give Me Your Money
She Came in Through the Bathroom Window
Get Back
Band on the Run
Let It Be
Live and Let Die
Hey Jude
I've Got a Feeling
Birthday
Helter Skelter
Golden Slumbers
Carry That Weight
The End
McCartney will bring his live show to the UK this summer, when he headlines the Pyramid Stage at Glastonbury in June, 20 years after his triumphant 2002 set there.
He was originally booked to play the 50th anniversary festival two years ago, before the festival was cancelled due to the coronavirus.