Rod Stewart hits back at Elvis Costello after Platinum Jubilee jibes: 'Where's your hair gone mate?'
13 June 2022, 11:06 | Updated: 5 October 2023, 14:12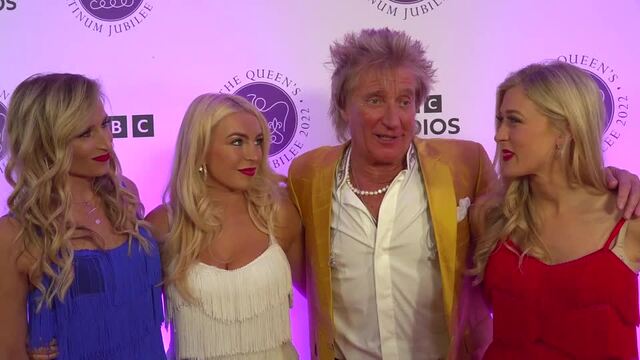 Sir Rod Stewart: I got over Covid shortly before Party in the Palace
Rod Stewart and Elvis Costello have a back and forth after the Party at the Palace.
The Party at the Palace to celebrate the Queen's Platinum Jubilee was a roaring success, but not everyone was impressed with the event.
Never the biggest fan of the Royal Family, Elvis Costello made a few sharp comments about the concert and some of the performers – especially Rod Stewart – during a gig with his band The Imposters at Glasgow Royal Concert Hall last Tuesday (June 7).
According to The Mirror, Costello told the crowd: "The show was good, wasn't it? Wasn't it? No, it was sh**e.
"I mean, I know you all love him and he's one of yours and everything, but Rod. What the f**k?
"I must say, listen we all have bad nights vocally, but for f**k's sake, 'Sweet f***ing Caroline'."
He added: "Are you f***ing kidding me?
"I mean I've been in showbusiness 45 years so I do know a thing or two. How is it that nobody suggested Rod sing 'You Wear It Well'?"
Costello then apparently poked fun at some of the scandals affecting the Royals and said: "Listen, Diana Ross had a whole playlist of songs that would have fitted the occasion.
"'You Keep Me Hanging On', 'I'm Living In Shame'. I'm not saying 'Love Child'. You never heard it from me."
Rod Stewart - At the Queen's Platinum Jubilee (BBC FORCED ROD TO SING - SWEET CAROLINE ) HD
Elvis wasn't best pleased with how his comments were reported, writing on Twitter: "This is typical Mirror sh**e.
"If you read my actual remark, it about the wrong-headed idea of asking Sir Rod pass up 'You Wear It Well' to lead a f**king singalong.
"Ms. Ross is deity. Have some damn respect. I was joking about the many uncomfortable choices that were overlooked."
Despite the clarification, Rod hit back at the perceived slight from Costello and said: "Dear Elvis @elviscostello yes my voice was rough cos of Covid.
"I apologise , I though it better it to make an appearance rather than let everyone down so sorry. By the way where's your hair gone mate ????? Sir Rod"
Elvis responded: "Dear Lord Stewart. You know I love you. Think the Queen would have loved 'You Wear It Well' or even 'Hot Legs'.
Rod Stewart - You Wear It Well
"As to gigs, I had a stinker the other night in Liverpool. They come and go, like hair, which I keep sewn in my hat. Up The Republic. Elvis O.rrible B.loody E.erbet"
When Costello received his OBE in 2019 he wrote an open letter revealing that he considered turning down the honour because of his issues with the Royal Family and the British Empire, but was convinced to accept it by his mother,
For his part, Rod had already revealed that he was cajoled into leading the 'Sweet Caroline' singalong, telling the crowd on the day: "The BBC made me sing this one... join in, make it comfortable for me."