Read Paul McCartney's adorable postcard to Ringo Starr after the Beatles rooftop concert
1 February 2022, 13:59 | Updated: 20 September 2023, 13:51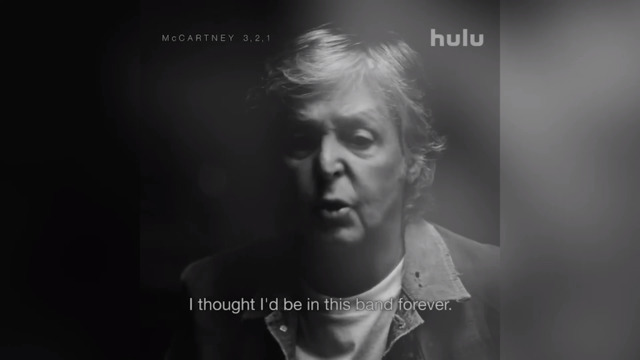 Paul McCartney reveals he thought he'd be in the Beatles forever in Hulu promo to mark release date of documentary 'McCartney 3,2,1'
Ringo Starr was the last man to join The Beatles, but was a key part of the Fab Four.
Joining The Beatles relatively late in the day, Ringo Starr only becoming part of the lineup in August 1962 after Pete Best was forced out the band.
After a rocky start where he was booed by Best fans and replaced by session player Andy White on 'Love Me Do', he swiftly became loved by audiences and his new bandmates.
While Geoffrey Perkins and Philip Pope's (often misattributed) gag that "Ringo Starr wasn't the best drummer in the world – alright, maybe he wasn't the best drummer in The Beatles" is funny, Beatles-heads and musicologists alike recognise what a great drummer he really is.
"I always objected to the fact that because Charlie [Watts] came on a little more 'arty' than Ringo, and knew jazz and did cartoons, that he got credit," said John Lennon, years after the Beatles broke up.
"I think that Charlie's a damn good drummer and the other guy's a good bass player. But I think Paul and Ringo can stand up anywhere with any of the rock musicians."
It was clearly an opinion shared by Paul McCartney.
A postcard sent from Paul to Ringo the day after the Rooftop Concert (and on the last day of the Get Back sessions) shows just how highly McCartney rated him.
The note shared on its 53rd anniversary by the Paul McCartney Archive on Twitter simply reads: "You are the greatest drummer in the world. Really."
Ringo was clearly held in high regard by all of his Beatles bandmates.
After the break-up, Starr immediately played on John Lennon's Plastic Ono Band and George Harrison's All Things Must Pass solo albums.
He went on to drum on a number of other albums by George and Paul, as well as recording with Leon Russell, Stephen Stills, BB King, Peter Frampton, Harry Nilsson, Keith Moon, Carly Simon, Bob Dylan, The Beach Boys, Jerry Lee Lewis and others.
McCartney's beautiful note is much more friendly than the one he sent around 15 months later.
That letter was sent after Phil Spector was given the Get Back sessions tapes to piece together what would ultimately become The Beatles' last album Let It Be.
Formally addressed to manager Allen Klein with Spector copied in, it took issue with how the producer had layered 'The Long and Winding Road' with his trademark Wall of Sound instruments.
14 april 1970

paul mccartney sent a letter to allen klein and phil spector demanding the elimination of all the added non-beatle "noises" on the long and winding road.

"Don't ever do it again." pic.twitter.com/l881a6HP76

— paul mccartney archive (@maccaarchive) January 17, 2021
"In future no one will be allowed to add to or subtract from a recording of one of my songs without my permission," McCartney said.
"I had considered orchestrating 'The Long and Winding Road' but I decided against it."
He outlined how he wanted the song to be changed, before adding: "Don't ever do it again."