'Lonely This Christmas' by Mud: The making of the Elvis-inspired Christmas classic
15 December 2022, 14:16 | Updated: 19 September 2023, 14:31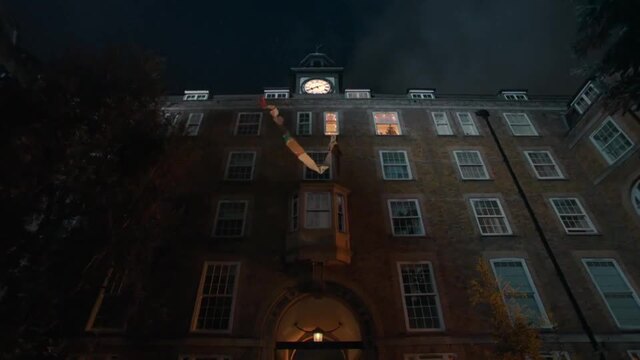 McDonald's release 'The List' Christmas Advert 2022
Mud pick up where Slade and Wizzard left off with an enduring glam classic for Christmas.
Technically there's been a "Christmas No. 1" every year since the UK charts started back in 1952.
But the very idea of the Christmas Number 1 as a special achievement beyond just being a chart-topper really took off in the early 1970s.
It was the chart battle between Slade's 'Merry Xmas Everybody' and Wizzard's 'I Wish It Could Be Christmas Everyday' in 1973 that really invented what we think of today as the Christmas No. 1.
By the following year other acts of the day were looking to get in on that action, and out on top were fellow glam stars Mud.
But much do you know about 'Lonely This Christmas', the Elvis-inspired tune that's still an ever-present on festive compilations to this day?
Who wrote 'Lonely This Christmas'?
Mud - Tiger Feet (1973) [Restored]
'Lonely This Christmas' was written by the songwriting and production 'ChinniChap' partnership of Nicky Chinn and Mike Chapman.
If those names are familiar, it's because they were the men responsible for a whole string of hit singles in the 1970s, especially for glam artists.
They wrote and produced hits for The Sweet, Suzi Quatro, Tony Blackburn, New Moon, Peter Noone, Tony Blackburn, Chapel, The Hood, Arrows and, of course, Mud.
Among the many, many songs they wrote for Mud was also 1974's chart-topping 'Tiger Feet'.
At the time, Mud were led by frontman Les Gray, who was backed by guitarist Rob Davis, drummer Dave Mount, bassist Ray Stiles and keyboard player Andy Ball.
What is 'Lonely This Christmas' about?
Mud - Lonely This Christmas (Official Lyric Video)
While so many Christmas songs are about the joy and love of spending time with your family or significant other, 'Lonely This Christmas' is a downbeat song about the exact opposite.
After our singer is dumped by his partner ("Try to imagine a Christmas all alone / That's where I'll be since you left me, my tears could melt the snow") he faces the prospect of the least wonderful time of the year, at home alone (not Home Alone) at Christmas.
Even the usual seasonal trappings bring nothing but misery ("I just break down as I look around and the only things I see / Are emptiness and loneliness and an unlit Christmas tree").
Why does 'Lonely This Christmas' sound SO MUCH like Elvis Presley?
Mud - Lonely This Christmas (Official Video)
Despite forming in the mid-1960s, Mud are best remembered for their mid-1970s singles, which were usually glam rock stompers like 'Dyna-mite' and 'Tiger Feet'.
Not 'Lonely This Christmas', though, which sounds like your very best Elvis impersonator on Blackpool Pier doing a spot-on impression of the late-era King crooning his way through one of his ballads, maybe even one of his seasonal hits like 'Blue Christmas'.
That's sparked rumours that the song was written for Elvis, while younger pop fans sometimes even mistake it for something from one of Presley's Christmas albums when it comes on the radio.
Elvis Presley - Blue Christmas ('68 Comeback Special)
The truth is that singer Les Gray just really, really liked Elvis. With Presley being the King of the Christmas Album, Gray saw it as an opportunity to pay tribute.
As well as doing that uncanny impersonation, he got dolled up in his best '70s Elvis threads for the video and live performances of the song.
In a happy coincidence, the final Top of the Pops performance of 'Lonely This Christmas' came on January 8, 1975 – Elvis Presley's 40th birthday.
When was 'Lonely This Christmas' released and where did it get in the charts?
Mud - Lonely This Christmas - Top Of The Pops - Wednesday 25 December 1974
'Lonely This Christmas' was released in December 1974 with 'I Can't Stand' it on the B-side, perfectly timed to aim at the Christmas number one spot.
It went to number 1 on December 15 and stayed there for four weeks, shrugging off competition from The Wombles' 'Wombling Christmas, Bachman-Turner Overdrive's 'You Ain't Seen Nothing Yet', The Rubettes' 'Juke Box Jive', Barry White's 'You're The First, The Last, My Everything'. Ralph McTell's 'Streets of London' AND.... Elvis Presley's own 'My Boy'.
It's been certified Platinum in the UK with over 600,000 sales/sales equivalents.
Who has covered 'Lonely This Christmas'?
There aren't loads and loads of high profile covers of 'Lonely This Christmas', but it has been interpreted by a pretty diverse bunch of acts.
Among the very best include versions by Carter The Unstoppable Sex Machine, Blue, Marillion, KT Tunstall, Tony Hadley, Olly Murs and Collabro.