Burt Bacharach's 15 greatest ever songs, ranked
10 February 2023, 15:32 | Updated: 18 September 2023, 12:19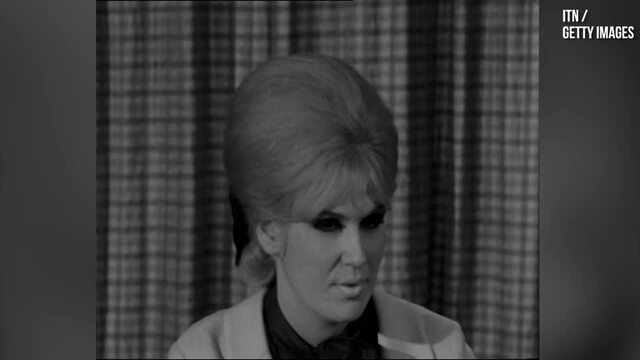 Dusty Springfield departs plane after premature ending to 1964 South Africa tour
It's hard to think of a songwriter as influential as Burt Bacharach.
Burt Bacharach was simply one of the greatest songwriters of the 20th century.
With scores of hits from the 1950s on, Bacharach was not just one of the finest writers of pop, but truly one of its architects.
His music, usually composed in collaboration with lyricist Hal David, makes up one of the ultimate songbooks.
These songs been performed by everyone from Dionne Warwick and Dusty Springfield to Cilla Black and Tom Jones, with covers by everyone from Aretha Franklin and The Beatles to The Stranglers.
In celebration of his remarkable life, we've rounded up just 15 of his very best.
What's New Pussycat?

Tom Jones - What s new pussycat

Many of Burt's best-loved hits were jazz-infused pop classics written for women with soaring voices, but he was absolutely capable of doing it for the boys, too.

This quirky hit was written for the screwball comedy of the same name and earned Tom Jones a 11 hit in the UK and number 3 in the US in 1965.

It also picked up an Oscar nod, though it lost out to 'The Shadow of Your Smile'.

My Little Red Book

Love - My Little Red Book [1966].

Originally recorded by Manfred Mann for the same What's New Pussycat? soundtrack, the version that's endured is Love's more menacing take that opened their self-titled debut album in 1966.

The story goes that Bacharach was such a perfectionist over the original version that he plonked himself behind the piano to bash the chords out just right when the band couldn't get it.

Bacharach was apparently not so keen on the chord change tweaks introduced by Arthur Lee and co, but Burt's jazz-pop sensibilities still shone through.

Do You Know the Way to San Jose

Dionne Warwick -- Do You Know the Way to San Jose (1968)

Like so many songs on this list, 'Do You Know The Way To San Jose' was written by Bacharach and David for Dionne Warwick.

A top ten hit on both sides of the Atlantic, it sold millions of copies worldwide and earned its singer a Grammy for Best Female Vocal Pop Performance in 1969.

It was later covered by Frankie Goes To Hollywood on their Welcome to the Pleasuredome album.

Alfie

Cilla Black - Alfie (Live)

Hal David came up with the words for this before the music, riffing on Michael Caine's dialogue from the film ("What's it all about?").

Burt wanted Dionne Warwick to sing it (of course), but it was a British flick, so it was then offered to Sandie Shaw, who turned it down. Cilla nearly did too.

"I actually said to Brian [Epstein] 'I can't do this.' For a start – Alfie?? You call your dog Alfie! ... [Couldn't] it be Tarquin or something like that?'" Black said.

Cher - Alfie (Smothers Brothers, 1967)

She insisted that Burt himself do the arrangement, come to London for the session AND play piano on it, thinking that surely wouldn't happen.

"To my astonishment, it was agreed that Burt would do all three. So by this time, coward that I was, I really couldn't back out."

In the US, recording duties went to Cher, and then eventually Warwick recorded her own version.

Raindrops Keep Fallin' on My Head

B. J. Thomas - Raindrops Keep Fallin' on My Head (Stereo / Lyrics)

Another hit recorded for a major movie, Bacharach/David wrote 'Raindrops Keep Fallin on My Head' for 1969's Butch Cassidy and the Sundance Kid.

Recorded by BJ Thomas, after Ray Stevens and – apparently – Bob Dylan turned it down, the song went top 40 in the UK and topped the charts in the US.

Burt Bacharach - Raindrops Keep Fallin' On My Head (Glastonbury 2015)

It also bagged Bacharach an Oscar for Best Original Song.

Burt had a busy evening at the Academy Awards that year, as he also picked up the gong for Best Score.

It's since been covered by everyone from Peggy Lee and Bobbie Gentry to Manic Street Preachers.

Anyone Who Had A Heart

Cilla Black - Anyone Who Had A Heart (Live)

Originally another Bacharach/David/Warwick collaboration, Dionne's version went top 10 in the US, but over in the UK it was the Cilla Black cover that was a hit.

It was one of the biggest selling singles of the year, selling almost a million copies, and endures as one of Cilla's most well-known recordings.

Another British 1960s icon, Petula Clark, had an international hit with several versions of the song in other languages, charting in Spain, Italy and France in their respective tongues.

What the World Needs Now Is Love

NEW * Jackie DeShannon - What the World Needs Now (1965, Stereo) 4K

Two years before the Summer of Love. Two years before The Beatles declared that 'All You Need is Love' came this classic from Bacharach/David, recorded by Jackie DeShannon.

An anti-war song while the conflict in Vietnam raged, it pre-empted the coming age with its lyrics ("What the world needs now is love, sweet love / It's the only thing that there's just too little of"), with its gentle waltz dynamics being the perfect framework for Jackie's tender vocals.

It was actually first offered to (guess who) Dionne Warwick, who turned it down for being too country for her style, and apparently too preachy too. She ended up recording her own takes in 1966 and again in 1996.

The Look of Love

Casino Royale (1967) • The Look of Love • Dusty Springfield

This classic number first appeared in 1967's James Bond spoof Casino Royale, which was ever-so loosely based on Ian Fleming's novel of the same name.

Bacharach was inspired to write the music by watching Ursula Andress in an early cut of the movie, with David only adding the lyrics later.

The Academy is rarely kind to comedy but the song, performed by Dusty Springfield, got a nod at the 1968 Oscars, though it lost out to 'Talk to the Animals' from Doctor Dolittle (what were they thinking?!).

Wishin' and Hopin'

Dusty Springfield - Wishin' and Hopin'

One of Bacharach and David's most upbeat numbers, 'Wishin' and Hopin' was first recorded way back in 1962 by Dionne Warwick, though it only appeared as the B-side on the following year's 'This Empty Place' single.

It was made famous a year later when Dusty Springfield gave it A-side status, reaching number 6 in the Billboard charts and being included on her debut UK and US albums.

A couple of years on, Nancy Sinatra recorded her own version for the Nancy in London album.

Baby It's You

Baby It's You (Remastered 2009)

There's an argument that the Age of the Songwriter came to an end, or at least was altered forever, by the emergence of the artist-as-writer and The Beatles.

That's not the whole story, as Bacharach's own songs through the 1960s and beyond prove, but we do wonder what might have been if Burt and Hal worked directly with groups like The Beatles.

They did share a bill at the Royal Command Performance (the famous "rattle yer jewellery" gig), and The Beatles did record one Bacharach/David song, the gorgeous 'Baby It's You', first recorded by The Shirelles.

"I do regret that I never worked with The Beatles," Burt told the Liverpool Echo years later.

"It was a real honour when they recorded my song. That's a pretty high compliment, given the songs they wrote themselves."

I Just Don't Know What To Do With Myself

Dusty Springfield - I Just Don't Know What To Do

Everyone knows this tune as a Dusty Springfield classic, but it took the long route to get to her.

It was actually first recorded by Chuck Jackson in 1962, with that version left unreleased until 1984.

Poor Chuck's vocals were zapped and replaced with those of Tommy Hunt. Still in 1962, Tommy then re-recorded a version from scratch with Jerry Leiber and Mike Stoller producing and Burt himself arranging, but all that star power wasn't enough for the song to chart.

Kate Moss - I Just Don't Know What To Do With Myself

It wasn't until Dusty got her hands on it that the song realised its potential. Although it failed to break the Billboard Hot 100, it went all the way to number 3 over here in the UK.

Dionne Warwick covered it in 1966 with Burt in the producer's chair, and since then the likes of Marcia Hines, Elvis Costello, Isaac Hayes, Linda Ronstadt and Melanie C have put their own spin on it.

The White Stripes released their version as a single in 2003, with the video directed by Sofia Coppola featuring a pole-dancing Kate Moss in her underwear.

Twenty Four Hours from Tulsa

Gene Pitney - 24 Hours From Tulsa

There are plenty of pop songs about infidelity, but not nearly as many from the viewpoint of the person doing the cheating, and none quite as brilliantly jazzy and jittery as Gene Pitney's 'Twenty Four Hours From Tulsa'.

Just one day from his beloved, our narrator stops in a motel and is entranced by a beautiful woman and well, he never makes it home.

It went top 20 in the US and all the way to number 5 in the UK, making Gene an international superstar in the process.

(They Long to Be) Close to You

They Long To Be (Close To You) - Carpenters HD_HQ 1970

'...Close To You' had been around quite a while before the version that made it a hit.

Richard Chamberlain was first in 1963, then came regular Bacharach/David interpreters Dionne Warwick in 1964 and Dusty Springfield in 1967.

The public still refused to bite, but then Carpenters took it all the way to the top of the US charts in 1970, with the song showcasing Karen's voice to perfection.

Walk On By

Dionne Warwick - Walk On By

Of all the Burt Bacharach songs performed by Dionne Warwick, this just about edges out the rest.

Burt's stop-start staccato backing acts as the perfect foil for Warwick's vocals, which somehow manage to sound impressively soaring and utterly effortless at the same time, gripping you with emotion.

It went top ten in the US and sold a million copies, and was later memorably covered by Isaac Hayes, Gloria Gaynor, and – complete with epic guitar and organ solos – The Stranglers.

Other well-known versions include takes on the song by Cyndi Lauper, Gabrielle, Average White Band and Seal.

I Say A Little Prayer

Aretha Franklin - I Say A Little Prayer (Official Lyric Video)

In truth, any one of the 15 songs on this list could have topped this chart – they're all that good. Not to mention the songs that just failed to make the cut ('Magic Moments', 'Make It Easy On Yourself', 'I'll Never Fall in Love Again', 'Arthur's Theme', 'On My Own' and so many others).

But in the end we opted for 'I Say A Little Prayer', another of Burt and Hal's song that touched on the Vietnam War that had such an influence over the culture of the 1960s.

You can guess who recorded it first. Yep, Dionne Warwick laid down ten takes – a lot more than the usual one to three for her usual sessions with Burt – during an April 1966 session.

Dionne Warwick "I Say A Little Prayer" on The Ed Sullivan Show

Burt wasn't keen, feeling they still rushed it. It was record label boss Florence Greenburg who insisted they include it on the following years' The Windows of the World album.

DJ's loved the track, which resulted it being released as a single that scaled the charts, reaching number 4 on the Billboard Hot 100, going gold with a million copies sold.

Dionne's version was nevertheless eclipsed by Aretha Franklin's radical cover when she recorded it for her Aretha Now album a year later, powered by Clayton Ivey's pounding piano.

Her version also went gold in the US, charting at number 4 in the UK and becoming her biggest solo hit over here.