Elton John's top 20 songs, ranked
24 March 2022, 12:02 | Updated: 16 November 2023, 14:42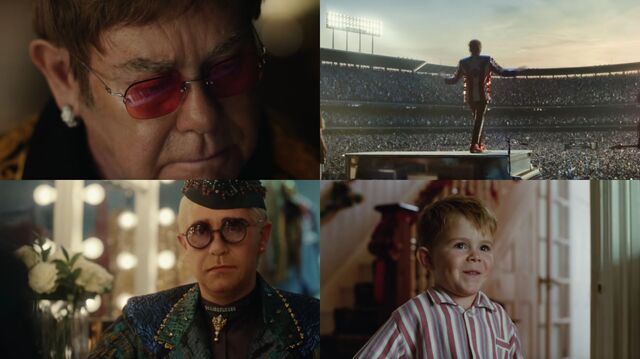 Look back at Sir Elton John's rise to stardom in the John Lewis Christmas advert for 2018
As Elton John turns 75, he's out on the road for the last ever time.
Elton John is one of the greatest singer-songwriters of all time.
From his earliest days as a pub pianist and songwriter for hire he always had a way with a tune.
And after he hooked up with long-time lyrics collaborator Bernie Taupin in 1967, he quickly became a rock superstar.
From his piano ballads to catchy pop smashes, Elton John is now up there as one of the greats – an elder statesman of rock whose work spans the decades.
As he turns 75 and continues on his Farewell Tour, we celebrate all things Elton with his 20 biggest and best songs.
Don't Let The Sun Go Down On Me (with George Michael)

Elton John / George Michael - Don't Let The Sun Go Down On Me (Live Aid 1985)

Elton John's original version of 'Don't Let The Sun Go Down On Me' features backing vocals by Carl Wilson and Bruce Johnston of the Beach Boys and Toni Tennille and was a significant hit, reaching number 16 in the UK and number 2 in the US and being a standout of his Caribou album.

Always a generous artist, Elton performed the song as a duet at Live Aid with George Michael in 1985 (with Andrew Ridgley and Kiki Dee on backing vocals) – one of the standouts at a concert filled with standouts.

George continued to play the song on the road, and on the final show of his Cover to Cover tour in 1991 he brought out Elton to sing it with him. That version was released as a single and did even better, going to number one on both sides of the Atlantic.

I Guess That's Why They Call It the Blues

Elton John - I Guess That's Why They Call It The Blues

The 1970s were Elton John's imperial phase, but that doesn't mean that the hits dried up after that. Getting an assist on the tune from Davey Johnston, 'I Guess That's Why They Call It The Blues' is one of Elton's many great 1980s hits.

It reached number 4 in the US and 5 in the UK, helped along by a harmonica solo from Stevie Wonder, and helping make his Too Low For Zero album a success.

Something About The Way You Look Tonight

Elton John - Something About The Way You Look Tonight

It was understandably been overshadowed by the '97 Princess Diana reworking of 'Candle in the Wind' with which it shared double-A-Side status, but 'Something About The Way You Look Tonight' was one of the great 1990s Elton John singles in its own right.

Featuring on his 1997 album The Big Picture, it features a gorgeous string arrangement by Anne Dudley, and being bundled with 'Candle..' means it's the biggest-selling single since UK and US singles charts began in the 1950s, with over 33 million sales.

Are You Ready For Love

Elton John - Are You Ready For Love

One of Elton's best-known songs today, 'Are You Ready For Love' took a long time after its first release to worm its way into the public consciousness.

A rare Elton hit not composed by the man himself or Bernie Taupin, it was written by Thom Bell, LeRoy Bell and Casey James, and released on the three-track 1979 soul-flavoured The Tom Bell Sessions EP.

An expanded six-track The Complete Thom Bell Sessions CD with a different mix of 'Are You Ready For Love' was released in 1989, and the original mix popped up as a B-Side on 'The Last Single' in 1992.

Finally, in 2003 the song was remixed by Ashley Beedle and went all the way to number one in the UK singles charts (only his fifth number one over here), 25 years after the original first came out, helped along by a Sky Sports trail.

Sacrifice

Elton John's first solo UK number one was also something of a slow-burner, albeit not quite as slow as 'Are You Ready For Love'.

Released as the second single from his 1989 album Sleeping With The Past, 'Sacrifice' originally stalled at number 55 in the charts.

But once DJs started giving it a proper spin, it was re-released as a double-A-Side with 'Healing Hands' and stormed to number one. Its music video featured 'Wicked Game' singer-songwriter-actor Chris Isaak and supermodel Yasmeen Ghauri.

Bennie and the Jets

Elton John - Bennie And The Jets (Official Music Video)

Or 'Benny and the Jets', depending on where you live, this John/Taupin number was a smash hit single and Goodbye Yellow Brick Road album highlight.

As former songwriting guns for hire, Elton and Bernie were maybe more aware than some of the grimy underbelly of the pop world, and 'Bennie and the Jets' is a scathing satire on the business, told from a fan's viewpoint.

The studio version sounds 'as-live' with the cheeky addition of some crowd FX, while Elton himself enjoys re-arranging the song drastically on stage. The track got a belated music video in 2017 as part of the Elton John: The Cut contest.

Pinball Wizard

Tommy - Pinball Wizard - The Who/Elton John (1975 Film)

Written by Pete Townshend, the original version of 'Pinball Wizard' was performed by The Who with Roger Daltrey on vocals, being a key part in the narrative of their 1969 rock opera Tommy.

Elton picked up the mic and swapped the guitar for piano for the version of the song in Ken Russell's 1975 movie version of Tommy, which wasn't released as a single in the US but reached number 7 in the UK.

The song included new lyrics (again by Townshend), while it was played by Elton's backing band of the day, who cheekily add a few phrases from The Who's breakthrough 'I Can't Explain' to the outro.

Can You Feel the Love Tonight

Elton John - Can You Feel the Love Tonight (From "The Lion King"/Official Video)

Disney movies have a long, rich tradition of featuring classic songs. While these are often written by songwriters-for-hire and performed by the cast of the animated movies, there's the odd exception.

Elton and Tim Rice wrote 'I Just Can't Wait To Be King', 'Be Prepared' and 'Hakunana Matata' for Simba, Scar and Timon & Pumbaa respectively, 'Can You Feel the Love Tonight' was led by the off-screen voice of Kristle Edwards, with the odd interjection from Simba, Nala, Timon and Pumbaa.

The version that's really endured though was Elton's own, which he sung over the end credits. Released as a single, that version featured some amazing backing vocalists – his old pal Kiki Dee and newer friends Gary Barlow and Rick Astley.

According to Wikpedia, also slashing in on backing vox is Robert 'Freddy Krueger' Englund, but we've checked the credits and we think that someone's having a bit of fun.

Despite the potential for its three nominated songs to split the vote ('Hakuna Matata' and 'Circle of Life' had also been nominated), 'Can You Feel The Love Tonight' won the Oscar for Best Original Song in 1994.

Circle of Life

Elton John - Circle of Life (From "The Lion King"/Official Video)

I gave him the lyrics at the beginning of the session at about two in the afternoon," Tim Rice recalled about 'Circle of Life'. "By half-past three, he'd finished writing and recording a stunning demo."

Like 'Can You Feel The Love Tonight', it was sung in an offscreen voice in The Lion King – this time by Carmen Twillie, with Lebo M providing that incredible Zulu opening.

Again though, Elton recorded his own version, enlisting the London Community Gospel Choir, and the song went top 20 in the UK and US.

Crocodile Rock

Elton John - Crocodile Rock (Live At Madison Square Garden)

Like 'Bennie and the Jets', this teaser for 1973 album Don't Shoot Me I'm Only the Piano Player, riffed on Bernie and Elton's own rock 'n' roll fandom.

"I wanted it to be a record about all the things I grew up with," Elton said in the reissue liner notes for the album. "Of course, it's a rip-off, it's derivative in every sense of the word."

So the song nodded at Bill Haley's era-defining 'Rock Around The Clock', as well as being inspired by Elton's more recent infatuation with Aussie band Daddy Cool's massive hit 'Eagle Rock'.

It's a bit throwaway, sure, and Elton has apparently gone off it over the years (but we still love it).

"The last time I have to sing 'Crocodile Rock' I will probably throw a party," he told Watford FC footballer Troy Deeney's podcast in 2021.

"But people love to hear it. It was written as a kind of joke, as a pastiche, and it became a big hit and people love to sing along with it."

He added: "Who am I to say, 'I am not going to play it', because I play to amuse people and to entertain people.

"But I have to say when the last show is done at the end of the tour I will never ever sing that song again."

Mona Lisa and Mad Hatters

Elton John - Mona Lisas & Mad Hatters (The Great Amphitheatre, Ephesus 2001)

By the early 1970s, Elton John had hit his stride as one of the pre-eminent singer-songwriters of the era.

His Honky Château album in 1972 helped cement that position, and as well as the massive 'Rocket Man' single, it also featured the stunning 'Mona Lisas and Mad Hatters'.

Bernie took inspiration from NYC and Ben E King's 'Spanish Harlem' for the lyrics ("And now I know / Spanish Harlem are not just pretty words to say"), and the song emerged as one of Elton's own favourites. It also featured in a memorable scene in Cameron Crowe's 2000 movie Almost Famous.

Goodbye Yellow Brick Road

Goodbye Yellow Brick Road (Remastered 2014)

The title track from what is maybe Elton John's very finest record, the 17-track double album Goodbye Yellow Brick Road is one of its many, many standouts.

With a nod to The Wizard of Oz's 'Follow The Yellow Brick Road', it tells the story of a young man with regrets of his chosen path and socialite older lover ("I should have stayed on the farm / I should have listened to my old man") and deciding to leave it all behind ("You can't plant me in your penthouse / I'm going back to my plough")

Song For Guy

Elton John - Song For Guy

'Song For Guy' is a very rare thing: An Elton John song with its (admittedly sparse) lyrics by Elton John himself, and it has a tragic backstory.

"As I was writing this song one Sunday, I imagined myself floating into space and looking down at my own body," Elton said in the sleevenotes for the single and a Billboard magazine ad at the time.

"I was imagining myself dying. Morbidly obsessed with these thoughts, I wrote this song about death.

"The next day I was told that Guy our 17-year-old messenger boy, had been tragically killed on his motorcycle the day before. Guy died on the day I wrote this song."

It featured on album A Single Man and despite how unusual it was as a single release, went top five in the UK.

Candle in the Wind

Elton John - Candle In The Wind

Rewritten for his friend Princess Diana's funeral, 'Candle in the Wind '97' is the biggest-selling single of the chart era, racking up over 33 million in sales after Lady Di's tragic passing.

The original version of the song was a tribute to Marilyn Monroe that was perhaps less personal but every bit as touching in its way.

It's less "about" Marilyn, and more a study of the way our superstars are chewed up and spat out, leaving behind a trail of newsprint and broken hearts.

"The song could have been about James Dean, it could have been about Montgomery Clift, it could have been about Jim Morrison," said Bernie. "How we glamorise death, how we immortalise people."

It was a hit UK single on release in 1974, reaching number 11, while a live version recorded in Australia did even better, going to number 5 in 1988.

Saturday Night's All Right For Fighting

Elton John - Saturday Night's Alright (For Fighting) (Central Park, NYC 1980)

The lead single from Goodbye Yellow Brick Road, 'Saturday Night's Alright for Fighting' is a storming rock 'n' roller that can easily hold its own with the contemporaneous glam rock of David Bowie, T-Rex and the rest.

Bernie explained that it was inspired by his rough and tumble teenage years spent drinking (and fighting) at the Freeman Arms in Grimsby, and when you whack up the volume you can smell the oak bar and beer-stained upholstery.

It was originally recorded during Elton's stay in Jamaica, but he was so disappointed with the sound that the group returned to Château d'Hérouville in France to re-record it and finish the album. It was worth the extra effort, becoming a chart smash in the UK and US and staple in his live sets since.

I'm Still Standing

Elton John - I'm Still Standing

It's been suggested that part of the reason for the massive success of 'I'm Still Standing' was its smart music video, which got regular play on the fledgling MTV.

Trivia fans: the choreography on the video came from Arlene Phillips and one of the dancers in the clip is a young Bruno Tonioli.

"There were lots of celebrities around in Cannes and one day we discovered that Elton John was in town, filming the video for his song 'I'm Still Standing'," Duran Duran's Andy Taylor recalled in his memoir.

"This was before Elton became teetotal, so he was still a steaming party animal; we went up to see him at his hotel and spent the afternoon getting blasted on martinis. We decided it would be a laugh to get him drunk and we were slinging the drinks down him.

"'Ooh, you are lovely boys,' he screeched, loving every minute of it. We got him so drunk that eventually he went upstairs and threw a wobbler in his suite. It caused all sorts of chaos – but it was a great party."

Even if you ignore the videos and tales of martini-inspired smashing up of a PA's room, it's absolutely one of Elton's very best songs of the decade and deserves all the success it had on its own merits.

Don't Go Breaking My Heart (with Kiki Dee)

Elton John - Don't Go Breaking My Heart (with Kiki Dee)

'Don't Go Breaking My Heart' may have "Ann Orson" and "Carte Blanche" as its credited writers, but don't let that fool you. It was just Elton and Bernie having a bit of fun (and it didn't stop them scooping up the 1976 Ivor Novello for Best Song Musically and Lyrically for it).

Elton originally wanted Dusty Springfield along for the duet, but her ill health meant that he swapped in Kiki Dee. Given the song's obvious Motown inspiration it was the perfect choice, as Kiki was the first white British artist signed to Berry Gordy's label.

It topped the singles charts in the UK and US (Elton's first ever UK chart-topper), and Elton and Kiki performed it nearly a decade on at Live Aid.

Since then, Elton has mimed the song with Minnie Mouse and also had The Muppet Show's Miss Piggy, friends The Spice Girls and er, Alan Partridge step into Kiki's shoes.

Rocket Man

Elton John - Rocket Man (Official Music Video)

Or, to give it its full name 'Rocket Man (I Think It's Going to Be a Long, Long Time)', this single from Honky Château was a number 2 smash in the UK and number 6 hit in the US on its release in 1972 and has since become one of his signature songs, lending its name to Dexter Fletcher's masterful and unconventional 2019 Elton John biopic.

Despite the obvious similarities in their themes and sounds, and the songs sharing a producer in Gus Dudgeon), the song wasn't a rip off of David Bowie's earlier 'Space Oddity'. The track was actually inspired by Ray Bradbury's short story 'The Rocket Man' and Pearls Before Swine's 1970 song 'Rocket Man'.

The first Elton song to feature the soon-to-become classic backing vocals of his bandmates Dee Murray, Nigel Olsson and Davey Johnstone, it's rightly considered one of Elton's very best, and has been covered by everyone from Kate Bush and Family Guy's Stewie Griffin (via William Shatner) in the years since its first release.

Your Song

Elton John - Your Song (Top Of The Pops 1971)

As soon as they joined forces in the 1960s, it was clear that Elton John and Bernie Taupin were a songwriting force to be reckoned with. But it was far from instantly obvious that Elton had what it took to be an actual performing star.

When it came to his own material, his 1969 debut Empty Sky didn't make much of a splash, but with Gus Dudgeon slipping into the producer's chair, things took off with his self-titled follow-up a year later.

Opening that album was the stunning 'Your Song'.

"I scribbled the lyric down on a lined notepad at the kitchen table of Elton's mother's apartment in the London suburb of Northwood Hills, breakfast time sometime in 1969," Bernie remembers, "That's it. Plain and simple."

The song actually appeared first on the album It Ain't Easy by Three Dog Night, who Elton was supporting on tour for at the time.

Elton was kind enough to let them record the song, and they returned the favour by realising that this was his big chance at a breakthrough, so they didn't release it as as single themselves, letting Elton have a run at it himself in October 1970.

He actually had it on the B-side of 'Take Me to the Pilot', but DJs knew what was what, flipping it over and making it a hit.

It went top ten on both sides of the Atlantic, and Elton John had arrived.

'Your Song' has since been covered by artists as diverse as Rod Stewart, Ewan McGregor in Moulin Rouge!, Lady Gaga, and Ellie Goulding for the John Lewis Christmas ad in 2010.

Tiny Dancer

Elton John - Tiny Dancer (Official Music Video)

There are (at least) half a dozen songs that could top this list without complaint, and we don't think 'Tiny Dancer' will cause any argument.

Like 'Mona Lisas and Mad Hatters' it was in a key scene in Cameron Crowe's love letter to the era, 2000's gorgeous Almost Famous, helping to bring this classic song to a new generation.

Bernie wrote 'Tiny Dancer' inspired by his first visit to the US, and later revealed it was about his then-wife Maxine Feibelman

Maxine had been into ballet as a child ("hold me closer, tiny dancer") and was indeed a "seamstress for the band", sewing patches onto Elton's jacket and jeans during that first American tour.

Taken from Elton's fourth album Madman Across The Water, it was released as a single in the US in 1972 and just missed out on the top 40.

Despite that slow start it went gold in the US on sales by 2005, and has since gone triple Platinum. In the streaming era it's even gone double Platinum in the UK – not bad given it was never released as a single over here.