The Voice: Sir Tom Jones performs stunning 'Great Balls of Fire' duet with singer who played with '60s bands
8 November 2023, 13:28
The 'Delilah' singer kicked off season 12 of The Voice with the amazing duet.
Sir Tom Jones gave an incredible performance of Jerry Lee Lewis's 'Great Balls of Fire' on Saturday night (November 4).
The Voice judge was back for the twelfth series of the show, and started the 2023 season off with a bang.
Sir Tom surprised contestant Stan Urban, a 79-year-old singer from Dundee in Scotland, after he sang Chuck Berry's 'Little Queenie'.
Jones, 83, then took over the microphone, and with Urban on the keyboard, the duo gave a rousing performance of the 1957 hit.
The pair performed in front of the studio audience and fellow judges Anne-Marie and will.i.am, before Stan was poached to be on judge Olly Murs' team.
Stan Urban later said he was overwhelmed with emotion that he'd been given the unexpected chance to perform the duet with Tom Jones.
The Scottish vocalist, who has played everything from intimate clubs to grand stadiums, was ecstatic about the opportunity to meet the iconic Welsh legend.
Speaking after the performance, Urban said: "I must be honest, I don't really know who all the coaches are but I certainly know Tom Jones."
Speaking about his appearance on The Voice at the age of 79, the singer said he hoped to inspire younger singers.
"You're never too old to follow your musical dreams, and maybe I'll inspire some young musicians with this rock n' roll world.
"I'm going to go out and do what I always do and give it everything I can."
Tom Jones and Stan's 'Great Balls Of Fire' | The Voice UK 2023
Stan continued: "There's no piano safe, as soon as I see a piano I'm a kid again. I used to play with all the sixties bands, The Swinging Blue Jeans, The Tremeloes, and The Troggs, who have I not played with?
"But this is something new to me, I've never played to the back of four chairs."
The musician from Dundee received a standing ovation after his performance of Chuck Berry's 'Little Queenie'.
"I enjoyed it, I loved it, that's my kind of music, Jerry Lee Lewis and Chuck Berry of course," said Tom Jones, before Olly Murs asked Urban why he'd decided to come on The Voice.
"Tom Jones is here, he was rock n' roll, he is rock n' roll and always will be rock n' roll, even when he sings a ballad," Stan replied.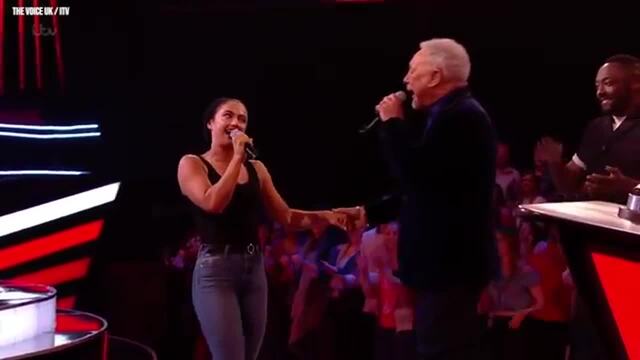 Tom Jones does impromptu performance of 'Cry To Me' with contestant on The Voice
Olly then encouraged Tom to sing with the contestant.
"Could you play Great Balls of Fire?" Jones then asked a delighted Stan.
However after their incredible performance, Stan was confused, when it was Olly Murs – not Tom Jones – who got on stage to shake his hand. "I pressed my button for you," Olly said.
"Oh, what about Mr Tom?" Stan then asked, as Olly explained Jones hadn't pressed his button for him.
Unperturbed, Urban thanked Tom Jones for his performance, and for "keeping the torch going all these years".