Brian May interview: Queen icon remembers his rock and roll hero Jerry Lee Lewis
15 November 2022, 10:30 | Updated: 19 September 2023, 14:06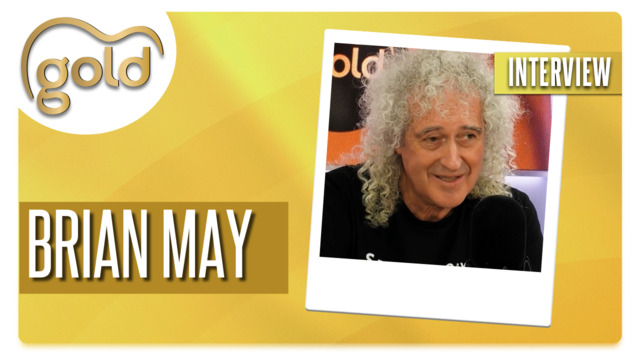 Brian May interview: Remembering Jerry Lee Lewis
Queen's Brian May had many inspirations when growing up, and one of them he was lucky enough to meet and perform with after finding fame himself.
The music world recently said goodbye to rock and roll icon Jerry Lee Lewis, and Brian May has opened up about his memories of meeting the 'Great Balls of Fire' singer.
Gold's James Bassam caught up with Queen legend Brian May upon the release of his brand new book Stereoscopy is Good For You: Life in 3-D.
Brian also spoke about Queen's recently unveiled new song 'Face it Alone' featuring unreleased vocals from Freddie Mercury, and the band's impressive performance at the Queen's Platinum Jubilee Concert earlier this year.
"I get so lucky," Brian told James about meeting Jerry Lee Lewis. "I got to do such great things in my life. He was such a hero to me.
"I've been talking with a lot of my mates about Jerry Lee Lewis, because, of course, suddenly, you're back in that time. And when I think about it: when did the real rock 'n' roll come? You have the kind of rockabilly that was starting around that time. You have a kind of fusion between blues and rock, which you actually don't see in the Elvis film.
"I think they really missed out on something there, because there's a lot of country and there's a lot of blues, and they come together. It wasn't just blues. But, also, it's kind of jolly. 'Rock Around the Clock' by Bill Haley – that's not rock like we know it today.
"Where did the kind of anger and passion come from? My answer is: two piano players, not guitar pianos. Jerry Lee Lewis is one, and Little Richard is the other. They're screaming their guts outs. They're not singing like Johnny Ray or Frank Sinatra. They're screaming their passion. It's kind of on the verge of uncomfortable.
"That's where rock music came from, in my opinion. You've got to look a bit later before the guitar actually catches up, strangely enough. I mean, James Burton is in there, doing some of Elvis' stuff, and Rick Nelson. But until you get to Jimi Hendrix and Jimmy Page and Eric Clapton – that's when you get the real passion coming into the guitar playing.
"It's fascinating for me, because you think of rock music as being completely guitar dominated. But, really, those two guys, I think, put the anger in, which made rock what it is: the reality, the passion, you know?"
He continued: "I don't think we were allowed to speak to him before the show. He was really cordoned off. And I'm there with some great performers. But we're all there, sort of thinking, 'What are we going to do?' We get the instructions via someone else of what song we're going to play, and what order.
"Actually, we don't know what order it's going to be – we're just going to hang around at the side of the stage until our number is called, and then we get to go on stage with Jerry Lee Lewis. It's kind of hard to imagine. It's very old school. Very old, old, old school.
"Anyway, my time comes, and it's like: 'I know what song we're doing.' I think we did a couple. And I go on there. We've also had the instruction: 'Nobody goes in front of the piano. Nobody upstages Jerry Lee. You do not go between him and the audience, or between his piano and the audience'. So we're all kind of standing in a line. You can see it in the clip. I think it's Dave Davies who's next to him.
"And I get carried away, because I'm like, 'When do I get the chance to play with Jerry?'. I'm looking around. 'Does he want me to play? Yeah, he wants me to play.' So I go forward, and I start doing it. And suddenly I'm between him and the audience.
"And I think, 'Oh, I've made a mistake here.' But I kind of looked over to him, and he gave me that kind of wry smile, like, 'OK, buddy.'"
"And what you don't see in the clip that I put up is that at the end of that – you can see it in the full version – he says… and I didn't realise this until yesterday. He says, 'That guy with the guitar made me want to sing 'Great Balls of Fire' all over again.' And he means me.
"He doesn't know my name. He has no idea. I'm just some guy who came up and played loud guitar beside him. But the corollary is – and I only found this out this morning – a good friend of mine was working with Jerry Lee right up until he died. He's a good friend of mine. They started talking about me.
"And Jerry recalled that moment. He said, 'That was an amazing moment, when Brian came over and did that.' So he knew who I was afterwards. It was just before he was taken from us. So that kind of made me feel very emotional, yeah."
Speaking about his new book, out now, Brian said: "It started off as: 'Let's do a little pocketbook of it, because it looks like it's going well.' But then it kept coming. It's like an avalanche of people. We thought, 'This has to be a serious book because the quality is incredible.'
"So then me and Denis, actually, my wonderful archivist, we worked very hard to format all of these into a configuration which doesn't hurt your eyes. Because, of course, everyone's formatting is different. So for the book, we had to really nail it, to make sure you don't get a headache when you leaf through the book.
"Having done that – we just looked at it, and thought, "This is a work of art. There is such a breadth of invention and technique from these basically amateur stereographers." But they all get it. They've all got something special."