'Hi Ho Silver Lining' by Jeff Beck: The making of the ex-Yardbird's wedding anthem
12 January 2023, 14:59 | Updated: 19 September 2023, 14:33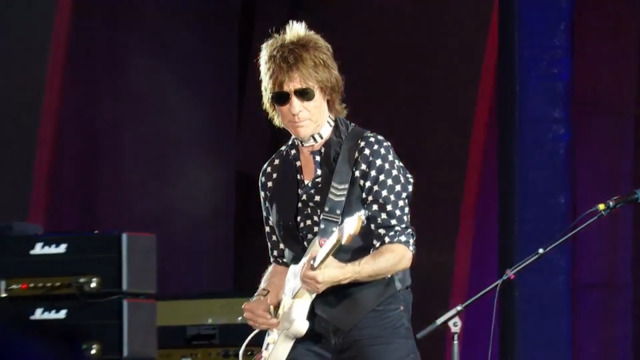 The Jeff Beck Story - Still On The Run documentary trailer
Forget 'Shapes of Things' or 'Private Dancer' – 'Hi Ho Silver Lining' remains Jeff Beck's most enduring hit.
Many rock fans think of Jeff Beck as the creative force behind the groundbreaking Yardbirds hits 'Heart Full of Soul' and 'Shapes of Things'.
Others point to the collaborative spirit that saw him join forces with everyone from Kate Bush and Tina Turner to Mick Jagger and Rod Stewart.
For many though, Jeff Beck's most enduring moment was his debut solo single 'Hi Ho Silver Lining', which has become a wedding dancefloor anthem and terrace hit over the years.
But do you know who wrote the song, why it has such silly lyrics, and who actually recorded it first, just a few days before Beck?
Find out everything you ever wanted to know about 'Hi Ho Silver Lining' below.
Who wrote 'Hi Ho Silver Lining'?
Amen Corner - Bend Me, Shape Me (1968)
'Hi Ho Silver Lining' was written by the team of Scott English (who co-wrote 'Brandy', which later became Barry Manilow's 'Mandy') and Larry Weiss (the man behind 'Rhinestone Cowboy'), who had previously collaborated on 'Bend Me, Shape Me'.
The story goes that the duo had only just got the "Hi Ho silver lining" chorus together when producer Mickie Most heard an early version.
Most cajoled English into finishing off the lyrics so he could offer it around to his acts, but English was eager to record the song himself.
He had a foolproof plan: write some lyrics so bad that Most would reject the song.
"Saying everything is groovy / When your tyres are flat." Great. "Flies are in your pea soup baby / They're waving at me." Even better/worse.
Unfortunately for English, Most wasn't put off, and snaffled the song for Jeff Beck, who recorded it at De Lane Lea Studios in London.
Does Rod Stewart sing backing vocals on 'Hi Ho Silver Lining'?
Hi Ho Silver Lining (Live: Saturday Club Broadcast 18 Mar 67)
Yes indeed.
While it's credited solely to Jeff Beck, the song was effectively by the lineup of the proto-Jeff Beck Group, with John Paul Jones on bass, Clem Cattini on drums and Rod Stewart on backing vocals.
Who released 'Hi Ho Silver Lining' first?
While Jeff Beck's is the version we all know and love, English band The Attack actually released their take on 'Hi Ho Silver Lining' just a few days before him.
A follow-up to their debut single 'Try It', The Attack's version flopped, which meant that Beck's version became The One.
When did Jeff Beck release 'Hi Ho Silver Lining' and where did it get in the charts?
Jeff Beck released 'Hi Hi Silver Lining' on March 10, 1967 in the UK, and it peaked at number 14 on the singles chart in May.
It was reissued in 1972, and had a second run in the top 20, this time rising as high as number 17.
In the US, the song was released as 'Hi-Ho Silver' on Aril 3, 1967, but the snappier title didn't do it any favours, with the song stalling at number 123 in May 1967.
On the flipside of the original single was a song arguably just as important in the Jeff Beck story.
Inspired by Ravel's Bolero 'Beck's Bolero' was the first thing he recorded as a solo artist.
Beck's Bolero (2005 Remaster)
It was officially credited to Beck's soon-to-be short-lived Yardbirds bandmate (and then replacement) Jimmy Page (though Beck also claimed to have written chunks of it), and while Mickie Most is listed as producer, both Jimmy Page and Simon Napier-Bell have claimed that they were behind the desk.
On May 16 and 17, 1966, Beck assembled an incredible array of talent for his debut recording session.
As well as himself and Page, there was also bassist John Paul Jones, drummer Keith Moon and pianist Nicky Hopkins.
Moon was on loan from The Who (he even recommended John Entwistle join him, but John failed to show), and Nicky Hopkins was a session god, playing with anyone who was anyone during the era.
There was talk of this lineup becoming a Proper Band, which led one of the gang (thought to be Moon, though some say Entwistle) to joke: "Yeah, it'll go down like a lead zeppelin."
Page's ears pricked up when he heard that, and when he and Jones reconvened to make their own group they already had a name.
What did Jeff Beck really think of 'Hi Ho Silver Lining'?
Jeff Beck "Hi Ho Silver Lining" ARMS Concert
It's often been thought that Jeff Beck thought of his biggest solo hit as something of an albatross.
'Hi Ho Silver Lining' was left off his debut solo album Truth, while 'Becks Bolero' was nestled in the middle of side two.
Beck was even quoted as saying the song was like "having a pink toilet seat hanging round my neck for the rest of my f**ing life", but he didn't reject it entirely.
The Jeff Beck Group performed the then-hit song in concert in 1967 and 1968, with the Mk II band also playing it in 1972.
Jeff Beck with David Gilmour & Imelda May - Hi Ho Silver Lining (Live at RAH 2009-07-04)
It certainly can't be described as a concert favourite, but Beck has sprinkled the song into his setlist here and there over the years.
He played it at the ARMS Charity Concert in 1983 as part of an all-star jam with Steve Winwood and Simon Phillips ("because it's a special occasion") and at a couple of shows in 1990.
Beck played 'Hi Ho Silver Lining' on three consecutive dates at London's Royal Festival Hall in September 2002.
Beck brought it back during his Together and Apart shows with Eric Clapton in 2009 and 2010, and also performed it with David Gilmour and Imelda May.
Who has covered 'Hi Ho Silver Lining'?
While The Attack (just) released their version first, nearly every cover you'll hear of 'Hi Ho Silver Lining' will be based on Jeff Beck's hit version.
Given how catchy a hit it is, it's surprising how few high profile covers there are of the song. Maybe artists have been put off by Scott English's intentionally ropey lyrics...
Major artists who have given it a go include Slade, Black Lace and.... um... Vinnie Jones.