Dusty Springfield's 15 greatest songs, ranked
7 November 2022, 17:03 | Updated: 18 September 2023, 10:45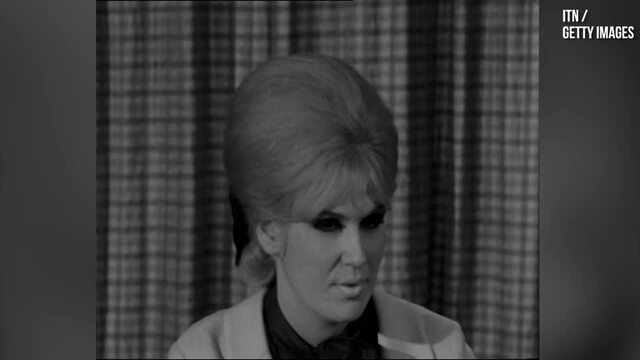 Dusty Springfield departs plane after premature ending to 1964 South Africa tour
We round up Dusty Springfield's greatest ever songs in celebration of the one of the all-time great British singers.
Dusty Springfield was the undisputed Queen of Blue-Eyed Soul.
In the 1960s she had a run of singles that were as good as anyone in that tremendous decade, capped off with the all-time classic Dusty In Memphis album.
As the 1970s and 1980s continued, Dusty kept recording but was criminally undervalued.
God bless Neil Tennant and Chris Lowe. The Pet Shop Boys' collaborations with Dusty not only reminded us how good she was in the '60s, but also resulted in some of her very best music.
It's not been an easy task, but below we celebrate all things Spingfield by rounding up Dusty's 15 greatest ever songs.
Brand New Me

Dusty Springfield - A brand new me

As the 1960s were coming to a close, Dusty showed she still had plenty more to offer with this lead track from 1970's A Brand New Me album.

Written by Kenneth Gamble, Thom Bell and Jerry Butler it's sleek and slinky number about the rebirth that new love brings ("Since I found you /I've got a brand new style")

I Just Fall in Love Again

I Just Fall In Love Again

Written by Larry Herbstritt with Steve Dorff, Harry Lloyd, and Gloria Sklerov. 'I Just Fall in Love Again' was first recorded by The Carpenters in 1977, before Dusty covered it a year later.

It was a standout on her 1979 album Living Without Your Love but it wasn't released as a single.

I JUST FALL IN LOVE AGAIN (Duet with Dusty Springfield)

Without even realising Springfield had just covered it, Anne Murray made it a country hit just six months later, taking it all the way to number 12 on the Billboard 100 too.

After Dusty's death, Anne put together a "duet" of their versions on her Duets: Friends & Legends album in 2007.

In Private

Dusty Springfield - In Private (Official HD Music Video)

After Dusty's years in the pop wilderness, the Pet Shop Boys enlisted her to appear on one of their finest singles (more on that later). They returned the favour by producing a couple more of her singles for her 1990 comeback album Reputation.

Like its immediate predecessors, 'In Private' marries that classic vibrant Pets sound with Dusty's still-stunning vocals, and took her to number 14 in the UK singles chart.

Wishin' and Hopin'

Dusty Springfield - Wishin' and Hopin'

Another Bacharach and David hit, Dusty took 'Wishin' and Hopin' all the way to number six in the US chart in 1964, cementing her star status over the Atlantic

The song was actually first recorded by regular Bacharach/David collaborator Dionne Warwick a couple of years earlier, but had been relegated to a B-side to 'This Empty Place' before appearing on the Presenting Dionne Warwick album, leaving space for Springfield to bounce it up the singles chart.

Nancy Sinatra also covered the song on her 1966 album Nancy in London.

Nothing Has Been Proved

Dusty Springfield & Pet Shop Boys - Nothing has been proved (HD)

As if this second collaboration wasn't already star studded enough, it also features an orchestral arrangement by regular David Lynch collaborator Angelo Badalamenti and sax solo by jazz icon Courtney Pine.

Written years earlier by Neil Tennant before he was even a Pet Shop Boy, he dug it out the archives and polished it up for Stephen Woolley's 1989 Profumo affair movie Scandal.

Much more floaty and lush than the other Pets/Dusty hook-ups, it showed just how talented and versatile both artists were.

Just A Little Lovin'

Dusty Springfield - Just A Little Lovin' From Dusty In Germany 1969

As well as her non-stop run of incredible singles, Dusty was also a brilliant albums artist, and her masterpiece was 1969's Dusty in Memphis.

Much of the music was recorded in the Tennessee city's American Sound Studio though the orchestral overdubs and Dusty's final vocals were actually laid down in NYC.

It opened with this incredibly sexy Barry Mann, Cynthia Weil number ("Just a little lovin' early in the morning / Beats a cup of coffee/ For starting off the day"). It wasn't a single but it absolutely set the tone for one of the all-time great albums in rock and pop history.

I Only Want To Be With You

Dusty (True Stereo) I Only Want To Be With You HD

After her time in The Lana Sisters and The Springfields, Dusty struck out on her own in 1963 with her debut solo single 'I Only Want To Be With You'.

Written by Mike Hawker and Ivor Raymond and produced by Johnny Franz, the song immediately catapulted Dusty to stardom, reaching number four in the UK and number 12 in the US.

The song is pretty much bulletproof (Bay City Rollers and The Tourists both exactly matched Dusty's UK chart success with their covers, while Sam Fox took it to number 16), but Springfield's version is still the very best.

It made history too, being performed on the first ever Top of the Pops on New Year's Day in 1964.

Spooky

Dusty Springfield - Spooky

Originally a saxophone instrumental by Mike Shapiro which scraped into number 57 in the charts, the song was revamped with a set of lyrics by the group Classics IV featuring singer Dennis Yost, going all the way to number 3 in the US.

Dusty recorded a more chilled, jazzy and gender-flipped version in 1968 around the time of her Dusty ... Definitely album.

It inexplicably slunk out as the B-side for her 1970 single 'How Can I Be Sure', but enjoyed a second life when it featured prominently in Guy Ritchie's 1998 gangster flick Lock, Stock and Two Smoking Barrels.

The Look of Love

Dusty Springfield -Look of Love-live and rare!

Written by songwriting legends Burt Bacharach and Hal David, Dusty's version of 'The Look of Love' appeared in 1967 Bond spoof Casino Royale, earning its writers an Oscar nod.

Dusty also re-recorded the sexy, sultry track as a standalone single in the UK and gave its name to her US The Look of Love album, too.

Little By Little

🐬💦Dusty Springfield /🔊~🎧 Little by Little🌸💞

Maybe Dusty's best upbeat dance track, released in 1966, 'Little By Little' is all shuffling shoulders and Mary Quant vibes, perfectly capturing a moment in time.

It went top 20 in the UK and opened the second half of her US album You Don't Have to Say You Love Me.

Long before her dabbling in disco and '90s rebirth, it serves as proof that from way back in the 1960s Dusty could always turn her voice to so much more than sultry torch songs.

You Don't Have To Say You Love Me

Dusty Springfield You Don't Have To Say You Love

Originally recorded in Italian in 1965 as 'Io che non vivo (senza te)', by Pino Donaggio, who wrote the song with Vito Pallavicini, Dusty's English version of 'You Don't Have To Say You Love Me' came out just one year later and became her biggest ever hit.

The English "translators" were Springfield's pals Vicki Wickham and Simon Napier-Bell, who didn't actually understand Italian and just wrote their own lyrics from scratch.

Dusty apparently struggled to get her vocals right, clocking up nearly 50 takes, eventually recording in a stairwell.

It all came together, with the song topping the UK charts, going to number four in the US, and even being covered by Elvis Presley.

I Just Don't Know What to Do With Myself

Dusty Springfield - I Just Don't Know What To Do

Another Burt Bacharach/Hal David song that Dusty Springfield made her own.

First recorded by Chuck Jackson, whose vocals were wiped and replaced with Tommy Hunt's, this version failed to chart at all.

When Springfield sprinkled her Dusty magic on the song, it just went to the next level.

The track was Dusty's third single and perhaps the key track for showing that she was more than a flash in the pan, cementing her status by reaching number three in the UK.

It was later covered by Dionne Warwick, Marcia Hines and memorably in 2003 by The White Stripes, whose video was directed by Sofia Coppola and featured Kate Moss pole-dancing.

Goin' Back

During her career Dusty recorded tracks written by some of the greatest writers in music history, and that was absolutely the case with 'Goin' Back', which came from the team of Gerry Goffin and Carole King.

First recorded by Goldie of Goldie & the Gingerbreads, that version was withdrawn after a falling out over the song's lyrics. King considered recording it herself before passing it over to Dusty, who took it to number 10 in the UK singles charts.

The song went on to be covered by The Byrds, whose version appeared on The Notorious Byrd Brothers and nodded towards their country crossover success of that album's follow-up Sweetheart of the Rodeo.

What Have I Done To Deserve This

Pet Shop Boys - What Have I Done To Deserve This (Official Video) [HD REMASTERED]

We've spoken plenty about the Pet Shop Boys impact on the final chapter of Dusty's career already, but we make no apologies for that.

Dusty's talent and drive was all her own, but the Pets were instrumental in bringing her stunning voice and charisma to a new generation of listeners in the late 1980s.

Neil Tennant and Chris Lowe enlisted Dusty for the second single from their 1987 album Actually and it's hard to imagine a more perfect era-smashing collision of style

It could have been very different. Record label EMI are said to have pushed for Tina Turner or Barbra Streisand rather than Dusty, but the Pets held firm.

After initially turning them down, a then-unsigned Dusty had a change of heart and flew over from California for the session.

"She arrived at the studio on time, in a black leather designer jacket and high-heeled boots, with blonde hair and black eye make-up, clutching the lyric-sheet of the song, annotated and underlined," Neil Tennant told The Sunday Times.

"Her voice was the same as ever... she sounded just like she used to. Breathy, warm, thrilling. Like Dusty Springfield."

Son of A Preacher Man

Dusty Springfield - Son of a preacher man

We've already said that Dusty in Memphis was Springfield's very best album, and its lead single is her greatest musical moment.

Written by John Hurley and Ronnie Wilkins, the duo apparently had Aretha Franklin in mind for the song, but Atlantic Records producer and co-owner Jerry Wexler heard it and suggested Dusty record it.

The song underlined Dusty's status as the undisputed Queen of Blue-Eyed Soul, reaching the top ten on both sides of the Atlantic.

Aretha did go on to record it the same year for her This Girl's in Love With You album, and her sister Erma also recorded it the same year for her Soul Sister record.

While it was already a massively well-known hit at the time, the song's inclusion in Quentin Tarantino's 1994 classic movie Pulp Fiction propelled the movie's soundtrack to number six in the album charts and brought the track to a whole new audience.