'Carnival of Light': The mysterious Beatles recording that still hasn't been released
6 October 2023, 10:01 | Updated: 11 October 2023, 11:20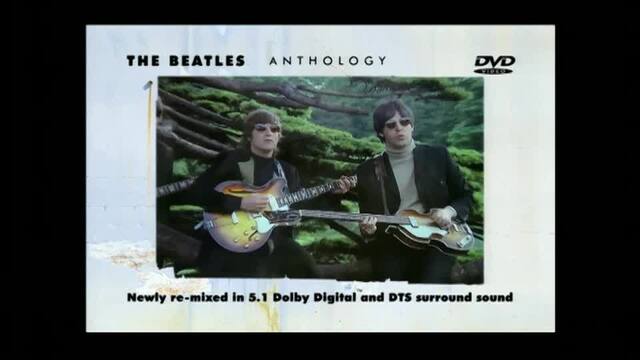 The Beatles – Anthology ABC TV trailer
Forget 'Now and Then'... what about an unreleased Beatles song that was actually heard in 1967?
At some point soon, Beatles fans will get what is being billed as their last-ever single.
It's assumed that the band's posthumous swansong will be 'Now and Then', one of the John Lennon demos worked on by Paul McCartney, George Harrison and Ringo Starr for the Anthology project in the mid-1990s.
While Anthology 1 featured 'Free as a Bird' and Anthology 2 included 'Real Love', poor tape quality and mixed feelings about the track meant that 'Now and Then' (and also 'Grow Old with Me') was abandoned.
Advances in AI developed for the Get Back project has meant that the song has finally been finished and will feature all four Beatles.
But what about a song that was fully realised and recorded by the band back in 1967 and heard by hundreds of people at the time, but has never been released or even circulated on bootlegs? What happened to the mysterious 'Carnival of Light'?
The Beatles - Tomorrow Never Knows
With the help of Fifth Beatle George Martin, The Beatles were always pushing boundaries in the recording studio, and after their retirement from live performance things ramped up further, with things reaching a dizzying peak with Revolver's 'Tomorrow Never Knows'.
From automatic double tracking, backwards looping, and sampling to the clever use of state-of-the-art multitracking, they were at the vanguard of pop experimentation.
For years, the received wisdom was that it was John Lennon who was pushing things the furthest.
After all, it was his 'Revolution 9' that was the most far-out thing The Beatles released, and not only was Paul McCartney not on the recording, he apparently didn't even want the experimental masterpiece included on The Beatles (aka The White Album).
A full year and a half before 'Revolution 9' though, it was Paul McCartney who was pushing The Beatles' most experimental moment to that date by far: 'Carnival of Light'.
When was 'Carnival of Light' recorded and who plays on it?
The story of how 'Carnival of Light' came to be has fractured a bit through the kaleidoscope eyes of time.
According to some sources, David Vaughan – manager of design team design team Binder, Edwards & Vaughan (BEV) – asked the Beatle to contribute some music to The Million Volt Light and Sound Rave at London's Roundhouse.
"I asked Paul to do it," Vaughan is quoted as saying in Barry Miles's Macca biog Many Years From Now.
Vaughan was delivering the Beatle a piano recently given a psychedelic coat of paint by his colleagues Douglas Binder and Dudley Edwards.
HOWEVER: Dudley Edwards's people got in touch with us directly to explicitly say that David Vaughan didn't ask Paul for a tape, but it was in fact Dudley himself who asked Macca for a musical contribution, adding that Barry Miles himself – a countercultural figure of the time – also asked Paul for a tape on a separate occasion.
Indeed, McCartney himself told Rocking Vicar years later: "I was asked about '67 to do it by Barry Miles – you know, who did my book Many Years From Now."
A quick aside about the piano painted by Binder and Edwards... it wasn't just any colourful keyboard.
"I wrote 'Getting Better', 'Sgt Peppers Lonely Hearts Club Band' and 'Fixing a Hole' on my magic piano, of course the way in which it was painted added to the fun of it all,' McCartney later said.
"I still cherish jealously my piano, on which I also composed 'Hey Jude'. It's in its rightful place in my music room in London."
Revolution 9 (Remastered 2009)
Regardless of who gave McCartney a nudge, he decided to go for it, and The Beatles recorded 'Carnival of Light' on January 5, 1967, early on in the Sgt. Pepper's Lonely Hearts Club Band sessions in a break during the recording of 'Penny Lane'.
Unlike 'Revolution 9', all four Beatles plus George Martin were there in the studio.
Despite the rave poster claiming "Music composed by Paul McCartney", it was really a free-form improvised jam featuring all four Beatles.
"This is a bit indulgent but would you mind giving me 10 minutes? I've been asked to do this thing." Paul McCartney told Front Row in 2008 about what he asked his bandmates right before recording 'Carnival of Light'.
"All I want you to do is just wander round all of the stuff and bang it, shout, play it. It doesn't need to make any sense. Hit a drum, wander to the piano, hit a few notes ... and then we put a bit of echo on it. It's very free."
What does 'Carnival of Light' sound like?
"An enterprising fraudster could easily counterfeit a black market version, since the real thing sounds nothing like The Beatles," wrote Ian MacDonald in his peerless Revolution in the Head, pre-empting those fake YouTube versions that pop up all the time.
'Carnival of Light' clocks in at a whopping 13 minutes and 48 seconds, (or 13 minutes and 14 seconds, depending on who you talk to).
The recording features vocals (but not the singing of lyrics – it's essentially an instrumental), tape effects, piano, organ, guitar and tambourine.
"There's no lyrics, it's avant-garde music," McCartney told Rocking Vicar in 2002.
"You would class it as... well you wouldn't class it actually, but it would come in the Stockhausen/John Cage bracket… John Cage would be the nearest. It's very free-form. Yeah man, it's the coolest piece of music since sliced bread!"
The Return Of The Son Of Monster Magnet
Barry Miles has compared it to 'The Return of the Son of Monster Magnet' from the Mothers of Invention's Freak Out! "except there is no rhythm and the music here is more fragmented, abstract and serious".
It's worth noting here that Freak Out! was an album that definitely inspired Sgt Pepper, which The Beatles were yet to record.
"There is no melody, though snatches of a tune sometimes threaten to break through," Miles said. "The Beatles make literally random sounds, although they sometimes respond to each other."
Arguably The ultimate Beatles historian Mark Lewisohn hasn't just heard 'Carnival of Light', but he's even picked apart all four tracks of the recording.
Here's what he wrote in his exhaustive The Complete Beatles Recording Sessions:
Track 1: "distorted, hypnotic drum and organ sounds"
Track 2: "a distorted lead guitar"
Track 3: "the sounds of a church organ, various effects (water gargling was one) and voices ... perhaps most intimidating of all, John and Paul screaming dementedly and bawling aloud random phrases like 'Are you alright?' and 'Barcelona!'"
Track 4: "various indescribable sound effects with heaps of echo and manic tambourine"
When was 'Carnival of Light' actually played?
'Carnival of Light' has only been played at on event, the Million Volt Light and Sound Rave at the Roundhouse in Chalk Farm for which it was recorded.
While some sources (including the Beatles Bible) have suggested that it was played at the events on both January 28 and February 4, 1967, Dudley Edwards told us that 'Carnival of Light' was only played on the January 28 date, with the second rave instead featuring performances by Jimi Hendrix and The Soft Machine.
According to ear-witnesses, the tape played several times at the shows (and even accidentally played past the agreed point, giving revellers an unauthorised preview of the as-yet-unreleased 'Fixing A Hole').
And... that was it.
The rest of the music at the rave was live, but The Beatles' contribution was via tape only.
The band weren't even in attendance at the rave with Paul McCartney and George Harrison enjoying the much more traditional pleasures of watching The Four Tops at The Royal Albert Hall that evening.
Why wasn't 'Carnival of Light' released at the time?
The main reason why so few people have heard 'Carnival of Light' in the years since its recording is that of the few who have, most don't think it's any good at all.
"When they had finished George Martin said to me, 'This is ridiculous, we've got to get our teeth into something more constructive'," the track's engineer Geoff Emerick told Mark Lewisohn.
Brian Hodgson from the BBC Radiophonic Workshop (whose Unit Delta Plus group featuring Delia Derbyshire also composed music for The Million Volt Light and Sound Rave) said that the recording was "all rather a mess".
"I asked Paul to do it and I thought he would make more of it than he did," David Vaughan added to Barry Miles in Many Years From Now.
"I thought this was a vehicle for him, if anything was. My trouble is, I expect everybody to drop everything. I forget other people have got things on."
Even Paul's Beatles bandmates weren't keen.
For all his imminent experimentation, John Lennon was prone to call avant-garde "French for bulls**t", while George Harrison would archly quip "avant-garde a clue".
Ultimately, the track wasn't designed to be a "proper Beatles release", or even a release of any sort at all. It was intended for the one-off (okay, two-off) rave, and that's where it played.
But why hasn't 'Carnival of Light' been released since?
The Beatles - Free As A Bird
It's worth noting that the recording hasn't been lost.
According to Dudley Edwards, the tape given to the event organisers ended up in the hands of light show operator Ray Anderson.
He adds that either Anderson gave this tape back to the band, or McCartney had held on to the original recording himself.
Either way, it was clearly available to Mark Lewisohn in 1988, and McCartney has confirmed in several interviews that he still has possession of the recording.
It's completely understandable that The Beatles and George Martin demurred at the notion of putting out a supposedly underwhelming experimental jam under the group's name in 1967.
It's hardly like they were short of top-notch material, certainly, and Ian MacDonald claimed: "For various reasons, it will never be released."
But in the years since, you'd have thought that any Beatles recordings – especially one that was publicly heard at the time and one with historical and cultural significance – would have been released on either one of the group's umpteen reissues, or even as a standalone special.
Despite the lucky few who have heard it dismissing the recording as unlistenable or, worse still, plain boring, there was serious consideration of including it in the Anthology project.
It was naturally McCartney who was vying for its inclusion ("I said it would be great to put this on because it would show we were working with really avant-garde stuff.") but Harrison, Starr and Yoko Ono (voting on behalf of the late John Lennon) vetoed it, while George Martin also thought it wasn't worth including.
Lewisohn was also involved in Anthology, and wanted the song included.
"It certainly didn't get beyond George, I'm not sure it got beyond Ringo or Yoko either." he told Travels in Music.
"It was something that was going to, potentially, spotlight only Paul in a good way and I don't know that was something they collectively wanted."
Without wanting to sound extremely crass, you might wonder why the song hasn't been released since Harrison's sad passing in 2001?
Well, Sir Paul is still keen on a release. "The time has come for it to get its moment."he told Front Row 15 years ago now.
He later told Rocking Vicar: "I did a thing called The Grateful Dead Photo Film, using Linda's snapshots and making them move, dissolving between them and making them into a film, a short art film, which I showed at festivals and things.
"And I'm actually in the process – although everything else and its uncle is holding it up – but I've got a Beatles photo film on the go and I would love to use it as part of the soundtrack of that"
Macca has previously told Xposé in 2016: "Is it worthwhile? The thing about the Beatles, they were a damn hot little band. No matter what you hear, even stuff that we thought was really bad, it doesn't sound so bad now. Because it's The Beatles."
And there have been obvious opportunities: The 50th anniversary deluxe reissue of Sgt Pepper's Lonely Hearts Club Band in 2017 was one.
Was it considered for inclusion then? "Yes, it was," Giles Martin told Super Deluxe Edition at the time.
"As was 'It's Only A Northern Song', as well, actually. But it wasn't really part of Pepper. It wasn't part of the Sgt. Pepper recording.
"It's a very different thing. I hope we can do something interesting with that at some point…but it wasn't really part of the Sgt. Pepper album."
He added to Billboard: "'Carnival of Light' was never meant to be on Sgt. Pepper. 'Carnival of Light' was never meant to be a record, in fact.
"It's one of those things that fans talk about. It's kind of like 'Revolution #9', which is that kind of record. But it was meant for the Roundhouse.
"And I think we should do something cool with 'Carnival of Light', but it wouldn't even be with Sgt. Pepper."
And despite Harrison's death, it's still believed the release of the song needs the consent of Yoko Ono, Harrison's widow Olivia, and Ringo.
What is the impact, influence and legacy of 'Carnival of Light'?
'Carnival of Light's status as the most high-profile unreleased Beatles recording, and one that has never escaped its lock and key storage to be bootlegged, has made most fans incredibly eager to hear it.
Others have claimed not to care, citing the underwhelmed response from most who have laid ears on it ("Carnival of s**te", they sneer).
Within The Beatles story – cultural and musical – 'Carnival of Light' has obvious importance.
Its presence at the Roundhouse puts them right at the heart of the counterculture six months before the Summer of Love.
Temporary Secretary (2011 Remaster)
And not only did the recording anticipate the presumably more successful experimentation of Sgt Pepper, the band apparently even recycled elements of the recording for its spiritual successor 'Revolution 9', including the distorted sound of John Lennon yelling 'Barcelona'.
The following May, George Harrison released the wildly experimental Electronic Sound LP, recorded on an early Moog synthesiser.
While McCartney had a relatively trad 1970s, he kicked off the 1980s with his entirely self-recorded McCartney II album, an ahead-of-its-time electropop classic that spawned the remarkable 'Temporary Secretary' single.
'Carnival of Light' had become very much the stuff of legend, with shoegaze/proto-Britpoppers Ride borrowing the title for their messy third album in 1994.
Meanwhile, as The Fireman, Paul McCartney teamed up with Youth for the experimental trilogy of albums Strawberries Oceans Ships Forest (1993) Rushes (1998) and Electric Arguments (2008).
In 2000, Macca released Liverpool Sound Collage, credited to himself, Youth, The Beatles and Super Furry Animals.
With so few knowing what it actually sounds like, there have been plenty of provably fake versions of 'Carnival of Light' doing the rounds, and even rumours that Macca has snuck it onto his pre-live show tapes as an inside gag.
But we're still waiting...