The Beatles: What's the difference between the new Red and Blue albums and the classic originals?
30 October 2023, 12:55 | Updated: 1 November 2023, 09:59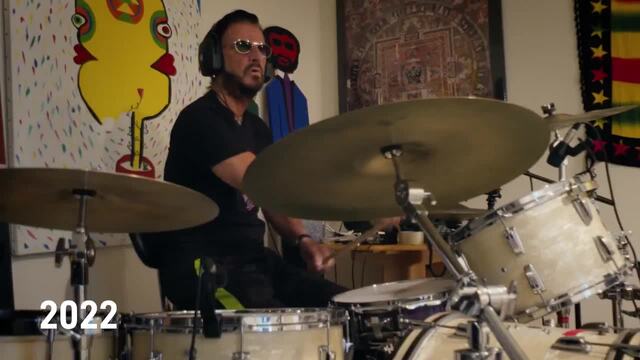 Watch the trailer for Now and Then - The Last Beatles Song
As well as 'Now and Then', The Beatles have re-imagined the classic Red and Blue compilation albums.
Ben: What's your favourite Beatles album then?
Alan: Tough one. I think I'd have to say, The Best of The Beatles.
That classic exchange from I'm Alan Partridge is especially funny not just because every Beatles album from Please Please Me to Let It Be really does need to be listened to in full, repeatedly, but also because there was never a proper Fab Four best-of compilation called The Best of The Beatles.
After some half-hearted international attempts, the first serious attempts at a proper career-spanning Beatles collection came in 1973, three years after Paul McCartney announced that the band were no more.
Of course, you couldn't round up the Beatles career on a couple of sides of plastic, and the first proper Beatles best-ofs were two double albums: 1962-1966 (aka "The Red Album") and 1967-1977 (aka "The Blue Album").
The albums were the brainchild of controversial manager Allen Klein, one of his last actions as head of Apple Records before he was axed.
The first album (more or less) covered the Beatlemania years, when the band were juggling their studio work with live performance, and the second album (more or less) is the more experimental, kicking off with the Sgt Pepper era after the band retreated to the studio.
And these albums became established as the Beatles compilations in not just the UK and US, but around the world, earning canonical status alongside the proper studio records.
As the CD aged dawned, they felt a little behind the times, despite a few tweaks to the mixes used. Each disc was effectively a faithful replica of the vinyl equivalent, meaning plenty of baggy space at the end that could have been packed with more Beatles.
The Beatles 1 - highlights
The discs were eventually complemented, if not really replaced, by the 1 album in 2000, a single-disc packed with over 78 minutes of hits.
And now, finally, the Red and Blue albums are getting a proper overhaul to make them fit for the 21st century. Here's everything you need to know about the new versions of 1962-1966 and 1967-1970 (which really includes a cheeky addition that mashes up 1979, 1995 and 2022/23).
The original Red album (26 tracks) and Blue album (28 tracks) included only songs written by The Beatles themselves, so none of their classic covers, and were dominated by tracks written by the core partnership of John Lennon and Paul McCartney.
Twist And Shout (Remastered 2009)
Every single track on the original 1962-1966 was a Lennon-McCartney composition, while 1967-1970 had 22 Lennon-McCartneys, only five George Harrison tracks and Ringo Starr's 'Octopus's Garden'.
The new versions of the Red and Blue album expand each collection by several tracks, including lots more George, and a trio of The Beatles'most important covers.
The 2023 3LPx2 vinyl versions keep the original tracklistings while bundling the new additions onto a bonus disc. The CD versions are much more interesting, interspersing the additions in their correct chronological positions to properly re-imagine the albums.
The Beatles - I'm Only Sleeping
Here's the full tracklisting for Red and Blue, together with the mix used, with the completely new additions in bold.
1962-1966 (Red Album): 2023 version
CD One
Love Me Do (2023 Mix)
Please Please Me (2023 Mix)
I Saw Her Standing There (2023 Mix)
Twist And Shout (2023 Mix)
From Me To You (2023 Mix)
She Loves You (2023 Mix)
I Want To Hold Your Hand (2023 Mix)
This Boy (2023 Mix)
All My Loving (2023 Mix)
Roll Over Beethoven (2023 Mix)
You Really Got A Hold On Me (2023 Mix)
Can't Buy Me Love (2023 Mix)
You Can't Do That (2023 Mix)
A Hard Day's Night (2023 Mix)
And I Love Her (2023 Mix)
Eight Days A Week (2023 Mix)
I Feel Fine (2023 Mix)
Ticket To Ride (2023 Mix)
Yesterday (2023 Mix)
CD Two
Help! (2023 Mix)
You've Got To Hide Your Love Away (2023 Mix)
We Can Work It Out (2023 Mix)
Day Tripper (2023 Mix)
Drive My Car (2023 Mix)
Norwegian Wood (This Bird Has Flown) (2023 Mix)
Nowhere Man (2023 Mix)
Michelle (2023 Mix)
In My Life (2023 Mix)
If I Needed Someone (2023 Mix)
Girl (2023 Mix)
Paperback Writer (2022 Mix)
Eleanor Rigby (2022 Mix)
Yellow Submarine (2022 Mix)
Taxman (2022 Mix)
Got To Get You Into My Life (2022 Mix)
I'm Only Sleeping (2022 Mix)
Here, There And Everywhere (2022 Mix)
Tomorrow Never Knows (2022 Mix)
The Beatles - Tomorrow Never Knows
1967-1970 (Blue Album): 2023 version
CD One
Strawberry Fields Forever (2015 Stereo Mix / 2023 Dolby Atmos Mix)
Penny Lane (2017 Mix)
Sgt. Pepper's Lonely Hearts Club Band (2017 Mix)
With A Little Help From My Friends (2017 Mix)
Lucy In The Sky With Diamonds (2017 Mix)
Within You Without You (2017 Mix)
A Day In The Life (2017 Mix)
All You Need Is Love (2015 Stereo Mix / 2023 Dolby Atmos Mix)
I Am The Walrus (2023 Mix)
Hello, Goodbye (2015 Stereo Mix / 2023 Dolby Atmos Mix)
The Fool On The Hill (2023 Mix)
Magical Mystery Tour (2023 Mix)
Lady Madonna (2015 Stereo Mix / 2023 Dolby Atmos Mix)
Hey Jude (2015 Stereo Mix / 2023 Dolby Atmos Mix)
Revolution (2023 Mix)
CD Two
Back In The U.S.S.R. (2018 Mix)
Dear Prudence (2018 Mix)
While My Guitar Gently Weeps (2018 Mix)
Ob-La-Di, Ob-La-Da (2018 Mix)
Glass Onion (2018 Mix)
Blackbird (2018 Mix)
Hey Bulldog (2023 Mix)
Get Back (2015 Stereo Mix / 2023 Dolby Atmos Mix)
Don't Let Me Down (2021 Mix)
The Ballad Of John And Yoko (2015 Stereo Mix / 2023 Dolby Atmos Mix)
Old Brown Shoe (2023 Mix)
Here Comes The Sun (2019 Mix)
Come Together (2019 Mix)
Something (2019 Mix)
Octopus's Garden (2019 Mix)
Oh! Darling (2019 Mix)
I Want You (She's So Heavy) (2019 Mix)
Let It Be (2021 Mix)
Across The Universe (2021 Mix)
I Me Mine (2021 Mix)
The Long And Winding Road (2021 Mix)
Now And Then
The Beatles - Glass Onion (2018 Mix)
So that's a total of 75 tracks, 21 of which weren't on the original albums (12 newbies on Red, and 9 on Blue). Every version of the track is in a new (or new-ish) Stereo mix and (streaming only for now) Dolby Atmos mix.
Many of the mixes were previously heard in either last year's Revolver reissue, or the re-release of 1 in 2015, 2017's Sgt Pepper's Lonely Hearts Club Band, 2019's Abbey Road or 2021's Let It Be, 36 of these are brand new for these compilations, remixed by Giles Martin and Sam Okell at Abbey Road Studios, using by WingNut Films' audio de-mixing technology used in the Get Back documentary TV series.
And for those who love to read the liner notes, both collections include new essays written by journalist and author John Harris.
TheBeatles1 BluRayDVD trailer
As we mentioned earlier, that sneaky extra track right at the end of the new 1967-1970 probably doesn't belong there at all.
'Now and Then' doesn't have any real roots in 1967-1970, having been pieced together from a John Lennon demo recorded in 1979.
While the surviving Beatles finished off other Lennon demos 'Free As A Bird' and 'Real Love' in 1995 with some help from Jeff Lynne for the Anthology project, George Harrison especially felt that 'Now and Then' wasn't salvageable and the group abandoned work on the track.,
Giles Martin Talks About Using De-Mix Technology To Create The Audio Clarity Of #TheBeatlesRevolver
With that Get Back "de-mixing" tech and the blessing of George's widow Olivia, Paul and Ringo finally finished off the song with Giles Martin at the helm.
While it probably doesn't quite belong on these compilations (some fans have been clamouring for either a re-released Anthology series or a new Anthology 4 album), the timing sort of just made sense to include it here.
As well as streaming from November 2, the song is coming out in various physical formats – 7", 12" and cassette, and after a little wait, a CD single was also confirmed.
If you're an albums person rather than a singles fan, the new Blue (or Red and Blue box set) is the best way to add the new song to your collection.