Queen reveal their thoughts on the possibility of a Freddie Mercury hologram
2 August 2023, 16:21 | Updated: 19 September 2023, 13:55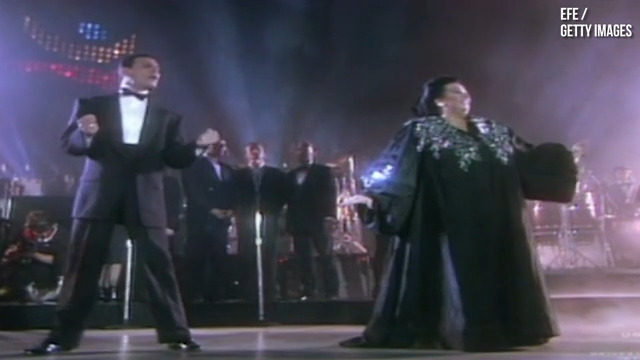 Freddie Mercury and Monserrat Caballe perform at Barcelona Olympics in 1992
Queen have continued without Freddie Mercury, but could he make a digital return?
After the Tupac 'hologram' at Coachella and Elvis Live on Screen shows, ABBA took things to the next level with their digital avatars for the groundbreaking ABBA Voyage residency.
The success of the Agnetha Fältskog, Björn Ulvaeus, Benny Andersson and Anni-Frid Lyngstad "ABBA-tars" has led to speculation that other artists might make use of similar technology.
One band who constantly come up in these conversations is Queen.
The band have continued in various guises since the tragic death of frontman Freddie Mercury in 1991, first as a three-piece, then with Paul Rodgers as a new frontman, and most recently with Adam Lambert as their singer.
But although they wouldn't be able to performance scan a living artist as ABBA did for their own avatars, the advances in technology have raised the question of Queen bringing back a digital Freddie for a live performance.
"We've talked about and looked at, very seriously, holograms of Freddie and stuff," Brian May told The Graham Norton Radio Show podcast.
"We love to be live and dangerous, that's it, that's our emphasis.
"Now, when we're all gone, yeah sure, make an ABBA thing about us but while we're here I want to play live. I don't want to be a hologram, I want to be me."
He added: "ABBA don't want to go out and play live anymore, and they never did that much playing live, although they were a wonderful band in the studio. But for us, the live thing is it."
Queen fans will be well aware that while the group haven't ever used a Freddie hologram or true avatar, they do feature more traditional video and audio footage of their late frontman during their live shows.
"We have a little bit of stuff with Freddie," Brian said.
Queen- Brian May with Freddie Mercury video- Love of My Life - LIVE Birmingham
"I don't know if you remember but I do 'Love of My Life' generally and Freddie comes in and joins me at the end when we do our live shows.
"But it's not a hologram, it's just sort of old-school technology which we kind of like."
Similarly, at recent live shows, Paul McCartney has "duetted" with his late Beatles bandmate John Lennon on 'I've Got A Feeling'.
Paul McCartney - I've Got a Feeling (feat. John Lennon) (Glastonbury 2022)
While the presentation of Lennon during the shows is traditional, his voice had been extracted using the latest technology pioneered by Peter Jackson's team for the Get Back films.
Similar methods have been used to make the upcoming "final" Beatles single.
That last track is believed to be 'Now and Then', a song the surviving members had previously worked on and abandoned during their Anthology reunion.